November 17, 2023
The 2023 BuzzerBlog Holiday Gift Guide
Prepare to find the perfect gift for the game show nerd in your life with our exclusive holiday gift guide.
Another holiday season is fast approaching, and for those of you looking for gifts for your game-show obsessed friend or loved one (or even for yourself), we've got you covered with gifts for all types of game show fans.
The Natural Host
For the folks always hosting game nights, we found some really nice buzzers to simulate your favorite game shows at home. These handheld joystick buzzers are probably the simplest, with no interface, just a noise played to determine who buzzed in first. At under $30 at the time of publication, these are a no-frills entry into the annoying in-depth world of the perfect home game show buzzer. If you do want a lockout mechanism, there is a $60 version that shows who buzzes in first, but the buzzers have wires.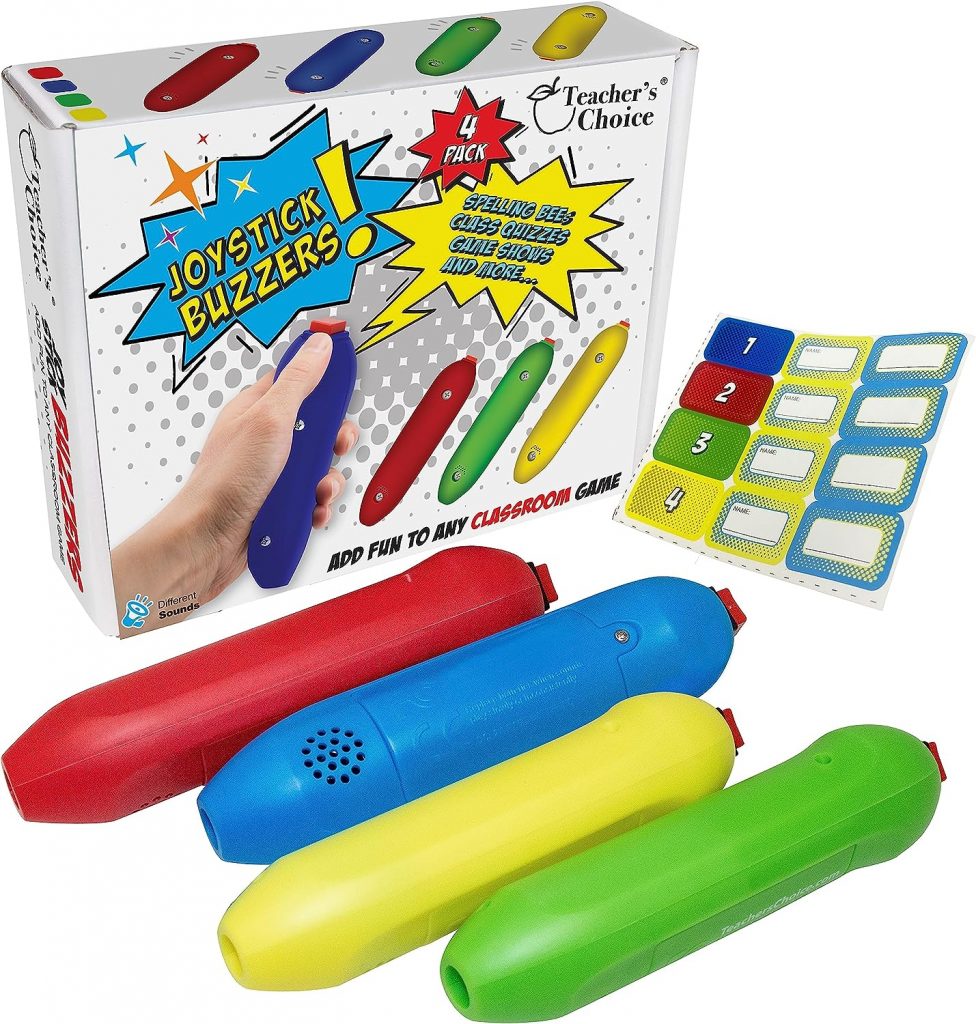 If you want to customize the button's ring-in noise, for those Family Feud or Scrabble afficionados, these buzzers have a re-recordable signaling noise which is cool, and at $30, these are a great option for those trying to customize their home game show experience. Now, if you want an authentic game show lock out experience, without wires, the deluxe ring-in option is this 9-piece wireless buzzer system from Trebisky. Great for quiz bowl, Jeopardy!, Sale of the Century, or any other games that need lockouts, the flexibility of wireless buzzers really makes game nights special. It's way pricier than any other option, at almost $200, but it's totally worth it.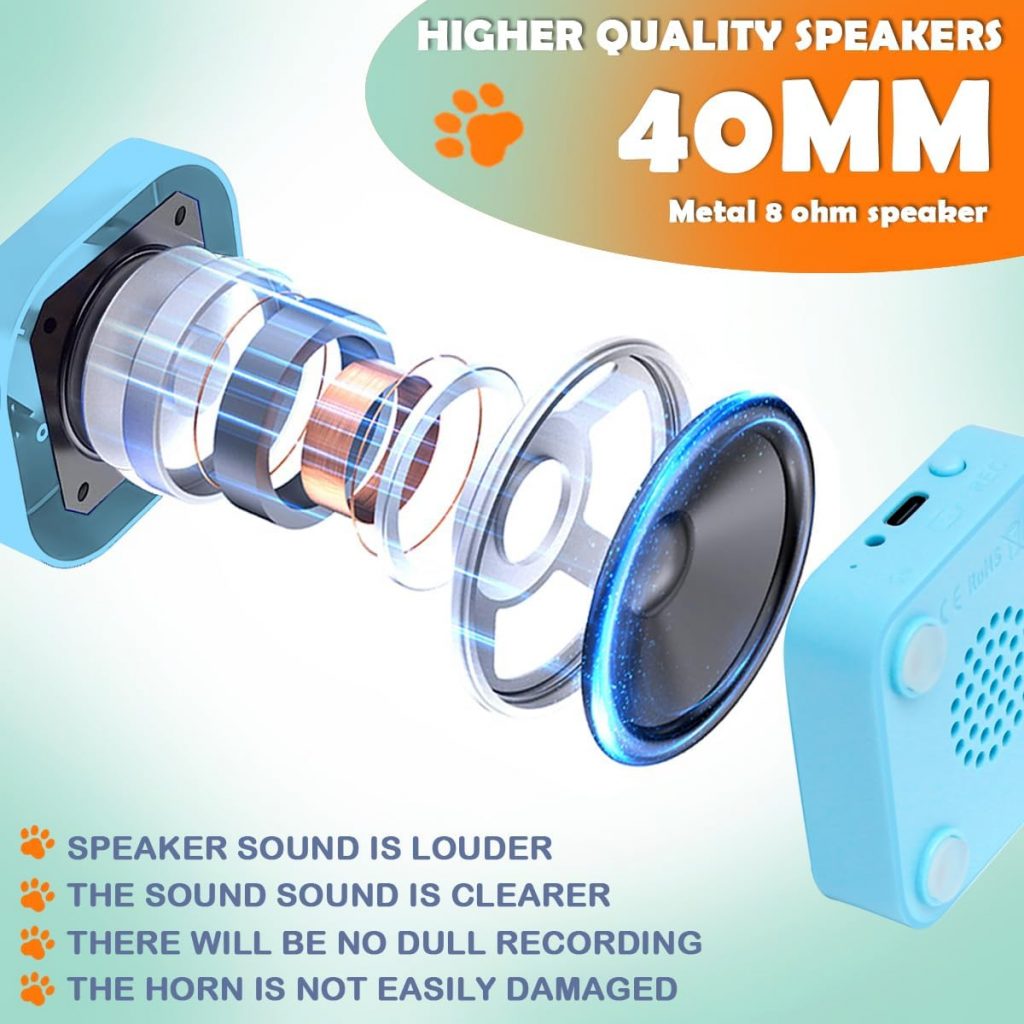 There's more game show gear for the at-home host than just buzzers. Maybe you're jonesin' to make your own Wheel of Fortune? This acrylic dry-erase wheel has the perfect amount of spaces to simulate the iconic game show's key element. Pair this with a set of dry erase paint markers and you have a sturdy, fantastic tabletop wheel with infinite layout options. And maybe you need some funky game show themes for your at-home games? Well, famous game show composer Edd Kalehoff has released a vinyl record called Moog Grooves, and allegedly there are a couple game show pilot themes on there!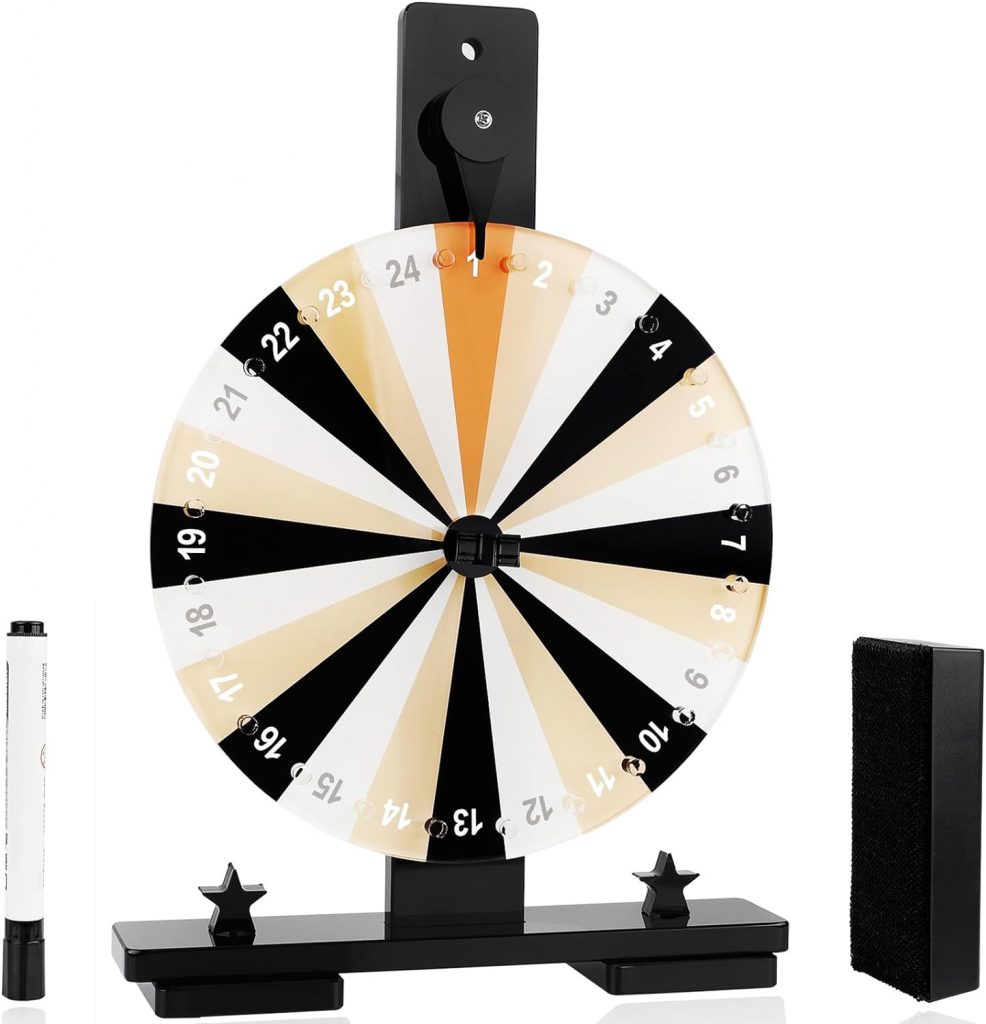 Homemade Homies
There are some great Etsy stores online making some excellent fan gear for game show fans and lovers. Our perennial favorite is owned by BuzzerBlog friend and Jeopardy! Fashion Afficionado OneEclecticMom. Lilly has great unofficial Jeopardy!-friendly fan gear, including my favorite thing she has: a huge fleece blanket in the form of the Jeopardy! board, with customizable categories and clue. And, since you're an awesome BuzzerBlog reader, use coupon code BEEPBOOP to get 10% off your order from Lilly! (That coupon code is valid until Dec. 9, 2023.) Another amazing Etsy store is AandM3DPrintsandMore, who makes amazing down-scaled props from The Price is Right and Wheel of Fortune. I have personally purchased her Big Wheel and it's an incredible, fun prop. I want that Dice Game one! Update! AandM3dPrintsandMore has let us know that from Thanksgiving day through Cyber Monday, all orders of $100 or more will be 15% off! Let them know BuzzerBlog sent you!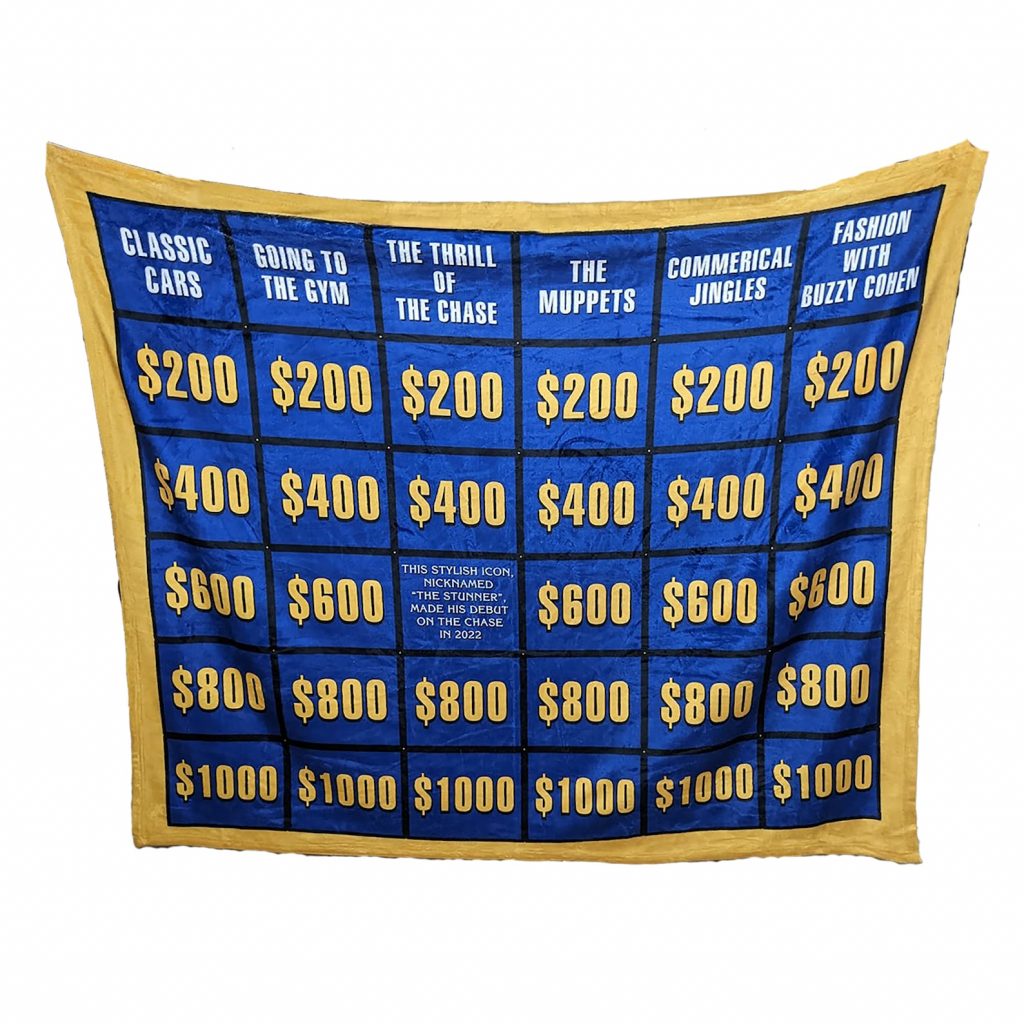 OK, Fine, Official Game Show Stuff
This year was pretty underwhelming with new official game show stuff. I think the Wheel of Fortune x Laura Geller New York collaboration is interesting, if you're a makeup-wearing game show fan. Why there's no sparkly green anything is beyond me; I feel like that's a trademark of the show, but what do I know, I need someone to put eyeliner on me because I'm too squeamish to do it myself. Of course, if you want to live the Wheel of Fortune Slot Machine life at home, there's always the Arcade1Up Wheel of Fortune Slot Machine, a touchscreen casino in the comfort of your own home (and with no fear of losing the deed to your house). It also apparently can play Sudoku, which is nice.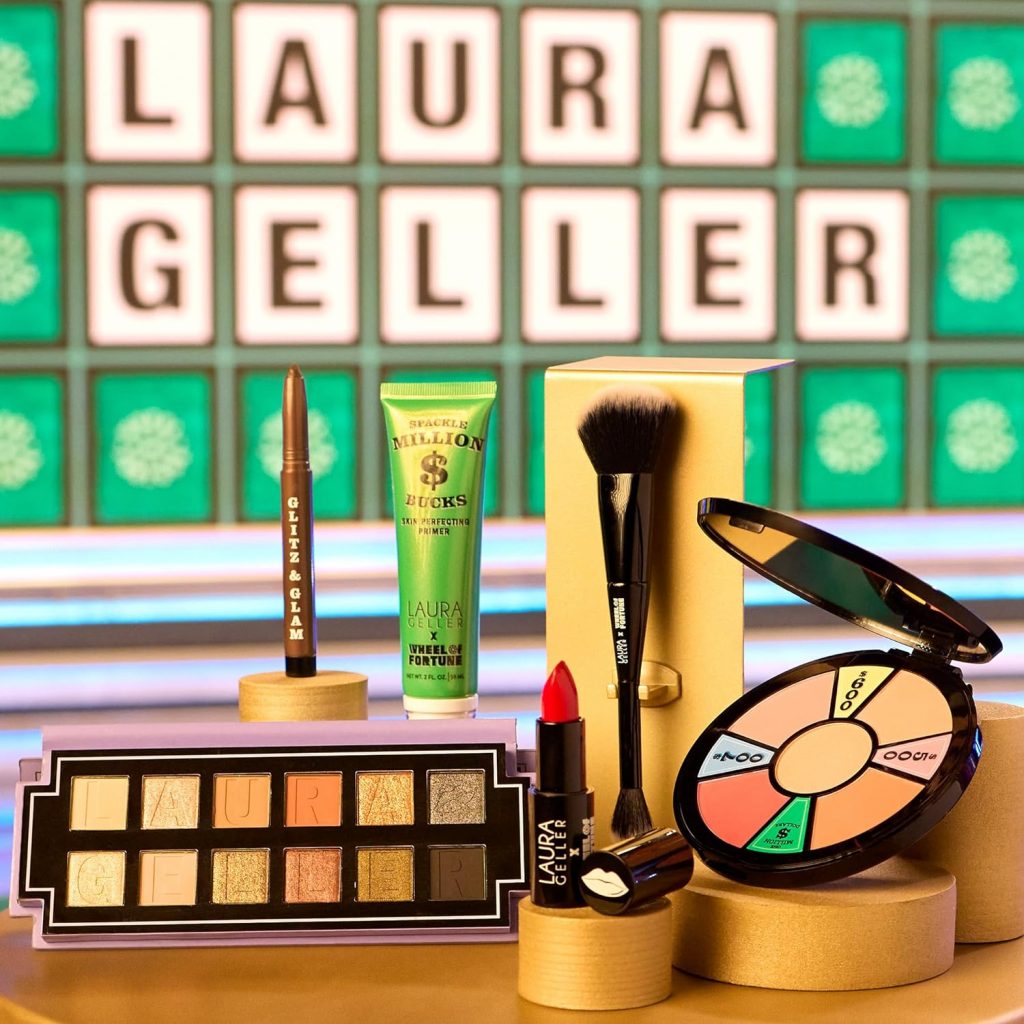 There's no more official game show gear than props from the actual game show, and an anonymous eBayer has acquired a load of The Price is Right stuff left behind at CBS Television Studio after the production moved to Glendale, CA. Visiting TPiR.shop showcases an impressive collection of Price props, including blank Check Game checks, giant Goodson marks, and more. They're premium products due to their rarity but they're a fascinating up-close look at the props from one of your favorite game shows. But if those are a little too pricey for your blood, how about some Wheel of Fortune socks? (It's interesting that the Jeopardy! socks are a dollar pricier.)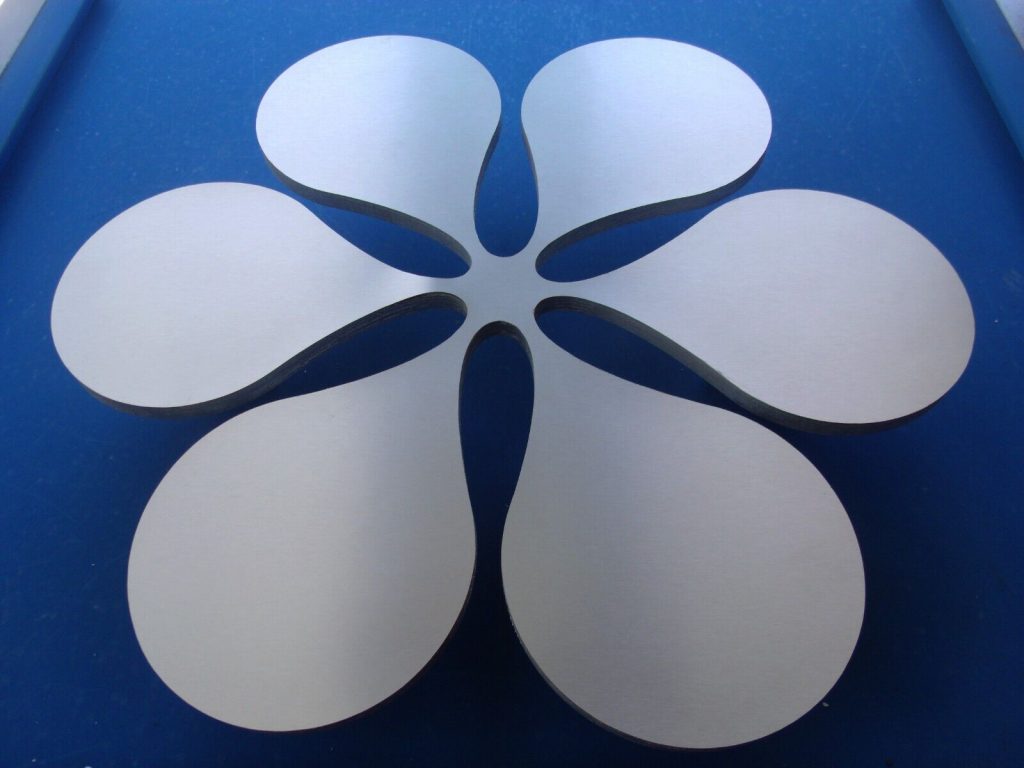 Let's Play Some Games!
There's a few great game show home games that have been released in the past few years. There's also been some stinkers. Let's talk about both! On the "great" side of things, the Taskmaster Secret Series game is great for regular game night groups—it's the Pandemic Legacy of the Taskmaster Universe. GameStar has been trying to create engaging app/physical game hybrids; it looks like the most accurate to the television show version they have available is their Deal or No Deal Jumbo Card Game. You can use the app to generate banker offers, but they give you a really nice card to try to ballpark it. It's better looking than the Press Your Luck jumbo card game, which has a plethora of cards that you could shuffle to pick a random one, but instead of having dollar values on them, they have trivia questions.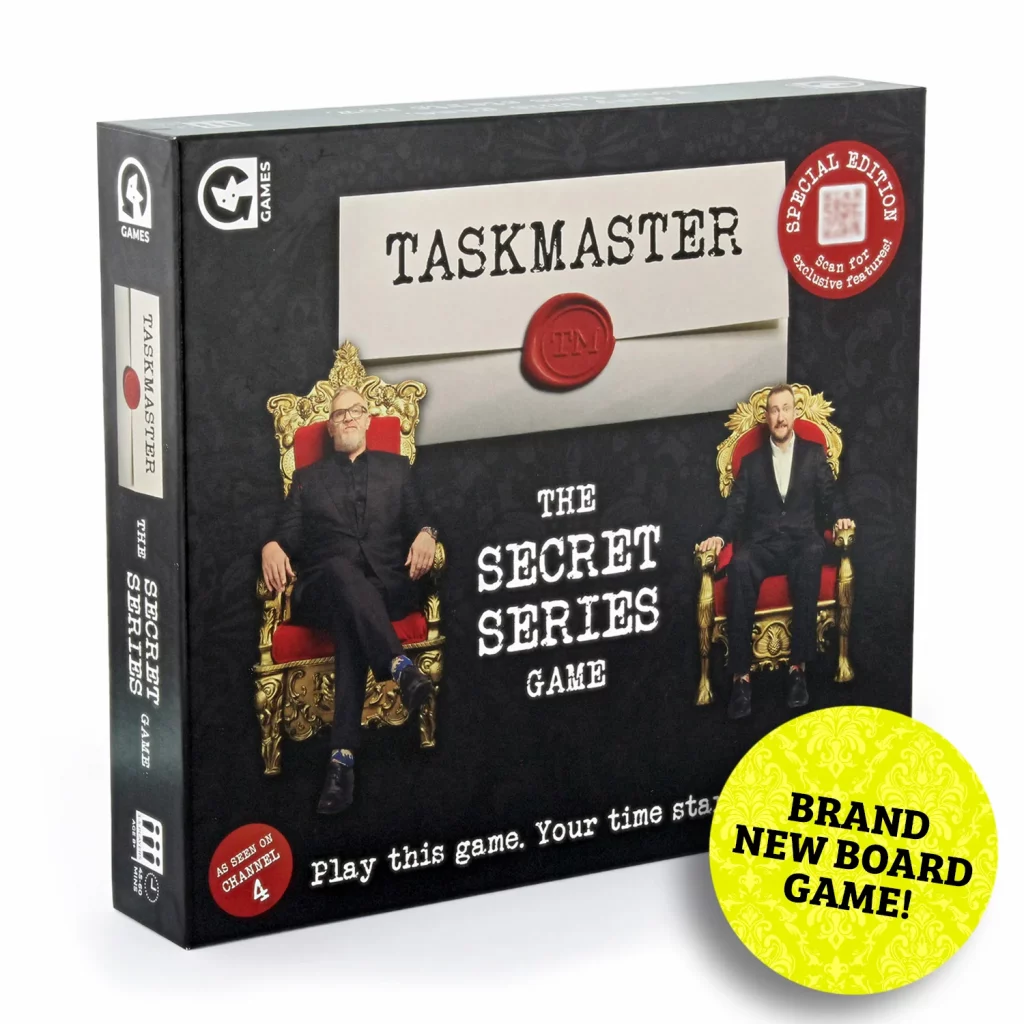 For some reason, there's a couple UK game show games on the US Amazon store, including 5 Gold Rings' Card Game for an impressive $7 at the time of publication. There's also University Challenge and Millionaire UK at the same link. If you just like to look at logos of game show things while you complete a puzzle, then Buffalo Games has just the thing for you: a 300-piece jigsaw puzzle of some Price is Right stuff, including a logo for the Showcase Showdown that is actually never used on TV ever, which is interesting enough to spend $8 on.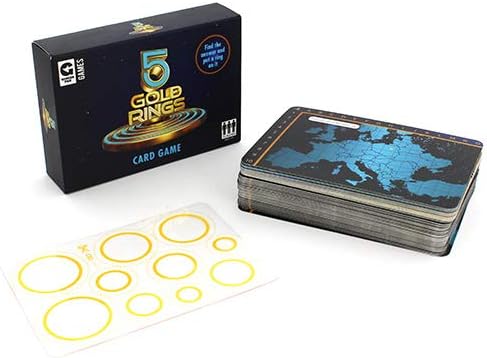 For Those Feeling Book-Ish…
A couple great game show-adjacent books are available for fascinating looks into the backgrounds of the industry from several different angles. The first is game show announcer Randy West's tell-all of his time in the game show industry, TV Inside-Out: Flukes, Flakes, Feuds and Felonies. Anyone who's interested in the inner workings of the game show industry, for better and for worse, will find a lot of fascinating information in this book. From a different angle, that of a successful contestant (who may have trampled yours truly on her way to the pantheon of Jeopardy! super duper champions), Amy Schneider's book In the Form of a Question paints a multi-faceted portrait of a complex person that most may just view as a singular thing: champion, partner, trans woman. (It does not mention me in any way; a glaring omission I hope to see corrected in future revisions.)