August 26, 2023
Longtime Host of the Price is Right, Bob Barker, Dies at 99
"It is with profound sadness that we announce that the World's Greatest MC who ever lived, Bob Barker has left us," publicist Roger Neal said in a statement Saturday.
Bob Barker, one of the most iconic game show hosts in American television history with a career spanning over 50 years, has died at the age of 99.
His death was confirmed by NBC News.
Barker, who began his national broadcasting career in 1956, was already known to millions of viewers when he began the hosting gig that he would eventually hold for 35 years—as emcee of the CBS game show The Price is Right. As host of Price from 1972 up until his retirement in 2007, Barker won more Emmys than any other game show host in history. He also made headlines, for his longevity as an emcee as well as for his outspoken views on animal rights issues.
Born on December 12, 1923 in Darrington, Washington, Robert William Barker spent much of his childhood on the Rosebud Indian Reservation in Mission, South Dakota, where he was known as Bill. It was while he attended high school in Missouri that he met Dorothy Jo Gideon, the woman who would not only become his wife, but also encourage him to pursue a career in broadcasting. In 1943, after beginning studies at Drury College, Barker enlisted in the US Naval Reserve, but did not serve on active duty. After World War II ended, he went back to Drury and completed his degree in economics.
Barker worked in local radio and television until 1950, when he and Dorothy Jo moved to California so that Bob could have a better chance at becoming a star. The Bob Barker Show, his first West Coast-based assignment, was an audience participation show that ran for six years in local radio. It was on this show that Ralph Edwards, host and producer of the wildly successful Truth or Consequences, first heard Barker's engaging, entertaining style of hosting. After some negotiations, Barker was introduced on air, by Edwards himself, to an national audience for the first time when he was announced as the new host of Truth on December 31, 1956—an occasion that longtime friends Barker and Edwards celebrated annually together for many years after Barker's tenure as host of the show ended in 1975.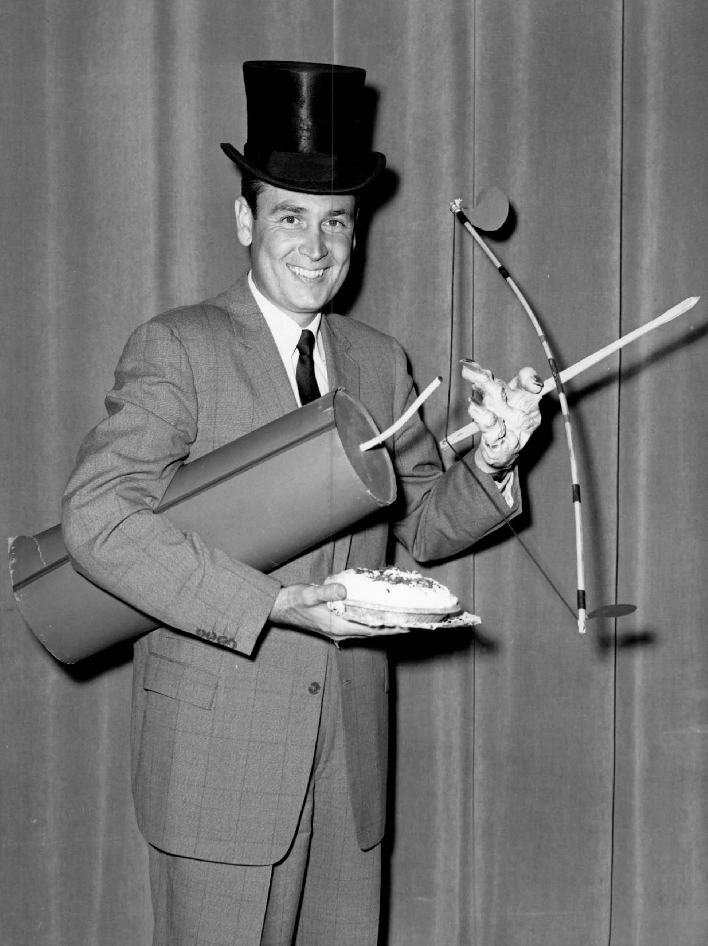 More hosting jobs followed. 1967's The Family Game, a Chuck Barris production, featured children and their parents playing a Newlywed Game-style format to win prizes. End Of The Rainbow was a less-trashy take on Queen For A Day. 1971's Simon Says, which never made it past the pilot stage, saw "chief programmer" Barker play co-host to Simon, a large onstage computer that selected audience members at "random" to play various embarrassing games.
Barker even tried his hand at producing: Lucky Pair, exclusively broadcast in the Los Angeles area, was a local game show created by Barker that involved contestants matching answers on a game board in a style similar to that of Concentration. Barker's choice to host Lucky Pair was Richard Dawson, a comic actor who, pre-Family Feud, had been making a name for himself on the sitcom Hogan's Heroes, as well as on various game and panel shows.
In 1972, CBS hatched plans to get back into the daytime game show space after reruns of sitcoms like I Love Lucy began to sink the network's ratings. Among the pitches for new programs to CBS was Mark Goodson and Bill Todman's proposed modernized revival of The Price is Right, which had seen nearly a decade of success on NBC and CBS from 1956 to 1965 with emcee Bill Cullen at the helm. CBS agreed to buy the show under one condition: Goodson and Todman were to replace their original choice for host—veteran TV performer and pitchman Dennis James—with Bob Barker, who had already expressed interest in hosting another new CBS game show, Jack Barry's The Joker's Wild. Despite that initial resistance, on September 4, 1972, Barry—who had been largely absent from television following his high-profile involvement in the quiz show scandals two decades earlier—went on to host Joker, while Barker took the stage to emcee The New Price is Right.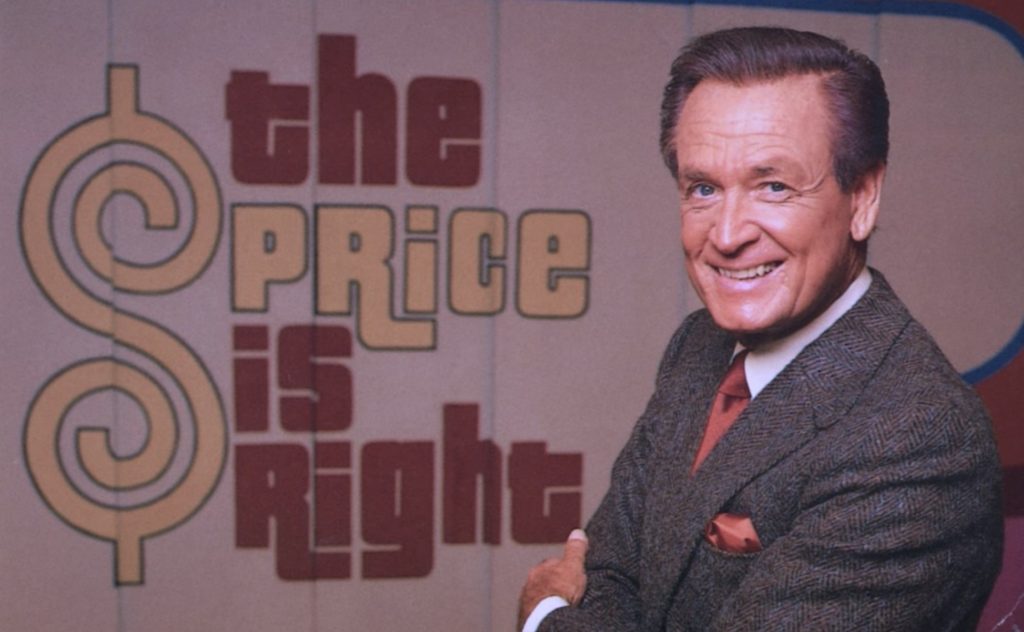 The new Price was successful from day one. Viewers loved the modern take on the classic game format, which now rewarded successful one-bidders with the chance to play a new dimension of Price is Right in the forms of various "pricing games," clever diversions that were loosely based on the "bonus games" played on the classic Cullen series. Key to the success of the new show as well was Barker, who charmed audiences week after week with his tan good looks and sharp sense of humor. Some contestants aspired to win their way up on stage only to kiss Barker, a tradition that has led the host to receive thousands upon thousands of kisses through the years. Within a few years, Barker had become more synonymous with The Price is Right (which had dropped the "New" from the title early on) than Bill Cullen ever was. Eventually, Price became the highest-rated game show in daytime, as well as the longest-running game show in history, beating NBC's Concentration for that title in 1987. That same year, Barker became one of the first mainstream TV personalities to let his hair go naturally gray, making a statement that would eventually become part of his trademark visage.
For his success, Barker was considered a host in a league of his own. Contract negotiations with Barker frequently eclipsed those of his Goodson-Todman contemporaries in value and importance. Time magazine named Barker the Greatest Game Show Host of All Time. A plaque labeled WGMC—an abbreviation for World's Greatest Emcee—adorned his dressing room door, eventually surrounded by 19 Emmy decals, one for each award he's won. To celebrate the 5,000th episode of Price, the show's home studio at CBS Television City in Hollywood was rechristened the Bob Barker Studio.
Barker, who had often hosted beauty pageants in addition to his day jobs as host of Price and Truth, and whose wife was an animal lover and strict vegetarian, eventually opposed the giving away of fur coats as prizes on television—and left the Miss USA pageant when its producers refused to comply with his request. Beginning in 1982, following the death of his wife Dorothy Jo, Barker signed off each Price episode by saying, "Help control the pet population; have your pets spayed or neutered", which brought the concern of animal or population to the forefront of the national consciousness. Barker, in conjunction wit animal activist groups, successfully took down several film production companies over accusations of animal cruelty.
In the early 1990s, Barker founded the DJ&T Foundation, which has raised millions of dollars for animal rights-related issues. Barker also paid $5 million out of pocket to bankroll a Sea Shepherd anti-whaling ship, christened the MY Bob Barker, which intercepts illegal poaching activities off the coast of Japan. 
While marked by success and widespread popularity, Barker's tenure as host of Price was not without controversy. In 1994, a former model on the show, Dian Parkinson, filed a lawsuit against Barker, accusing him of sexual harassment during her time on the show. This lawsuit was eventually settled out of court. Another model, Holly Hallstrom, also filed a lawsuit against Barker and the show in 1995, alleging wrongful termination. These lawsuits brought negative attention to the show but did not result in major legal consequences for Barker. His passionate advocacy for animal rights sometimes drew controversy. He used his platform to speak out against animal cruelty and promoted spaying and neutering pets, a tactic that some critics decried as too aggressive or polarizing. Barker's departure from the show in 2007 came amid allegations of favoritism and discrimination by former model Brandi Cochran, filed a lawsuit against Barker and the show claiming that she had been wrongfully terminated because of her pregnancy. The lawsuit led to a trial, during which Cochran was awarded a substantial settlement.
Barker's only film appearance came in 1996, when he played himself in a hilarious fight scene opposite Adam Sandler in the film Happy Gilmore. For years after the film's release, Price is Right audience members, during commercial breaks, would request that Barker say one of the scene's signature lines, "The price is wrong, bitch!"—and Barker would gladly oblige, to the crowds' perpetual delight.
Barker retired from The Price is Right in 2007, after which comedian Drew Carey was hired as Barker's replacement, with Barker's blessing. The original host would make three appearances on the show under Carey's tenure, most recently on April Fools' Day 2015 as host for the first segment of the show.
On the subject of his popularity as a host, Barker once said in an interview:
"Networks decide who will have a chance to do shows, but it is the viewers who make the final decision of who stays and who goes. I am very fortunate, in that the television viewers of our country have decided that Bob Barker can stay."
Bob Barker was preceded in death by his wife Dorothy Jo, who passed away in 1981. The couple had no children; Barker never remarried. No memorial service has been announced as of yet.