March 28, 2023
GSN Imports ITV's Riddiculous
This marks the second foreign adaptation in two years for GSN, following Switch.
Today marks GSN's and Sony Pictures Television's second combined upfront presentation, where the two companies showcase their successes over the past year and give sneak peeks into upcoming plans. In addition to showcasing their newest game Split Second, set to debut in April, GSN has clued us in on more new game shows coming to the network, including one import from the UK.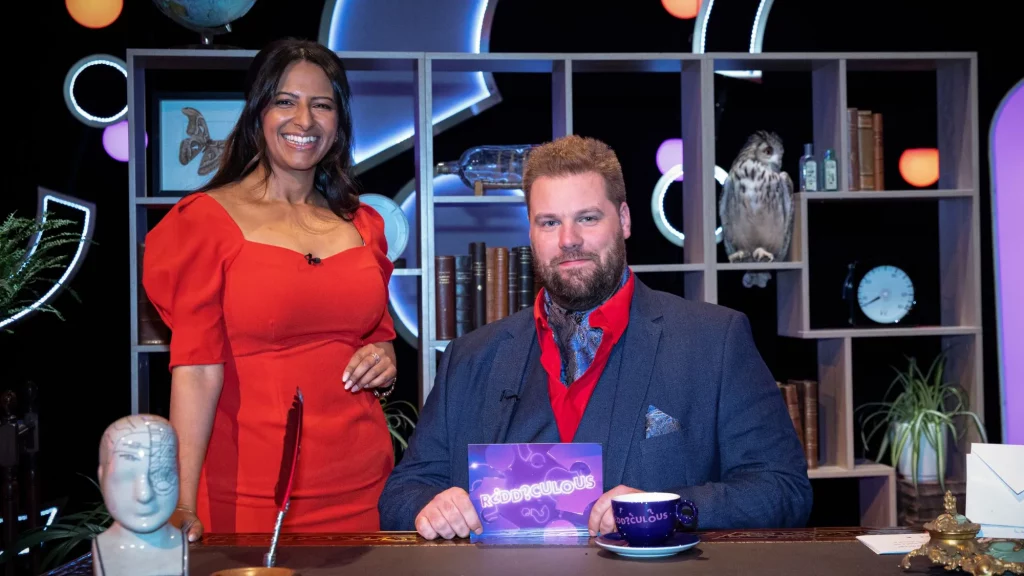 Not to be confused with MTV mainstay Ridiculousness (which I think at this point is entering its 450th season on MTV), Riddiculous is not only my spellchecker's worst nightmare but also an ITV game show whose central concept is solving riddles. Hosted in the UK by Ranvir Singh with actor and playwright Henry Lewis as the show's on-stage 'Riddlemaster', the show is mostly a standard trivia quiz, with riddles interspersed as checkpoints for each round.
In the UK, the show is split up into three rounds, each round consisting of a theme. Teams have to answer 3 trivia questions correctly to answer a riddle. Once 4 riddles are solved, the team with the lowest score is eliminated. Each round is similar, with different themes and different configurations of who's allowed to answer. In the final round, the winning team has 60 seconds to answer 6 rebus riddles to win their jackpot, and can go double or nothing on a final rebus.
It's pretty easy to see how GSN will adapt this show to fit their tried-and-true structure of games, considering it feels like it fits right in: 3 rounds, 3 teams of 2 players (which could easily be just one person), 60-second bonus round. While not reviewed specifically on BuzzerBlog, I've seen a couple episodes of Riddiculous and while I like the concept of having to solve riddles, the actual riddles themselves (as well as the Riddlemaster role) seem very tacked on and not well-thought-out, but has lots of personality and charm. I'm hoping GSN doesn't smooth out those bits like they did when they tried to import Pointless.
It's not currently known who will host Riddiculous or whether or not the show is casting yet, but watch BuzzerBlog's Twitter page or Discord server for more information.