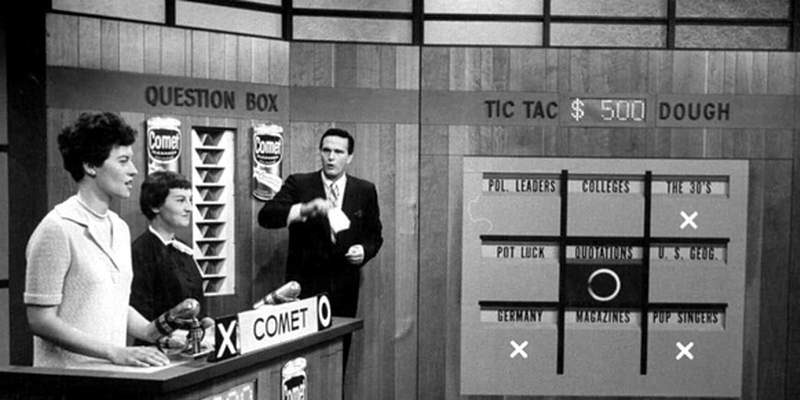 September 22, 2021
Tic Tac Dough Revival In The Works at NBCUniversal
The pilot is being hosted by Tom Bergeron and its EP is Harry Friedman.
Deadline is reporting that Village Roadshow Television, whose CEO is former Sony Pictures Television head Steve Mosko, is currently developing a pilot of a revival of the classic Jack Barry/Dan Enright quiz show Tic Tac Dough. Attached to the project is former Hollywood Squares and Dancing With The Stars emcee Tom Bergeron. Harry Friedman, the former executive producer of Wheel of Fortune and Jeopardy!, is the executive producer.
Tic Tac Dough has been a staple of American television since the 1950s. Originally hosted by Jack Barry for NBC in 1956, the show was embroiled in the game show scandals of the 1950s. CBS then revived the show in 1978 with Wink Martindale as the host. The show lasted only 9 weeks on CBS's daytime lineup, but a syndicated version lasted for eight years. The show was revived again in 1990 in syndication, infamously hosted by Patrick Wayne.
Tom Bergeron's last high-profile hosting gig was the lead emcee for ABC's Dancing With the Stars, before being unceremoniously let go from the job and replaced by a lackluster Tyra Banks. Bergeron is possibly best known in the genre for being the ringleader and host of the 1998 revival of another tic-tac-toe-based trivia game, Hollywood Squares. Harry Friedman retired from his positions at Sony as Executive Producer of both Jeopardy! and Wheel of Fortune in May 2020.
Bergeron talked about the new pilot on Bob Saget's podcast, and said: "At this particular point in my career, I'm just looking to have a good time. I don't need to host anything anymore — the only reason I agreed to this particular project was because of who came and asked me. When Harry Friedman shows up, who is the Obi-Wan Kenobi of that genre, and he's excited by it, that's a persuasive argument."
According to a catalog of formats being shopped by NBCUniversal, Tic Tac Dough will be a "Hilarious and unpredictable gameshow based on the childhood game of Tic Tac Toe." It continues: "This classic format reimagines the iconic game show with exciting and engaging new twists and a thrilling final round where one contestant must outwit a mischievous dragon to take home over $100,000. In each episode, two contestants will go head-to-head answering a series of trivia and specialty questions with the winner advancing to the bonus round. In the bonus round played from the Dragon's Lair, the contestant will be joined by family and friends to help determine which moves they should make on the digital display board in order to be in with a chance to win the ultimate prize money."