September 13, 2021
First Impressions: Frogger
A strong vision of a theme elevates this obstacle course above average.
I initially scoffed at the idea of a Frogger-themed obstacle course competition show. In terms of video games, Frogger isn't exactly the top tier of video game nostalgia. I had to scroll down seven rows on the Arcade1Up site to find their Frogger machine, overtaken by BurgerTime, Space Ace and Tempest. Most people really only know two parts of Frogger: dodging traffic and jumping on logs. I can't even really hear the Frogger theme tune in my head. (It's several jaunty tunes, it seems.)
So in my head, Frogger as a Wipeout knockoff doesn't sound like something that has (no pun intended) strong legs. But what Peacock has managed to accomplish is actually an enjoyable retro gaming-themed obstacle course show with creative elements and great branding, and something I was happy to binge 3 episodes of today.
If you're a fan of Holey Moley, you'll easily understand the format here: each episode sees 3 sets of 2 competitors taking part in different themed obstacle courses, from a space-themed course to a classic traffic and lily-pads course you would expect from Frogger. Unlike Ninja Warrior or Wipeout, all these courses are set indoors (not unlike Floor is Lava), with a huge video wall surrounding the entire set, allowing the vibes of each set to be easily changed without too much difficulty. Along the edges of the play area is a neon red grid, not unlike the boot-up screen of an arcade machine; a nice touch to really tie into the notion that the players are inside the game.
The players that do best in each round go to the Boss Toad final round; in a nod to the Frogger PS1 game, players have one chance to save up to 5 baby froglets in a massive open obstacle course. The player that saves the most frogs the fastest wins a $10,000 prize and may qualify for a season-ending $100,000 grand prize. This round impressed me the most, from a "paying homage to the video game" standpoint and a "this is actively exciting" standpoint. I'm kind of OK with them borrowing so much from Holey Moley, from the format, to the comedian/sports guy commentating booth, to the "golden clothes accessory" representing a big win—in this case, a fanny pack.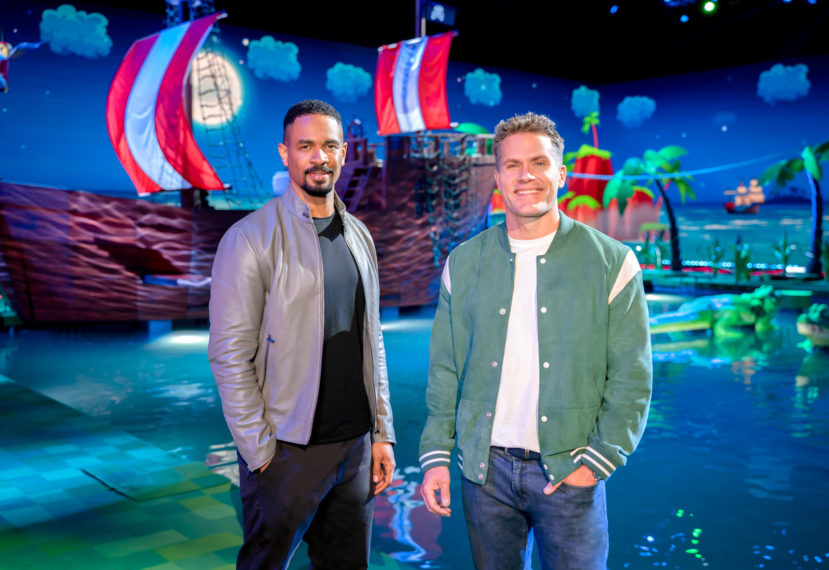 Hosts Damon Wayans Jr. and Kyle Brandt (of the NFL Network) do a good job balancing between commentating and snarking. Their rapport is solid and the gags don't feel overly scripted and carry a lot of humor; they both also are very good at narrating the tension and reacting appropriately. There are a lot of very nice touches to emphasize the retro gaming nature of the theming, including pixel-art portraits of the contestants (that feel a lot like the avatars from the Scott Pilgrim video game) and a three-life system that makes a familiar sound when a player loses a life.
Peacock is adding new episodes weekly, and I'm really looking forward to the next episode. I hope I can retain interest now that it feels like I've seen all the level configurations, which is always my big problem with stunt shows like this, but my curiosity is piqued. New episodes are posted on Peacock Thursdays.