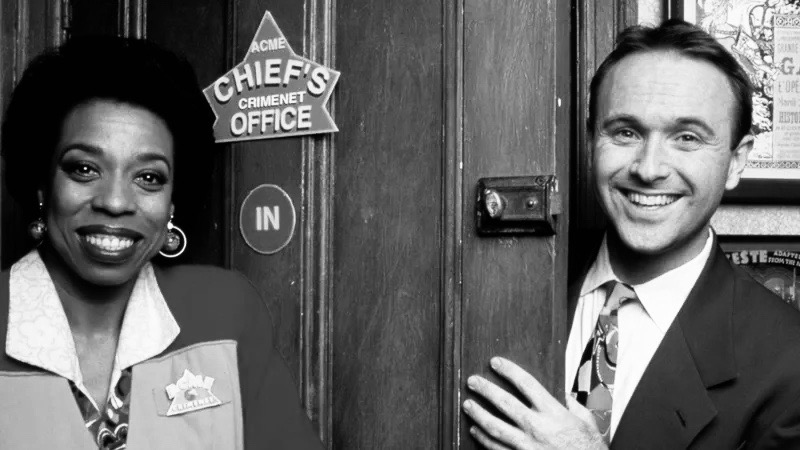 August 25, 2020
The Loot, The Warrant: Exploring the Myth of the Lost Carmen Sandiego, Part 2
This is the second in a three-part series examining Auld Lang Gone, the long-rumored lost episode of the PBS game show Where In The World is Carmen Sandiego. Part one is available here.
"That's excellent news."
I tried to underplay my excitement, my intrigue, and my pure unadulterated joy as much as possible. Almost three decades after the fact, and after years and years of only gleaning hints of its existence through brief archaic message board posts and crudely-formatted fandom wiki articles, I was about to watch—no, experience—Auld Lang Gone, the lost episode of Where In The World Is Carmen Sandiego.
Paul Byers, the Executive Director of Engineering at WQED in Pittsburgh, was kind and helpful enough to pull the tape from the station's archive with alarming ease. I was now entered into dialogue with Paul and WQED's attorney, who assists with rights clearance.
I had the loot. Now I needed the warrant.
"There are always rights issues with these shows, so what is it that you want to do with the show?" Paul asked in an email to me, with the attorney CC'd.
I laid out my intentions as clearly, unambiguously, and professionally as I could, fearing that I might accidentally sound too greedy and, consequentially, get the rug pulled out from under me.
My goal is to write up a synopsis/description of the episode as part of a series on Buzzerblog.com discussing instances of "lost media" in game shows. Ideally, my write-up would incorporate 3-4 screen grabs of the episode (the title card, production slate, etc)—so to that end, a digital copy of the episode would be greatly appreciated, if possible.

What I will *not* do is share, post, or publish the video in any way, other than the aforementioned screen grabs to be used within my written article. I would be willing to agree to delete the file once my research is complete, if that is appropriate.

I am, of course, open to discussion re: these points. I am greatly appreciative of your help.

– Christian.

I hit Send.
My mind was racing. I was so anxious to know what exactly I would be looking at. From what I've learned of the episode thus far, it was essentially a reel of unedited footage. The episode supposedly started like any other—the camera panned the audience of cheering kids, Rockapella sang while the Chief, this time played by regular host Greg Lee, introduced the contestants and substitute host Marc Summers, and the game got underway.
This was the part where things apparently began to go awry. IMDB says that in the course of the game, Rockapella member Sean Altman ripped the sleeve on Greg's jacket (it's not clear whether this was accidental or deliberate). The Plastic Diver Guy sketch, a recurring bit that began in season 2 and involved a small scuba diver figure who lived in the fish tank at the ACME CrimeNet office, went off the rails after the glass tank cracked. And, of course, the final straw in this seemingly cursed production day—the fall of Jasmine Doman, winning contestant who broke her arm as she tumbled onto the map of Europe, leaving runner-up Ed Mann to complete the bonus round in her stead, "with 13 seconds remaining".
This footage was going to be insane.
I was almost nervous to watch it. How gruesome was Jasmine's injury? Was I going to see a teenager screaming and writhing in pain, bone protruding through her skin, tears streaming from her eyes, blood spurting out and staining the set of a kids' game show? What did the audience do? Did they gasp, scream, recoil in horror? Did the director keep the cameras rolling? Did he have a camera operator zoom in on the action? Did he fade to black? Did Marc bolt from the studio to avoid seeing the grisly aftermath, the way he did when a contestant suffered a compound fracture during the Obstacle Course on Double Dare? Would I ever be able to look at Where In The World Is Carmen Sandiego the same way again?
In an email later that afternoon, Paul answered all of my questions and eased all of my concerns in one fell swoop.
Christian,

I'm sorry to tell you that when I got to the office today and pulled the tape from the shelf it was "Where in Time is Carmen Sandiego", Season 2 Episode 66.
I was crestfallen. Gutted. At the same time, given the speed and seemingly low degree of difficulty involved in tending to my request, I had a feeling in the back of my mind that it was too good to be true.
I supposed it was pleasing to know that the tapes for Where In Time is Carmen Sandiego, the replacement for World that aired from 1996 to 1998, are still in good hands. There was nothing inherently wrong with the Where In Time series—the late Lynne Thigpen reprised her role as the Chief, and the production had a layer of late-90s computer-age chrome to it (the show took place in a futuristic time machine called the Chronoskimmer, and Data Boosts and Power Points abounded). However, to a Carmen Sandiego purist, the omissions—most notably, getting rid of Rockapella and replacing Greg Lee with host Kevin Shinick (who would go on to win an Emmy for his stop-motion work on the Adult Swim series Robot Chicken)—were deal-breakers, too different from the classic formula that had succeeded for five seasons.
Pleasing to know, but far from what I was looking for. However, the last line of Paul's email revived some hope in me yet.
Thinking back on it, I am fairly certain that we sent all of the "World" tapes back to WGBH.
Carmen Sandiego had fled to Boston, Massachusetts.
I'm still getting used to Twitter.
I joined back in 2009 when I started college so that I could keep up with what I thought was the important stuff going on in the world, like what was being served for lunch in the student center or when the free Plain White T's concert was starting. Otherwise, the system of retweeting, following, and replying never grabbed me the way other social media did. I host a podcast called Stranger Than Christian that's been going strong for the past few months, and to that end I've gotten around to using Twitter @strangerthanC to engage with listeners, as well as communicate with potential guests and fellow podcasters.
Twitter would prove itself to be an invaluable resource as I continued my journey into the mystery of Auld Lang Gone.
Where In The World Is Carmen Sandiego was co-produced for PBS stations by WQED in Pittsburgh, Pennsylvania and WGBH in Boston. WGBH, in particular, has become known to generations of film researchers and students for its Media Library and Archive, a behemoth undertaking containing thousands upon thousands of hours of video. WGBH's immense collection spans their history in television, from the station's 1951 inaugural broadcast of the Boston Symphony Orchestra to footage from the present day. Research is open to the public by appointment in their offices in Brighton, a neighborhood of Boston located in the northwestern corner of the city.
Surely this was the place I needed.
A search for "wgbh archive" brought me to the official page for the archive project. Perhaps because I didn't immediately see an option to contact the staff by email, or perhaps because I was impatient to solve this mystery, I reasoned that Twitter would be the fastest and most efficient way of making contact with someone, preferably an archivist, who could help me find the footage I was seeking.
Within minutes, I received a reply via direct message from Ms. Davis-Kaufman, inviting me to email her personally so that she could be of assistance. I sent an email explaining what I was doing and what I was looking for, and included:
I've recently been in touch with Paul Byers, director of engineering at WQED in Pittsburgh, and Paul was kind and helpful enough to pull the tape from the archive…until he realized it was the wrong series. He then informed me that he is fairly certain that the tapes for the original Carmen Sandiego series were sent back to WGBH.

I hit Send.
While I waited, I told my wife, Cat, that I may need to drive to Boston at some point in the very near future.
"Why?" Cat said, furrowing her brow as she struggled to catch a hammerhead shark in Animal Crossing.
"Well, I'm writing this thing about this lost episode of that old show Where In the World Is Carmen Sandiego, and I already talked to someone at the PBS station in Pittsburgh but they don't have the tape I'm looking for, but the guy said that the tapes are probably at the archive in Boston, so I tweeted to the archivists in Boston and I'm waiting for them to tell me they have it, but the show was produced by the stations in Pittsburgh and Boston, so if Pittsburgh doesn't have it then Boston has to have it, but I'll probably have to go watch it in person because research is open to the public by appointment in their offices in Brighton, a neighborhood of Boston located in the northwestern corner of the city."
"Cool," Cat responded. "Have you picked up your prescriptions yet?"
An hour later, I received a reply.
Hello Christian,


Thank you for your interest in historic WGBH programs. The episode in question, Where in the World Is Carmen Sandiego?; 266; Auld Lang Gone, never aired and we do not hold a copy of this footage in our archive. We do hold paper documentation related to this season, but it has not yet been determined if the episode is included in this documentation.

It could also be possible that WQED mistakenly searched their archive for Where in Time Is Carmen Sandiego? instead of Where in the World Is Carmen Sandiego? However, the media in question could have been sent back to us and recorded over or not saved at all.
Recorded over? Not saved at all?
From what I knew about television production, an episode of any series, whether it's a game show, soap opera, or local news broadcast, represents an enormous financial investment. Between the time spent in the studio, the number of cast and crew members on the show's payroll (in Carmen Sandiego's case, it was approximately 150 people), the time spent in post-production, music rights clearance, the price of tape stock, and what I'm sure is at least a dozen other expenses I'm not aware of, the cost of making a half-hour of television could easily reach into the tens of thousands, if not much more. It didn't make sense to me that the tape, and by extension all of that money, would just be trashed. Besides, a kid was hurt on this show. Wouldn't Jasmine's parents have wanted to see it? At the very least, wouldn't the Domans' family attorney, or PBS's legal team, had some interest in holding on to that footage?
I felt lost. And, as in many other moments in life when I felt hopelessly lost, I reached out to a friend.
I reached out to Bob Boden.
If there was ever a true friend to game shows, Bob "TV Bob" Boden is the one. A native New Yorker, UCLA graduate and fellow game show expert, Bob parlayed his lifelong love of the television game show into a career during which he's supervised and helped develop shows like Family Game Night, Russian Roulette, To Tell The Truth, Cram, Lingo, Friend or Foe, Scrabble Showdown, Don't Forget The Lyrics, Whammy! The All New Press Your Luck, Family Feud, and Funny You Should Ask. Bob was the co-creator of the FOX big-money quiz game Greed, as well as the executive producer of GSN's Emmy-nominated The Chase, on which he was kind enough to cast me as a contestant in 2013. He's currently the Executive Vice President of Production and Development for Byron Allen's company Entertainment Studios.
Bob has also been a friend to Buzzerblog for about as long as Buzzerblog has been around. He's been supportive of all of our various endeavors, and cheerfully so. Bob even helped us develop an original game show format and optioned it from us through his independent production company. It's a good story. I'll tell you sometime.
I emailed Bob.
Hey Bob—

Hope you and your family are well. Curious to know how much involvement, if any, did you have in the production/planning/etc. of the original Carmen Sandiego series back in the 90s? I'm working on a piece about lost media for Buzzerblog, and one particular episode of this series (with a contestant injury) has been mentioned to me many times…interested to know if you could provide some insight.

Hope to hear from you soon!

– Christian.
Within the hour, Bob replied:
Hey Christian—


Nice to hear from you! All good by me, I hope you too.

I had nothing to do with WITWICS, but I'm good friends with Howard Blumenthal, who created and produced it. If you don't know him, I'm happy to make the connection for you. No need to involve Jim McKay or Gene Rayburn.

Let me know. Stay safe.

All the best,
Bob
With heartfelt gratitude for his beautifully obscure game show pun, I said:
That would be wonderful. I'd be very appreciative of that, Bob. Thank you so much!
Bob emailed me back, again within the hour, but this time with a new email address included:
Gentlemen:

Say a virtual hello. Howard, Christian is a game show expert and enthusiast, and one of the principles of my go-site for game show information, Buzzerblog. Christian, Howard is a long-time friend who happens to have created and produced Carmen Sandiego, so there is nobody better to handle your inquiry. I know that you two will hit it off, and I now pass this off to you…
Continued in part 3.