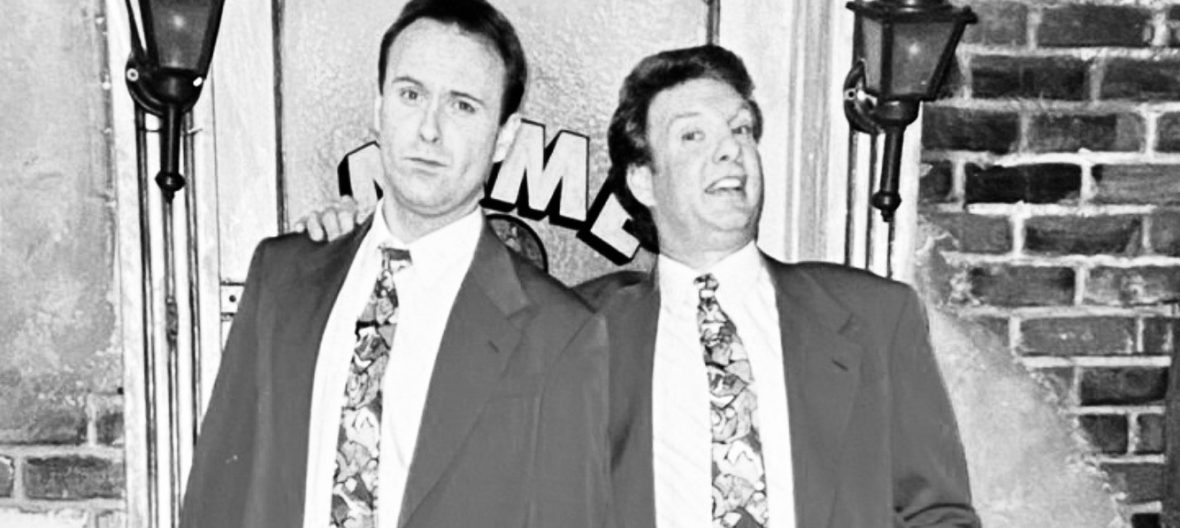 August 23, 2020
"Gone" But Not Forgotten: Exploring the Myth of the Lost Carmen Sandiego, Part 1
"I suspect there are more interesting topics than one unscheduled episode. Not being critical, but it's an odd area for focused energy."
I had been engaged in conversation with Howard J. Blumenthal via email for the better part of the afternoon. Mr. Blumenthal was the creator and producer of the PBS edu-tainment game show "Where In The World Is Carmen Sandiego?", a program that I happened to be a huge fan of as a child, and still remember fondly today.
Based on the computer game series by the same name, each episode of the TV version of Carmen Sandiego featured three middle school-aged contestants competing to answer geography-centric questions in an effort to catch Carmen Sandiego, who in each edition had sent one of her goons to steal an iconic landmark or cultural icon. In the episode "Cheetahs Never Win," players tried to stop The Contessa from plundering the cheetahs of Namibia. The season 2 episode "I Lost Lucy" concerned the kidnapping of Lucy, the three-million-year-old hominid skeleton. The bonus round of each episode involved the winning "gumshoe" running around an oversized map of a continent and identifying cities and countries by placing large, lighted markers in their proper spots on the map. The theme song was sung by an a cappella group. Everyone wore colorful jackets.
It was the 90s. It was fun.
"That may be true," I responded to Mr. Blumenthal's message. "But to many people who grew up watching and enjoying your show, there is considerable interest. The concept of a 'lost' episode of a beloved series is no less fascinating than an unreleased recording by your favorite band, or an unfinished novel by your favorite author."
"In any event, your point has been duly noted. Thanks all the same."
Feeling slightly discouraged, I hit Send.
I had spent the previous week reaching out to sources around the country. Multi-million dollar organizations were devoting their precious time to my inquiries. Tape stock that hadn't been viewed in ages was being exhumed at my request. I had been researching, running, asking, writing, questioning, doubting. If the creator of the show didn't see the point, though, why should I? Why would anyone else? I was drained.
But then I remembered the rumors. The whispers. Talk of the lost episode had persisted on more TV and game show message boards and online fan groups than I could count. The show's IMDB page recounts details of the episode that were just too precise, too on-point to ignore. Every episode guide of the series includes this one, and almost always with an asterisk or some kind of mark indicating it's a special case. For over a decade, discussion of the episode's existence has crept through the fandom like a wisp of smoke.
I truly, finally, perhaps even obsessively, wanted to know: where in the world is Carmen Sandiego?
Thursday, August 13.
Tom Bastek, Mike Jacobs and I had just wrapped up recording the news segment for Tell Them What They've Won, a weekly game show podcast with which Buzzerblog began a creative partnership starting this past June. Every episode of the podcast begins with me providing a recap of the latest game show news, as well as some impromptu commentary about the show Tom and Mike happen to be discussing that week.
After watching/studying/obsessing over game shows for the majority of my adult life, I've come to develop an ability to extemporaneously drop a "fun fact" concerning just about any game show you throw at me. If the topic were Hollywood Squares, for instance, I might mention how much I cherished my copy of the Nintendo adaptation of the game. If The Joker's Wild was the game of the week, I'd provide a (hopefully) fascinating description of just how the show's big magical slot machine worked. Sale of the Century? Did you know Geoff Edwards auditioned to be the host back in 1982? He was great. And so on.
"Alright, Christian," said Tom, "this week we're doing 'Where In The World Is Carmen Sandiego?'. What's your take?"
I trotted out the one crazy Carmen Sandiego fact I knew. The one fact I thought I knew.
"This might be creepy. To me, as a person who's interested in lost media and lost episodes of things, I find it fascinating. There is one unaired episode of Carmen Sandiego sitting in the PBS vault marked 'Do Not Air'…"
So goes the legend of Auld Lang Gone, the unaired, unedited, un-acknowledged season 2 episode of Where In The World is Carmen Sandiego. Unaired because, among many other problems, a contestant fell on the floor-sized map of Europe and broke her arm during the bonus round, prompting the second-place contestant to be called from the bleachers to finish the game on behalf of the injured participant. Unedited, because the chaos that occurred on the packed Manhattan soundstage in the wake of the accident apparently rendered the footage unsalvageable. Un-acknowledged, because the show was quickly scrapped and hidden in the PBS vault, never to be broadcast—on October 12, 1992, the episode's intended air date, a rerun of the season 2 premiere ("Disturbing The Heavenly Peace"; Double Trouble attempt to steal Tiananmen Square) was scheduled in its place.
Rumors of the existence of Auld Lang Gone have persisted in various pockets of the internet for at least the past ten years, but no footage has ever surfaced.
"I like it," Tom said. "I like creepy and I like Carmen, and it's great."
Satisfied with the input I provided to the show, we saved our audio and called it a night.
Friday, August 14.
The next morning, I received a text from Tom.
"Dude. I need to figure this out."
Attached was a screenshot of the Trivia section of the IMDB page for Auld Lang Gone, which read, in part:
"This episode, which never aired, was plagued with on-screen chaos…During the final round, the winning gumshoe, Jasmine Doman, slipped and broke her arm on the floor map of Europe. WQED-TV Pittsburgh stopped production for a moment until the runner-up, Ed Mann, completed the map round for her, with 13 seconds remaining. WQED-TV has declined to comment on whether they still have a tape of the episode. They confirm taping the show, but not editing it."
I opened another tab in my browser and searched for "carmen sandiego auld lang gone". Among the results were tidbits of information that I had heretofore not heard. Host Greg Lee suffered from laryngitis on the day of taping, so Nickelodeon host Marc Summers was brought in as a substitute emcee for the episode. Lee took the place of Lynne Thigpen that day and played the role of the Chief. During one question, Gene Wilder made a walk-on appearance.
This didn't make sense.
Marc Summers had stated in several interviews that he was witness to a contestant's broken bone on the set of his own show, Double Dare. Was he the only game show host that tended to two compound fractures on television, let alone one of them occurring on the only episode of the show he hosted? Why would Gene Wilder have been there? What was he promoting? His NBC sitcom Something Wilder wouldn't happen for another two years, and his last big-screen role had been opposite an ailing Richard Pryor in the financially and critically unsuccessful 1991 film Another You. Why was Greg Lee given another on-screen speaking role that day if he had no voice? Where was Lynne Thigpen? Nothing was adding up.
The last discussion I could find online regarding anything resembling a serious inquiry into Auld Lang Gone was a thread on the Game Show Forum message board from back in 2009. The results of that exploration provided nothing that the trivia section of IMDB hadn't already told me. Perhaps I could use my journalism school experience and put some legwork into finding this tape once and for all. Holy shit, that would be cool.
I set to work at once.
In my mind, one of the enduring images of Carmen Sandiego was the animated globe that appeared at the top of each episode, accompanied by the Chief's announcement: "Today's caper is presented by WQED Pittsburgh and WGBH Boston." The show was a joint production spearheaded in tandem by the two PBS stations, meeting somewhere in the middle and producing the show's 5 seasons at various television facilities around New York City.
Pittsburgh is only a few hours' drive away from me. Let's start there.
A search for "WQED archive" yielded a page containing contact info for Paul Byers, Executive Chief of Engineering and 50-year veteran of QED. I sent Paul an email:
Good morning!

I'm the news editor for Buzzerblog.com, a website dedicated to game shows and other unscripted television…and I'm hoping you may be the right person to contact.

I'm currently working on a piece about examples of lost media in game shows, and I was informed of an episode of the 90s children's game show Where In The World Is Carmen Sandiego that, for several reasons, was left unaired.

How would I get in touch with whoever maintains WQED's video archive, so that I may inquire about this particular episode? Any information appreciated. Thank you—stay safe!

Christian Carrion
News Editor, Buzzerblog
The following Monday, I received a reply:
Christian,

We have the "Carmen" tapes in our archive, so if you tell me the episode number that you're looking for, I'll dig it out.

Paul
There was no way it could be that easy. Maybe once I tell him what episode it is, he'll shriek and his face will melt away like that part in Indiana Jones.
This would/should have been season 2, episode 66. Intended air date was October 12, 1992, but it was replaced with a rerun of season 2 episode 1 (Disturbing the Heavenly Peace).

Thank you so much!

– Christian.
I hit Send and tried to go about my day in as normal a fashion as I could. In the back of my mind, however, I was fixated. Could this be the end to a years-long rumor? Was I going to be the one to unearth a holy grail of the game show world? Can I get a day off of work to drive to Pittsburgh?
I was always told that the first step to success is to envision yourself enjoying the success you want. As clear as day, I could envision my trip to WQED, being led through their archive to a dusty monitor and a tape deck. The man in charge of the archive, who may or may not have a mustache, would hand me a pair of headphones, smile warmly, and say "Welcome, friend." Then I would watch a child break her arm.
I was driving to the supermarket in the next town when my email notification sound went off.
I pulled over and saw a new message on my phone with the subject Re: Archival Question:
Christian,

I have the episode.

Paul
Continued in part two.