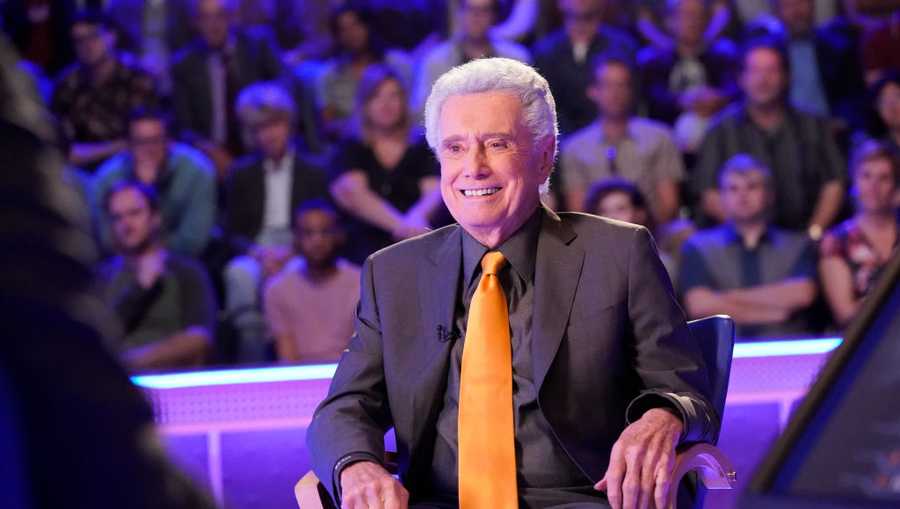 July 25, 2020
Regis Philbin, Iconic Broadcaster and Game Show Host, Dies
Philbin was 88 years old.
Regis Philbin, the broadcaster whose six-decade career encompassed multiple professional rebirths and spanned multiple facets of entertainment, has died. He was 88.
Multiple news outlets confirmed Saturday that Philbin passed away of natural causes in Manhattan, New York City, NY.
A native New Yorker, Philbin became known for his strong Bronx accent, irreverent ad-libs, and affable demeanor. As a result of his imitable mannerisms, Philbin was the subject of countless parodies and comedy sketches throughout his career.
Although he got his start as a talk show host with the local Regis Philbin Show on KOGO-TV in San Diego, Philbin took over as host of the program that replaced the off-beat, breakthrough Steve Allen Show after its cancellation in 1964, a gig that proved to be unsuccessful as audiences never warmed up to the relatively-new star — especially compared to Johnny Carson, who consistenly beat Philbin in the ratings.
Philbin eventually found fame in 1967 as Joey Bishop's sidekick on Bishop's ABC talk show. In that role, he served as comic foil to Bishop, who would often joke at Philbin's expense to audiences' delight (and Philbin's faux consternation). When Philbin overheard a rumor that ABC executives were dissatisfied with his performance on the show, he began one episode by quitting on-air in protest, only to return a few nights later at the beckoning of his co-host. In later years, it was revealed that the stunt was completely pre-planned by Bishop and Philbin.
Beginning in 1975, Philbin joined KABC-TV's local talk show A.M. Los Angeles, quickly helping the show achieve the number-one spot in the ratings. Philbin co-hosted the show with Sarah Purcell and, later, Cyndy Garvey.
Also in 1975, Philbin hosted his first game show — The Neighbors on ABC. Produced by the Carruthers Company (Give-N-Take, Press Your Luck), The Neighbors was a residential twist on the Newlywed Game format, in which real-life neighbors from various Southern Califormia towns competed to guess secrets about one another. The show lasted one season.
In the 1980s, Philbin followed his former A.M. Los Angeles co-host Cyndy Garvey to New York, where they co-hosted The morning Show on WABC-TV. After a period of low ratings, Garvey was replaced by Ann Abernathy for a short time before Regis was paired on-air with Kathie Lee Johnson. The new pair hekped ratings rise considerably, and the show — eventually renamed Live! with Regis and Kathie Lee — became a national institution.
Also in the 1980s, Philbin made his first guest appearance on Late Night with David Letterman. He would go on to guest on the NBC series and CBS' Late Show with David Letterman 136 times in total.
In 1999, ABC announced that Philbin was to be the host of a British import — an American adaptation of the quiz series Who Wants To Be A Millionaire. The show had taken the UK by storm, but had yet to make landfall in the States. In lieu of a pilot show, which Philbin suggested wouldn't work because the pressure of playing for a million dollars wouldn't come across, ABC agreed to air two weeks of episodes in prime time to gauge viewer interest.
The rest is history. Who Wants To Be A Millionaire revived the studio game show genre, made Regis Philbin even more of a household name, and made six- and seven- figure cash prizes the norm on game shows for the first time since the game show scandals of the 1950s. Home versions of the game, produced for every platform from PC to Game Boy to tabletop, flew off shelves. The "Regis look" — that of a solid-colored, metallic-toned tie against a solid dress shirt — inspired a collection of mens' neckwear endorsed by Philbin himself. "Is that your final answer?" was uttered by seemingly every man, woman and child in America. The show had become the highest-rated program on television, and catapulted Philbin to superstardom.
In later years, Philbin served as guest host on talk shows such as Piers Morgan Tonight, The Talk and The Late Late Show. He was also emcee of 2008's Million Dollar Password on CBS, as well as season 1 of the NBC competition series America's Got Talent and ABC's Dick Clark's New Year's Rockin' Eve. Philbin could also be seen on sitcoms such as TV Land's Hot in Cleveland, ABC's Ugly Betty, CBS's How I Met Your Mother, and the 2015 reboot of the classic Odd Couple series,.