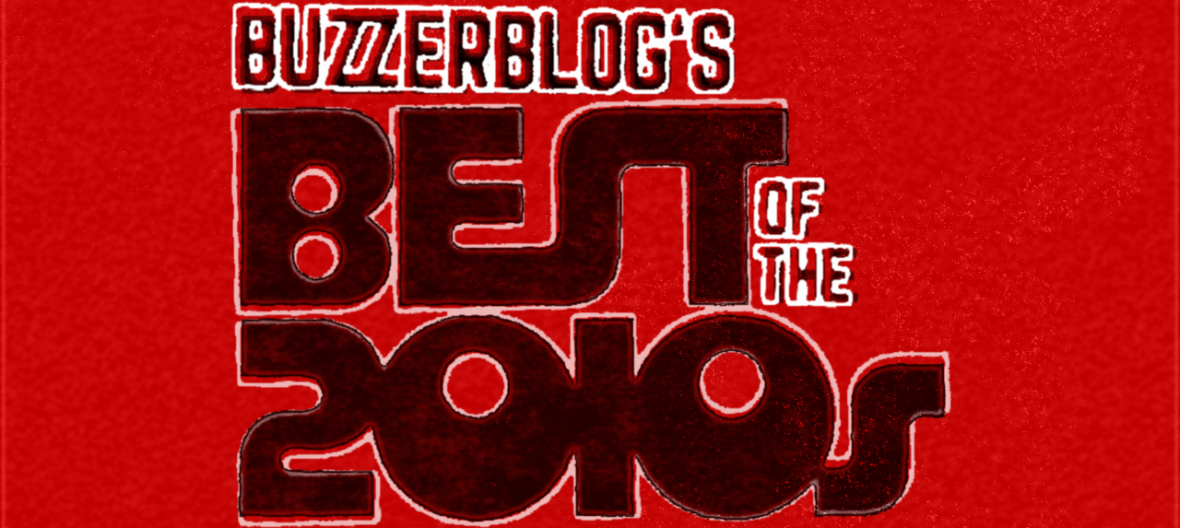 December 19, 2019
BuzzerBlog's Best of the 2010s
Cory and Christian take a look at the 20 best game shows from past decade.
With the 2010s coming to a close, BuzzerBlog looks back at the 20 best game shows that aired during the 2010s. We analyzed every game show we could find that aired a new episode between January 1, 2010 and today and put together a list of the 20 best shows, ordered by the BuzzerBlog staff.
20. Cash Cab
One of my favorite aspects of Cash Cab is its relatibility. Cash Cab presents an ordinary task elevated to the heights of a bona fide quiz show, with accessible material, genuine contestants, and everyman host Ben Bailey in the driver's seat as one of the best (and most unlikely) hosts the 2000s has produced thus far. By injecting a bit of Millionaire tonic into a proto-Comedians in Cars Getting Coffee, Cash Cab captured the imagination of viewers during its many runs on Discovery and GSN—you're a liar if you say you've never tried to spot the famous game show studio-turned-taxi on a trip to the big city. Well-produced, exciting, and fun to play along with—Cash Cab is a damn good product. —Christian Carrion
19. @midnight
In 2013, @midnight rolled onto Comedy Central's airwaves, surprisingly, at midnight. A mix between between a traditional panel show and an improv competition, @midnight stormed through not just the airwaves but also through Twitter, using their Hashtags Wars round to light up the actual Internet with funny quips that often went trending. The show's often-rapid-fire delivery of off-the-cuff witty jokes and late-night sensibilities allowed for a wide range of comedians to be successful. For the 4 years and 600 episodes that @midnight with host Chris Hardwick ran on Comedy Central, it was the funniest show on late night TV, and a rare instance of the heights of comedy-based panel shows in America. And also, as a personal thank you, thank you @midnight for introducing me to the joys that was Ron Funches. —Cory Anotado
18. Richard Osman's House of Games
In a few senses of the word, I'm a gamer. When I'm not screaming my lungs out at Japanese children during heated Splatoon or Puyo Puyo battles, I'm enjoying a cup of Constant Comment tea (with a splash of almond milk) while I scribble the time away in a book of Jumbles or ScrabbleGrams. In the same way that a book of word puzzles scratches an itch that a $300 video game console doesn't (and vice versa), Richard Osman's House of Games satisfies a set of tastes that even the brightest, shiniest, Whammiest program couldn't satiate. House of Games is a puzzle book—a daily romp through a mostly-unpredictable variety of intuitive, intellectually-stimulating mini-games. Host Richard Osman is friendly, encouraging ("Good for you if you got that one at home!"), and clearly possesses an appreciation, perhaps even an admiration, for the occasionally-lost art of the quiz show. The weekly celebrity panels are well-concocted, with stars who are obviously there to have a good time. For a puzzle fiend like me, the show is infinitely binge-able, even during those "oh crap" moments when a game comes up that the panel is clearly not a fan of (and, honestly, what other game show even has moments like that?) It's not the most exciting show on television, and it definitely doesn't give away the biggest prizes. Hell, I still want a House of Games teasmade. But if we're talking about the best game shows of the past decade, I'd add Richard Osman's House of Games in a heartbeat. Because it is great. —Christian Carrion
17. 1000 Heartbeats
1000 Heartbeats was the darling that just couldn't, and not for a lack of trying. The show didn't break a lot of new ground, but innovated on ideas seen in past game shows for a package that held my attention. The premise of the game was that players would have 1,000 of their very own heartbeats to complete mental challenges. Their heartbeats were tracked with a live heart-rate monitor, so if they got nervous, their heartbeats would decrease faster as their heart rate increased. To add to the pressure, a live string quarter would play the show's background music in time with the tempo of the player's heart rate. If you heard those strings start to wail at full speed ahead, it's because your heart's pumping overtime. Players worked up a money tree and had to bank enough heartbeats to finish a final Cashout game in order to leave with any money. From its parts, it's easy to see its Krypton Factor/The Chair/Millionaire roots. But as a sum, it's absolutely engaging and deserved more than the two series it received. A variety of puzzles combined with enough competent players and an interesting biometric gimmick made 1000 Heartbeats one of the best game shows of the decade. —Cory Anotado
16. Billy On The Street
In the loosest sense, Billy on the Street is technically a game show—people are playing games for prizes. But its prizes are usually a dollar or things like loose stack of printer paper, and its questions are frequently just loud, shouted non-sequitors about Katy Perry. However, host Billy Eichner's manic, overly-aggressive hosting of this pop-culture tornado, roping in random pedestrians in New York City, creates a knee-slapping, lightning-in-a-bottle frenetic half-hour of television. The joy in the show comes from stretching the idea of a game show taught around its bare bones and decorating the skeleton with cutting, witty commentary on pop culture, the entertainment industry and America as a whole. Billy Eichner, whom I can only describe as a loud gay hurricane, simultaneously commiserates with and berates his unwitting and unknowing guests, their appearances fleeting to usually never be seen again. Billy on the Street is a fast-paced slice of America, curated by a concoction of devious, cutting comedy from one of the brightest and loudest minds on television mixed with the purest base realities distilled from every game show host on TV. —Cory Anotado
15. The Genius
The Genius is one of the most unique games to ever be put on television. Broadcast out of South Korea, The Genius ran for four seasons, and each had a simple goal: win the weekly games, and don't get eliminated. These, however, were not your normal, everyday parlor games. These seemingly impossible-to-master games were won not by brute force or straightforward play, but through careful manipulation of the games' rules, alliances with other players, or subtle details about the game or its pieces. (See above to watch how Jinho, a player from Season 1, solved a game where players had to assemble a deck of cards and then, with the cards face down, try to put that deck in an order that made a math problem resulting in the largest value). Even in similar shows of this ilk—The Mole and little else comes to mind—there probably hasn't been a game show that embraced breaking the very structure of each presented game as much as The Genius. Nerds call that game theory, I call it engaging television. While the shows themselves run pretty long—and they feel even longer when trying to read subtitles generously supplied by a dedicated fansubber—the shows are masterfully edited to give a surprising revelation that someone has successfully played (in every sense of the word) the game. Every episode is a masterpiece, and watching these contestants—geniuses in their own right—fumble, stumble, or triumph through some of the most innovative games to ever be televised is an absolutely joy. —Cory Anotado
14. Would I Lie to You
The format behind Would I Lie To You, a BBC panel show which premiered in 2007 but didn't really come into its own until the arrival of host Rob Brydon two years later, is as simple as it gets: read the story in front of you, and convince the other team that it's true. The simplicity of its form, however, leaves enough wiggle room for spontaneity and raucousness that the show, for my money, is in a dead heat with Taskmaster as the most entertaining panel show on television. Perhaps by design in the wake of late night's social media second-coming, Would I Lie To You is neatly perforated so that any one bit, or any one round of play, is watchable/shareable/upvote-able as its own standalone clip. Compilations of the best bluffs from the show have racked up millions of views online. David Mitchell and Lee Mack, the show's team captains and the quickest wits in broadcasting today, could not be more well-suited to their roles on the show. Even host Brydon serves as the perfect straight man to the antics of the panel. There aren't many shows that I could watch uninterrupted edits of for hours on end, but Would I Lie To You is definitely one of them. —Christian Carrion
13. Double Dare
In the late 2010s, nostalgia truly was all that. Between cynical reboots of treasured sitcoms, Netflix-funded continuations of beloved cartoon series, and Oreo O's, it's never been more popular to be retro. There should be no doubt that the 2018 revival of Nickelodeon favorite Double Dare benefited from this pop cultural climate, but do not be fooled—this show was so much more than a reboot. The selection of affable, fun-loving Liza Koshy as host dealt a huge win to women of color, a segment of the population that has gone sorely unrecognized in our genre as hosts or emcees. Production elements, from the theme song to the set design to the sound effects, were clearly designed by people who loved the original series and what its audio-visual iconography represented for generations of Nick kids. The pedigree of Marc Summers on set was the game show equivalent of the former sensei presiding over his old dojo. The guy who trained us was clearly enjoying the reign of a new leader, but his presence also let us know that, to put it simply, it was all going to be okay. The new Double Dare was a master class in game show rebirth. —Christian Carrion
12. The Million Pound Drop Live
There's a few game shows in the annals of the artform that really have such a wide international appeal. Most obviously there's Who Wants to be a Millionaire, a simple format that managed to adapt nicely in practically every country on the planet. But a less-celebrated but far more interesting game format is The Million Pound Drop. In its original form, The Million Pound Drop was not just a show but a live event: a team of two starts with a bank of a million British pounds in 40 bundles of £25,000. They answer multiple-choice questions, many with a very tight timeline of reference: what happened this week, who said what today, what's going on this very second. Eventually, the questions get harder, and the choices drop from four to three to finally two. Players physically move their money onto trap doors representing their answers, and incorrect answers drop their money to oblivion. The final question, if the players manage to get there, is a tense all-or-nothing affair. The live nature of the show means that a second-screen play-along experience integrated well into the show, much better than other efforts like NBC's trainwreck Million Second Quiz. Host Davina McCall played a wonderful host, commiserating and reacting expertly without the fallback parachute of editing. Eventually, the show lost steam and dropped the live, then dropped a zero from the top prize, but the initial fervor of the show, its unique live format and second screen experience, and its over 60 different international versions, cements the show's place as one of the decade's best. —Cory Anotado
11. Match Game
The inclusion of ABC's Match Game on this list has absolutely nothing to do with the fact that they gave me $5,000 for saying "iPad". Rather, I've included Match Game among the best game shows of the decade for doing what some would have considered impossible—taking the format of a beloved television icon and actually doing it some damn justice. It's safe to say that this edition of Match Game is the most successful the airwaves have seen since the orange-and sand Gene Rayburn-hosted 1970s-80s version on CBS. There have been many attempts (including on ABC itself back in 1990 with then-comedian and current motivational speaker Ross Shafer at the helm), but the current incarnation stands out in my mind because, simply put, it's pitch-perfect. The retro music and sounds are in full effect, but in a way that's seamlessly integrated with the show and not there simply for tongue-in-cheek "look how retro we are" fan service. Alec Baldwin, who I'm sure was on absolutely nobody's list to host a straight-up game show, was an inspired choice as emcee—I would dare to say nobody other than Gene has done it better. The double-entendres are whipped out left and right, the alcohol is flowing, and the payouts are a fair increase from Match Games prior. All of these elements come together and put Match Game 2019 in a class of its own. ABC gets high marks across the board for what they've done to revitalize our beloved genre, but Match Game is the icon of that renewed faith in the primetime game show. —Christian Carrion
10. 8 Out Of 10 Cats Does Countdown
Ah, crossover. The word is magical when used to describe things like, maybe, chocolate or peanut butter. Perhaps cinnamon and Toast Crunch. But, as the Match Game/Hollywood Squares Hour could tell you, the idea of mashing up two distinctly different game shows doesn't usually pan out well at all. However, when Channel 4's Mash-Up Night in 2012 saw 8 out of 10 Cats host Jimmy Carr take the chair of Hewer, Stelling, O'Connor and Whiteley before him, TV audiences in Europe (and around the world thanks to YouTube and everyone's pal u/cherzo) bore witness to what is arguably the greatest game show crossover of all time. Edgy comedians hanging out after hours in the typically staid, library-esque Countdown studio lent the long-running letters and numbers game a bit of punk rock credibility. It's also hard to argue with the side effect of increased awareness of the 38-year(!)-old Countdown, already a mainstay in British pop culture. Will we ever see Chris Hardwick host a late-night Jeopardy! with Paul F. Tompkins, Kumail Nanjiani, and Iliza Schlesinger playing nonsense categories for laughs? Holy lord God, we can only hope. In any event, 8 out of 10 Cats Does Countdown, under the wonderfully watchful eye of executive producer Richard Osman, has mastered the art of the television mash-up, and had certainly secured its spot among the greatest game shows of the decade. —Christian Carrion
9. Family Feud
We need to talk. Is Family Feud the greatest game show ever made? The case for such a lofty claim seems to get stronger every year. As David Letterman once said about the late Johnny Carson, the high-rated Feud is essentially a public utility at this point. Exciteable, relatable contestants, as well as host Steve Harvey (who has now been hosting Feud longer than Richard Dawson had—let that sink in), guarantee a consistently entertaining performance day after day. The game itself contains face-off action on the buzzer, quick thinking under pressure, dramatic steals, and a fast-paced, big-money bonus round—just about everything a hardcore game show fan would ask for in a daily offering. Sure, the material may have matured in its subject matter, perhaps in response to the Cards Against Humanity-type risqué game night atmosphere common in so many living rooms these days—after all, it's hard to imagine being one of the top-rated shows in all of syndication in 2019 by asking people to name a kind of bread. The point is, Family Feud is the perfect package, and no other show competes in its sphere. —Christian Carrion
8. Celebrity Name Game
After James Corden took over the reins of CBS' Late Late Show in 2014, it didn't take too long for the host of the occasionally-surrealist late night series to resurface on television. Craig Ferguson made the jump from guy-behind-the-desk to guy-at-the podium on Celebrity Name Game. In doing so, he defined his role as less of a "game show host" and more of a party host, with a much more laid-back style than many of his contemporaries—a style, in fact, that won Ferguson the Emmy for Outstanding Game Show Host in 2015 and 2016. The game itself, based on the board game Identity Crisis, was a perfect complement to Ferguson's presence; two years before ABC brought back The $100,000 Pyramid in grand style, Celebrity Name Game was, for a time, the purest word association game on television. Piloting the renaissance of TV party games now represented by shows like Hollywood Game Night, Celebrity Name Game is massively funny, engaging to play along with at home, and super exciting—and in the 2010s, what more could you want from a game show? —Christian Carrion
7. Press Your Luck
In a 2016 interview I conducted with Robert Mills, Senior Vice President for Alternative Series, Specials & Late Night Programming at ABC (tl;dr: he's the guy who puts all them game shows in primetime), I asked what game show he'd always want to revive if he had the chance. What did he tell me? "You know what I'd like to see again? I always joke about Press Your Luck when I do interviews. I love that show." Then, in 2018, I wrote an April fools article saying that ABC would revive Press Your Luck for a 10-episode summer run. Verbatim, one of the lines from the joke article said "The last player standing will face the Big Board solo to try to Beat the Whammy for a massive cash jackpot." Then, in 2019, ABC revived Press Your Luck with Elizabeth Banks as an affable, likeable, exceedingly competent host; a massive big board perfectly updated to modern ages; hundreds of thousands of dollars in cash and prizes; and a bonus round that complements the show and lets it fill an hour well. One of the best game show revivials ever, I am once again taking full credit for bringing the show back on television and demand that ABC make me an Executive Producer. —Cory Anotado
6. Taskmaster (UK)
Perhaps the funniest panel show to come out of the United Kingdom in the entire decade, Alex Horne's brainchild of a competition sees 5 comedians try to satisfy the Taskmaster's (Greg Davies of The Inbetweeners) seemingly endless whims. The show turns the traditional panel show on its head—a whole series focuses on the competition between the same 5 comedians, most of the show is pre-taped and contestants compete in isolation, and the game premises vary wildly, from panicked physical stunts to creative expressions to assignments as simple as "buy the Taskmaster a gift". Creator Horne often describes the show as less of a panel show and more of a sitcom, a side-splitting comedy with a repeating cast of characters. You could theoretically categorize this show in a myriad of ways, which either by design or by coincidence showcases the show's versatility and ability to adapt with changing personalities. The chestnut of the show will always be the same: watch comedians panic as they're made to do wacky-bananas stuff. With a thrilling and unique visual identity and a great editing squad, Taskmaster is not just one of the best game shows of the 2010s, but one of the funniest shows in television history. The official Taskmaster YouTube channel is releasing full episodes for American audiences, so go binge now and thank me later. —Cory Anotado
5. The Cube
Stunt-based shows were nothing new in the years leading up to the 2010s. From Beat the Clock to Double Dare to Dog Eat Dog to Minute to Win It, there's a definite subset of game shows that focus on being physically successful in order to win. The Cube, an ITV show hosted by morning show presenter Phillip Schofield, took the core essence of the physical challenge game show and threw in an incredible amount of high-end broadcast technology: on-screen post-production 3D graphics that look like they're part of the set, almost-360º slow-motion during critical moments like what you'd see in the Matrix, and a stunning set with a massive video-screen floor that not only adds ambiance but also integrates into the game play. The centerpiece of the show, and its namesake, was a giant clear cube filled with lights and cameras and a singular physical stunt which seemed simple to accomplish, but nothing's simple to accomplish with nerves and lights and the nation watching. The whole production from start to finish was visually stunning, beautifully produced and ultimately very engaging. Whereas Minute to Win It leaned into family-friendly play-at-home stunts, The Cube took a hard left turn and fully leaned into a slick, unique presentation that has yet to be rivaled in the stunt show genre. —Cory Anotado
4. Only Connect
You have to respect a show that, after recieving complaints their Greek Alphabet-labeled categories were too pretentious, changed the category labels to even more pretentious Egyptian hieroglyphs. Only Connect is a game of lateral thinking, a competition that challenges not just the part of your brain that links trivia facts to answers, but the other parts of your brain that recalls patterns, puts puzzles together, and tries to index the entirety of human understanding into something you can identify in 45 seconds. Host Victoria Coren Mitchell runs the proceedings with a sly, sarcastic wit that manages to wink at the audience while gently ribbing or deservedly praising the contestants for their failures or successes. The show's puzzles continue to showcase clever and impressive leaps and jumps of logic and reasoning. Rare is the show that not just welcomes an intellectual challenge, but wallows proudly in the mud of ridiculously obtuse puzzles. While the content may not be everyone's cup of tea, the fact that the show's consistency has translated into steady, growing ratings series after series, and growing their audience enough to jump from BBC Four to BBC Two. If The Chase is a mental marathon, Only Connect is a mental decathlon worthy of being called the best. —Cory Anotado
3. The Chase (UK)
When Who Wants To Be A Millionaire first hit screens in the late 90s, one of its chief innovations in the quiz show genre was that of elevating the answering of gradually difficult trivia questions to the heights of a hero's climb up a treacherous mountain with the aim of feasting upon the spoils at the summit. If Millionaire turned quiz into a sporting event, then The Chase transformed the concept into the game show equivalent of Wrestlemania. The Chasers are easily the most formidable, and most colorful, personalities in game shows today. The daily match-up of teams against one of "the world's finest quiz brains" makes for a tantalizing goal for the home viewer—willl the mortals defeat the juggernaut? The ingenious format is endlessly exciting to watch, from the initial quick-fire Cash Builders, to the dramatic individual Chases, to the David-versus-Golitah Final Chases which build the action of each game to a masterful, breath-taking crescendo. There's no quiz show, anywhere in the world, like The Chase. —Christian Carrion
2. The $100,000 Pyramid
Where were you when it was announced that The $100,000 Pyramid—with basically the original theme song and rule set—was coming back in primetime? Much like it did with Regis Philbin and Who Wants To Be A Millionaire two decades ago, ABC took a big gamble on the future of their evening schedule in 2016 when it ordered a Michael Strahan-hosted revival of the Bob Stewart game that's been in service (in reruns or otherwise) since the day women were admitted into the London Stock Exchange for the first time. Even after seemingly countless revivals, however, the venerable word association game is not the least bit long in the tooth—the gameplay is truly timeless, and the grand prize wins are as exciting as when a hundred grand was first given away under Dick Clark's rule in 1985. In what I'm sure you will notice may be a pattern among a number of our selections for this list, the new Pyramid succeeds—especially in our little corner of the galaxy—because it doesn't try to fix what's not broken. The people in charge of ABC's Pyramid learned from all the mistakes of prior attempts at rebooting the game. As a result, the show stays true to the source material in all the important ways (and even in some of the relatively unimportant ways; emulated Solari displays, anyone?), but still remains accessible to the non-hardcore game show fan or casual viewer. —Christian Carrion
1. Jeopardy!
Wheel of Fortune might bill itself as America's Game, but there is probably no game show institution more deeply ingrained in the cultural zeitgeist than Jeopardy!. We saw the rise of AI actualized and legitimized with the IBM Challenge, where IBM's Watson computer wiped the floor with the two of the best Jeopardy! players of all time. The Battle of the Decades reached into Jeopardy!'s past and present to see who was the best of the best. Big personalities like Julia Collins, Ben Ingram, Austin Rogers, Buzzy Cohen, and many others appeared and played absolute blinders. Stories like Cindy Stowell's and Larry Martin's showcase the frailty of the human body against the strength of human resolve and the power of the human mind. And just this year, host Alex Trebek's battle with pancreatic cancer, along with the unique and reckless abandon of Jamie Holzhauer's play once again put and kept Jeopardy! in the forefront of the American television landscape. The future is unusually unsteady for this show well-deserved of its "institution" label, but its past decade has cemented itself as one of the most historical and important television programs in American history. —Cory Anotado