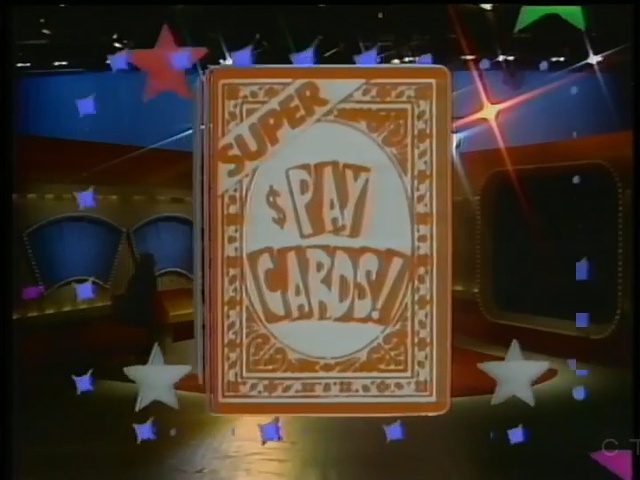 October 3, 2019
#tbt: Pay Cards!
In this edition of Throwback Thursday, Christian Carrion examines the originator of the card-based game show.
One of the favorite quiz shows at BuzzerBlog headquarters is Pointless, the BBC program hosted by Alexander Armstrong and Richard Osman which challenges players and viewers to identify the most obscure answers to various questions – a reverse Family Feud, if you will. Odds are that if you gave 100 people 100 seconds to name a classic game show involving playing cards, the vast majority would respond with Card Sharks, the Goodson-Todman favorite that's now enjoying a well-deserved prime-time rebirth on ABC. A few might say Gambit, Heatter-Quigley's take on blackjack which enjoyed a fruitful run on CBS in the 1970s with Wink Martindale at the helm. On account of Card Game and the dearly departed Hit Me, some smart-asses might answer with The Price is Right. Mr. Osman typically ends a round of Pointless by recapping the Pointless Answers – responses not given by anyone in their sample set and, therefore, the most obscure. In the post-mortem of this particular question, it'd probably be a safe bet that Richard would congratulate you at home if you had mentioned Pay Cards, the first game show in America to make use of playing cards.
Pay Cards was an obscure game show that nevertheless enjoyed three separate runs in two countries from the late 60s into the early 80s. Pay Cards was created by the team of Nick Nicholson and E. Roger Muir, who were most famous as the duo behind Howdy Doody during its 13-year run from 1947 to 1960 on NBC. Game show aficionados might be more familiar with Nicholson-Muir as the pair who created Spin-Off, The Newlywed Game, and the Canadian classic word game Definition, among others.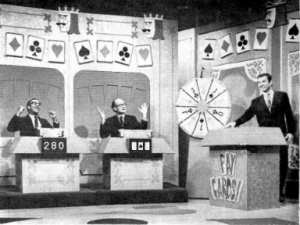 A mix of poker and TV's Concentration, Pay Cards! (stylized on-air with that exclamation point) was taped in New York City and premiered in syndication on September 9, 1968. The host was Art James, by this point a game show favorite who had made a name for himself as an announcer and occasional host of the aforementioned Concentration on NBC, as well as the jovial master of ceremonies on the same network's Say When!! (itself a variation of the mega-popular Price is Right). James had just come off a one-year stint as host of Matches 'n' Mates, another Nicholson-Muir game which featured married couples competing to memorize complementary answers on a game board for prizes.
For 260 episodes of Pay Cards, James presided over the action as three contestants (one of which was usually a celebrity playing for a member of the studio audience) worked to build the best poker hands they could in a series of rounds. The players faced a board of 20 unrevealed cards and, in turn, called cards by number to be revealed and added to their hand. Once a player had his or her 3 base cards, he or she could then call additional numbers and either keep the revealed cards or turn them back, the risk being that the location of the cards was visible to all players. Indeed, in the strategy of the game it becomes possible – or even necessary – to willingly put back a card that another player could use to complete a winning hand. At the completion of each round, hands were scored in dollars with a nominal fee paid to the contestant with high hand. Other variations on the core game play, such as Strategy (wherein two cards are left face-up on the board throughout the round) and Wild Card (where five-of-a-kind became possible) were sprinkled liberally. At the end of the game, the player with the highest score total won the chance to play the Jackpot Round for a bonus prize. The contestant was shown a board of 12 face-up playing cards for 22 seconds before spinning a wheel containing all the cards he or she just saw. Successfully recalling the position of the card selected by the wheel was a Jackpot Round win.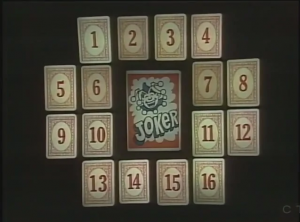 The technology behind the Pay Cards board was somewhat ahead of its time. Before large banks of slide projectors were famously utilized for the game boards of Blockbusters and Press Your Luck, Pay Cards' set featured 20 such devices, each containing slides for the cards in play, as well as their numbered backs. When a card was selected, the light for the card's projector was dimmed during the transition from number to card, making for a seamless visual effect for the home audience.
Although its initial run lasted just a few days shy of one year, Pay Cards enjoyed a two-year run in Canada from 1973 to 1975 hosted by Paul Hanover, who also served as host of the Canadian charades game It's Your Move. Game play largely remained the same between the original series and its Canadian counterpart. In fact, so did the set – the entire game board, slide projectors and all, was shipped to Canada and reassembled for use on Hanover's Pay Cards.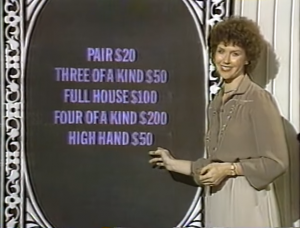 In 1981, Nicholson-Muir successfully rebooted the show as Super Pay Cards. Art James returned as host for the series, which followed in the previous version's footsteps by filming in Canada but aired in syndication throughout Canada and the United States. Again, the original board from the 1968 version was used for the series. New to Super Pay Cards was announcer and co-host Marya "Mary Lou" Basaraba, a native Canadian of Ukrainian heritage and formally trained opera singer who had landed a few roles on television before the Pay Cards job, and is currently the celebrated Resident Chorus Maestra of the 190-member California Philharmonic. As in the previous reincarnation, the game was played just about the same as it had always been, with the exception of a newly-expanded jackpot endgame played in three levels for a top prize of $5,000. The Super variant of Pay Cards aired for approximately seven months.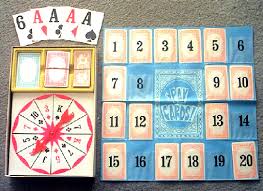 In its initial run, Pay Cards was popular enough that a home game was manufactured and sold by Whitman Toys. The game is unusual in that, unlike many other game show home versions, it is played exactly the way its television counterpart is played. Whitman's Pay Cards came with a large durable plastic numbered play mat and separate decks for each round played on the show, as well as for the Jackpot Round (which was also complete with plastic spinner). In addition, although Whitman could have more than likely gotten away with throwing generic playing cards in the mix, they sprang for large custom-made cards featuring the exact card art used on the show. A home version of Super Pay Cards was often given to losing contestants on the show, but the box shown by host Art James was most likely a mock-up – there is no evidence that a Super Pay Cards home game was ever published. It's far more likely that contestants simply received a copy of the original home game, which was only a decade old at that point.
Pay Cards is a footnote in the history of card-based game shows, but it stands as the originator of the concept. It would be nearly a decade until Goodson-Todman Productions' Chester Feldman would improve on the concept with larger-than-life decks and bets to match, but through its highs and lows, Pay Cards was aces with audiences throughout North America for nearly half a decade.