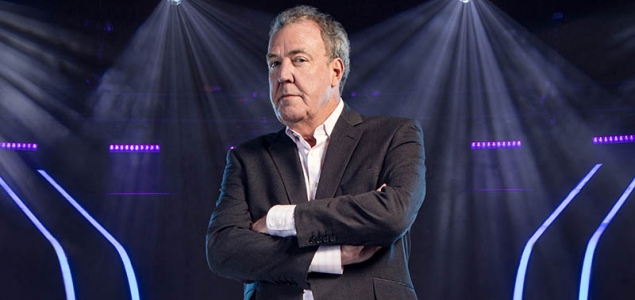 May 1, 2018
Millionaire with Jeremy Clarkson Returns May 5 with New Lifeline
Players can ask host Clarkson for help, and set their own safe haven.
To celebrate the 20th anniversary of Who Wants to be a Millionaire in the UK, ITV's revival with host Jeremy Clarkson will premiere Saturday, May 5 and run every day during the week. Every episode will see six contestants play Fastest Finger First for a chance at the Hot Seat, and the money tree is the classic 15-question tree that starts at £100 and tops out at £1,000,000.
With a new host comes some new details on gameplay changes. ITV has two big changes to the game: a new lifeline and a new format for safe havens.
First, the new lifeline: Ask the Host. ITV is making it very clear: Jeremy Clarkson isn't given any answers beforehand. He doesn't see the correct answer until the player locks in their final answer. They make this point repeatedly to introduce the show's new lifeline: Ask the Host. If a player Asks the Host, the host will share his opinion on what the answer could be. Once Jezza has shared as much as he can, he'll say "That's my final answer" and his time of open sharing about the question will be over. Speaking about the new lifeline, Clarkson says, "If the contestant chooses that lifeline, they get to ask me if I know the answer. God help them. Anyone who doesn't win £1,000,000 is bound, at some point, to ask me if I know the answer. And if it's 1970's prog rock music, I probably will. If it's anything other than that, I probably won't."
Second, the new safety net. As per usual, the £1,000 level is a safe haven—if a player gets a question wrong after successfully passing that point, they'll take home a guaranteed £1,000. What's new is that the £32,000 question isn't the next guaranteed safe haven. The new safety net will be able to be set by each contestant. Once they pass £1,000, they can set their safety net ahead of the next question being asked. Once they set it, it's set and can be anywhere from £2,000 to £500,000. How this plays out in practice will be interesting, but it seems like fewer people will be walking away with £1,000—but maybe fewer people will be walking away with £32,000. Only time will tell.
Millionaire starts Saturday, May 5 at 9:15 GMT/4:15 ET on ITV.