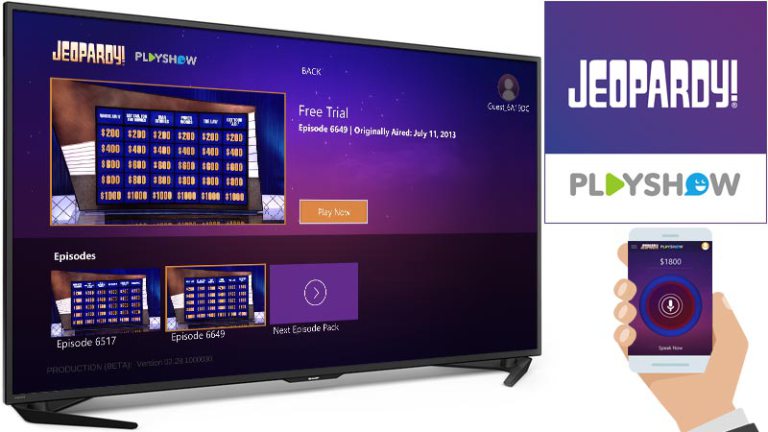 April 17, 2018
New Amazon App: Play Along With Jeopardy! In Real Time
Fire TV and TV Stick owners can now buzz in and (pretend to) win as they watch America's favorite quiz show.
Pick up your signaling devices–or, rather, your phones.
Jeopardy! PlayShow Beta, released in March, allows owners of Amazon's latest generation of smart devices (Amazon Fire TV, Fire Stick, Fire Edition TVs) to play along with actual episodes of Jeopardy! The free-to-play mobile companion app, in addition to keeping a tally of the at-home player's score, allows users to buzz in along with the on-screen contestants during the program and speak their answers into the microphone on their smartphones. Spoken answers and scores appear on-screen seamlessly.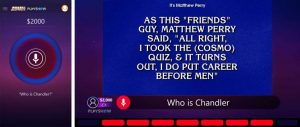 Two commercial-free episodes of the quiz show are available for free at the outset. Additional five- or 20-episode packs are available as in-app purchases for $4.99 and $14.99, respectively. Although the app promotes the ability to select from "over 15,000 episodes" (the Alex Trebek-hosted series has only aired 7,000 editions, and just over 10,000 in total since 1964), no other episodes beyond the aforementioned packs are currently available.
Jeopardy! PlayShow represents arguably the most immersive home play-along experience available since the current version of the game show premiered in 1984. Previous attempts at second-screen experiences, as well as the heavily-promoted Jeopardy! Scorekeeper device in the mid- to late-1990s, were marginally successful.
The PlayShow companion app, required to make use of the Amazon app's functionality, is currently available for Android devices, with support for other platforms coming soon.