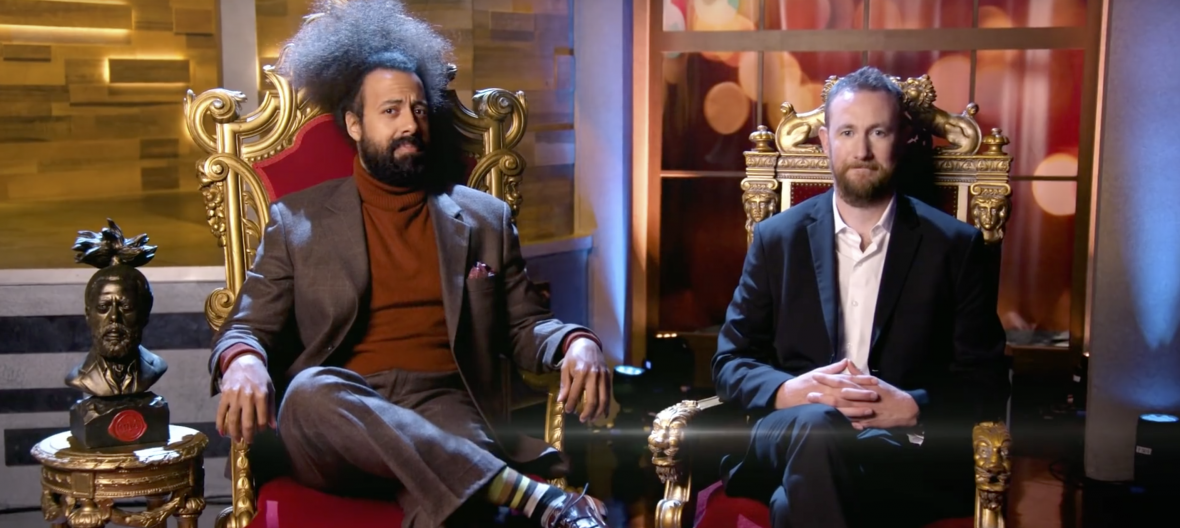 March 24, 2018
Taskmaster US Premieres on Comedy Central April 27
The UK import stars Reggie Watts as the titular Taskmaster, with Alex Horne as his task assistant.
Our long national nightmare is over. Comedy Central has announced the premiere date of their American version of Taskmaster, in one of the funniest commercials I've ever seen from Comedy Central.
Alex Horne reprises his role as Admin for this new series, but in UK host Greg Davies' massive chair is a man who, if you include his hair, is as tall as Greg Davies: Late Late Show with James Corden bandleader and comedian Reggie Watts, who looks like he'll be bringing his intellectual-obnoxious persona to the proceedings. Doing the tasks for the US are Freddie Highmore (The Good Doctor, Bates Motel), Kate Berlant (High Maintenance, Search Party), Dillon Francis (DJ, Record Producer), Lisa Lampanelli (stand-up and insult comic), and Ron Funches (Trolls, Undateable).
As is standard for Taskmaster exports, most of the tasks are taken from the UK show, but as Alex Horne told us in our interview with him:
…having seen the Americans tackle their tasks, I can say (with some relief) that it's going to be largely the same, especially sensibility-wise. It turns out that they are just people too, and when faced with a Task, seen for the very first time with a clock ticking and a crew filming, they behave in a funny, stupid and very human way. Thankfully, Comedy Central have let us set up and do the tasks in exactly the same way as here. It's going to be fun.
Taskmaster will air two back-to-back episodes on Fridays at 11pm ET/PT for four weeks.