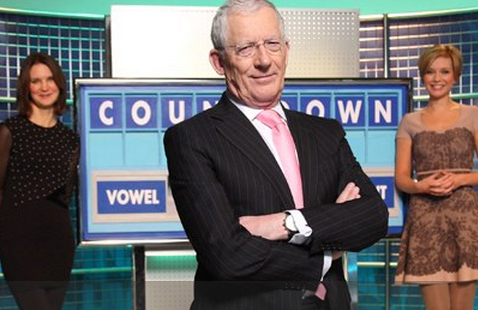 January 15, 2018
Don't Say Hi To Your Mum And Other Countdown Contestant Rules
The show's rules for contestants say familial greetings eat up too much taping time.
Twitter user @HairyMcFairy tweeted out some choice highlights from a contestant guide given to those appearing on the UK game show Countdown. In it, the guide goes over idiosyncrasies and quirks that generate complaints from the audience watching.
At first glance, these rules seem overly nit-picky. If you really think about it, a show that's been on television for decades like Countdown has the art of producing their show down to a science.
Television on the production side is about making all the parts of a show work together smoothly and under budget. So this kind of specific contestant instruction is one way to keep the Countdown ship running smooth, so to speak. Enjoy!
https://twitter.com/HairyMcFairy/status/949385437327626241?ref_src=twcamp%5Eshare%7Ctwsrc%5Em5%7Ctwgr%5Eemail%7Ctwcon%5E7046%7Ctwterm%5E1
https://twitter.com/HairyMcFairy/status/949385897069502465?ref_src=twcamp%5Eshare%7Ctwsrc%5Em5%7Ctwgr%5Eemail%7Ctwcon%5E7046%7Ctwterm%5E1
https://twitter.com/HairyMcFairy/status/949386214121107457?ref_src=twcamp%5Eshare%7Ctwsrc%5Em5%7Ctwgr%5Eemail%7Ctwcon%5E7046%7Ctwterm%5E1
https://twitter.com/HairyMcFairy/status/949386868055007232?ref_src=twcamp%5Eshare%7Ctwsrc%5Em5%7Ctwgr%5Eemail%7Ctwcon%5E7046%7Ctwterm%5E1
https://twitter.com/HairyMcFairy/status/949387206778675200?ref_src=twcamp%5Eshare%7Ctwsrc%5Em5%7Ctwgr%5Eemail%7Ctwcon%5E7046%7Ctwterm%5E1
https://twitter.com/HairyMcFairy/status/949387683335417858?ref_src=twcamp%5Eshare%7Ctwsrc%5Em5%7Ctwgr%5Eemail%7Ctwcon%5E7046%7Ctwterm%5E1
https://twitter.com/HairyMcFairy/status/949388051284979712?ref_src=twcamp%5Eshare%7Ctwsrc%5Em5%7Ctwgr%5Eemail%7Ctwcon%5E7046%7Ctwterm%5E1
https://twitter.com/HairyMcFairy/status/949388451731984384?ref_src=twcamp%5Eshare%7Ctwsrc%5Em5%7Ctwgr%5Eemail%7Ctwcon%5E7046%7Ctwterm%5E1
https://twitter.com/HairyMcFairy/status/949388669697298432?ref_src=twcamp%5Eshare%7Ctwsrc%5Em5%7Ctwgr%5Eemail%7Ctwcon%5E7046%7Ctwterm%5E1