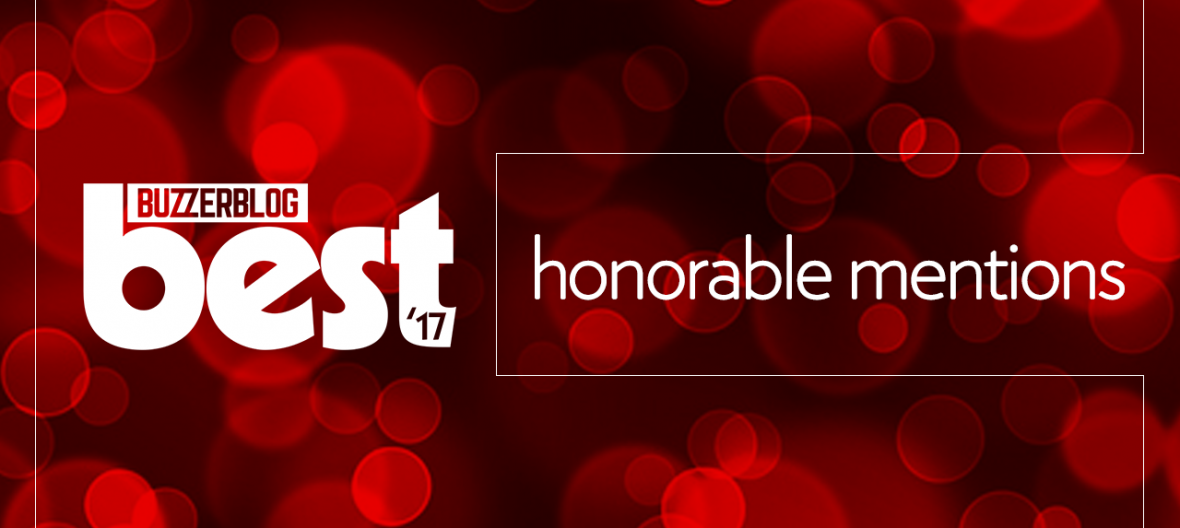 December 29, 2017
Buzzerblog Best '17 – Honorable Mentions
Our celebration of the year in game shows starts with recognizing 3 great shows.
As 2017 comes to a close, all of us at BuzzerBlog want to give recognition for what was a wonderful year for game shows. The genre is getting more and more popular, and out of the chaff of the television landscape comes some memorable bits of wheat that have entertained us tremendously this year. From unexpected revivals to long-time favorites, the year in game shows was exciting.
I asked Alex, Bob and Christian to come up with a list of their top five game shows of the year, and the game shows with the most votes would get on our top five list of the year. Turns out, we couldn't pick just five. (The bottom was a little fuzzy.) Today, we'll showcase the three shows that we were deciding upon for a spot in our final five. These all deserve to be on the list, and we've written up why.
Who Wants to be a Millionaire?
Alex Davis: Against all odds Millionaire has a banner year in 2017. What was the key? The contestants. It's been a group of contestants you're always pulling for, which has been missing in previous years. The Whiz Kids weeks continue to be the highlights of each season. The show was also aided by a mix of a new environment in moving to Las Vegas, better question writing, and a much more confident host in Chris Harrison.
The Wall
Alex Davis: The Wall is the rare game show that gets better with time and age. At first glance it's just Plinko with ridiculous amounts of money. Upon further viewings, it's far more strategic and difficult than its given credit for. It's also consistently the most pulse-pounding and nerve-wracking game show on TV.
Bob Hagh: The Wall is a show that has grown with me over time. There are still some gameplay elements that could use some tweaking, but when it comes down to it, the game can get very exciting and does play with your emotions when hundreds of thousands of dollars can shift in either direction with a single drop of the ball. Also, anything Chris Hardwick hosts brings along his charisma and personality, which isn't a bad thing at all. He really makes the show fun to watch and he bonds with every couple. He generally wants everyone to win big, and you can see his disappointment when the game turns sour. I already miss @midnight, so I needed another way to get my Hardwick fix. AND STOP CALLING IT A PLINKO RIPOFF. Plinko isn't an original idea. Both of these games are based off of Pachinko.
Taskmaster
One. Week. Today. @AlexHorne @gdavies @RealBobMortimer @sallyephillips @watsoncomedian @MrNishKumar @WeeMissBea @davechannel pic.twitter.com/izJ4lVIxQF

— Taskmaster (@taskmaster) September 6, 2017
Cory Anotado: Taskmaster continued to push the creative limits of comedy panel shows in 2017. Although we hoped the US version fronted by Reggie Watts would air this year, the 4th and 5th UK series and the subsequent Champion of Champions special were both laugh-until-you-cry hilarious. The ability that Alex Horne and his team have to consistently put comedians of all sensibilities into hilarious situations is special and worthy of praise. Greg Davies' role as the hard-ass Taskmaster has somehow made him even more lovable, and the amount of strange details in each episode make each series ripe for watching and rewatching. Apparently, in Series 4, whenever Alex has a task with Mel Giedroyc, he's always wearing a tie. It's things like this that makes Taskmaster an amazing show.
Christian Carrion: In an ever-deepening sea of panel shows from across the pond, Taskmaster stands out to me for its simplicity of form, as well as its depth of thought. "Comedians do things." There's no simpler way to explain the premise of Alex Horne's television creation. But to see the show in action–to marvel at the banter between the contestants, to laugh at the tests they're put through, to watch with joy the interplay between the players and their ever so hard to please Taskmaster played so brilliantly by Greg Davies–is to experience the true purpose of television. Taskmaster is so good, it makes me angry. Why didn't I think of this? Why am I not watching it right now? Why hasn't this been on the air forever?
Stay tuned tomorrow to find out our fourth best game show of the year.