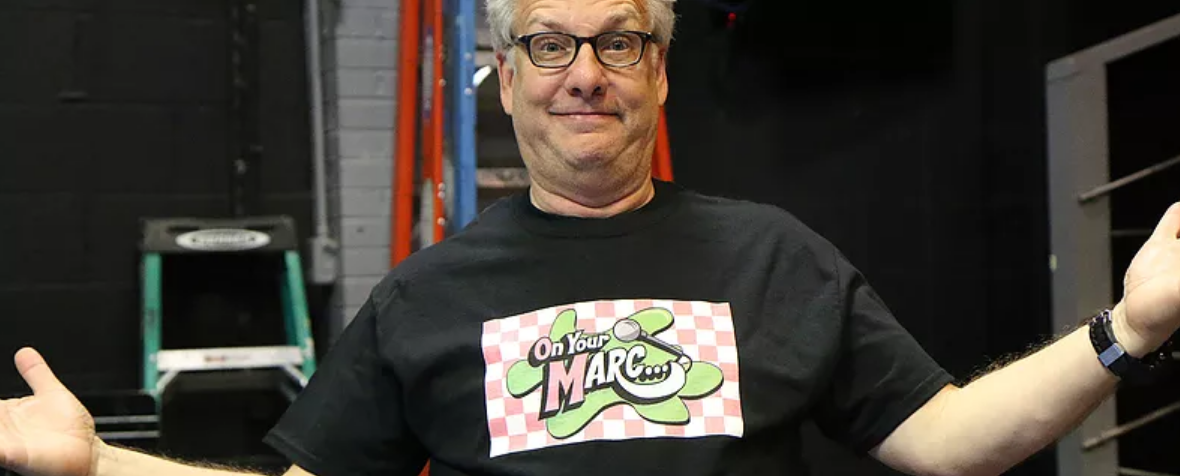 October 22, 2017
Marc Summers Doc "On Your Marc" Premieres In Baltimore
The legendary Nickelodeon and Food Network host and producer unveiled the film to an enthusiastic crowd on Saturday night.
"I'm going to ask a question. If you can't answer or think the other team doesn't have a clue, you can dare them to answer for double the dollars, but be careful, because they can always double dare you back for four times the amount, and then you can answer the question or take a physical challenge. Now why can I do that, but I can't do this?"

— Marc Summers, on memorizing lines
To millions of kids in the 80s and 90s who subsisted on slime, sneakers and Super Nintendo, Marc Summers is a television icon — a term that Marc himself admits is "creepy". However, that doesn't mean he doesn't want to talk about it.
"People come up to me and they say, 'Oh, I know you don't want to hear this, but I grew up with you'," Summers said on stage Saturday at the Gordon Center for the Performing Arts in Owings Mills, MD during a question-and-answer session after the premiere of On Your Marc, a fascinating and inspiring documentary about Summers' life and career. "Why wouldn't I want to hear that? I love hearing that! It's amazing that you still remember me."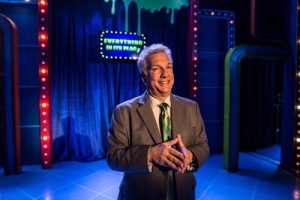 The film, directed by Nickelodeon historian and Restaurant: Impossible casting producer Mathew Klickstein, intersperses clips of Summers' nearly 50 years in broadcasting and entertainment with interviews featuring Marc, his wife Alice (who married Marc 43 years ago and, before this film, had never spoken about her husband on-camera before), and their children, Matthew and Meredith Berkowitz. Also featured are Marc's Food Network friend Guy Fieri and fellow magic enthusiast-turned-80s TV star Neil Patrick Harris, as well as Ryan Seacrest, who described Summers as the mentor that helped him develop the skills that eventually led to Seacrest hosting FOX's American Idol.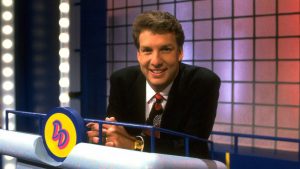 Throughout the film, audiences also get a behind-the-scenes look at the preparation for "Everything In Its Place: The Life and Slimes of Marc Summers", a biographical one-man show written for Summers by Alex Brightman and Drew Gasparini, starring Summers himself, and chronicling the tumultuous story of an aspiring entertainer with OCD who becomes the messiest game show host in television history. While Marc and the crew do have their fun ("Thank you for the clap," Marc says after receiving a bit of applause upon entering the stage), the frustration involved with preparing for such a production becomes apparent as Marc, who admits he hasn't acted on stage in almost 40 years, occasionally struggles to memorize the required 63 pages of material, a task that even his friend Neil Patrick Harris calls "a big one for actors".
While he is still well-remembered by several generations of TV viewers for doling out prizes and physical challenges for nine years on Nickelodeon, life hasn't been all fun and games for Summers, who turned 65 this November. In addition to a well-publicized struggle with the aforementioned obsessive compulsive disorder and a more private battle with chronic lymphatic leukemia (he's been in remission as of 2016), a violent crash in a New York City yellow cab in 2012 left him with 20% of his memory, as well as extensive cranial injury.
"I broke every bone in my face," Summers said. He's since made a full recovery.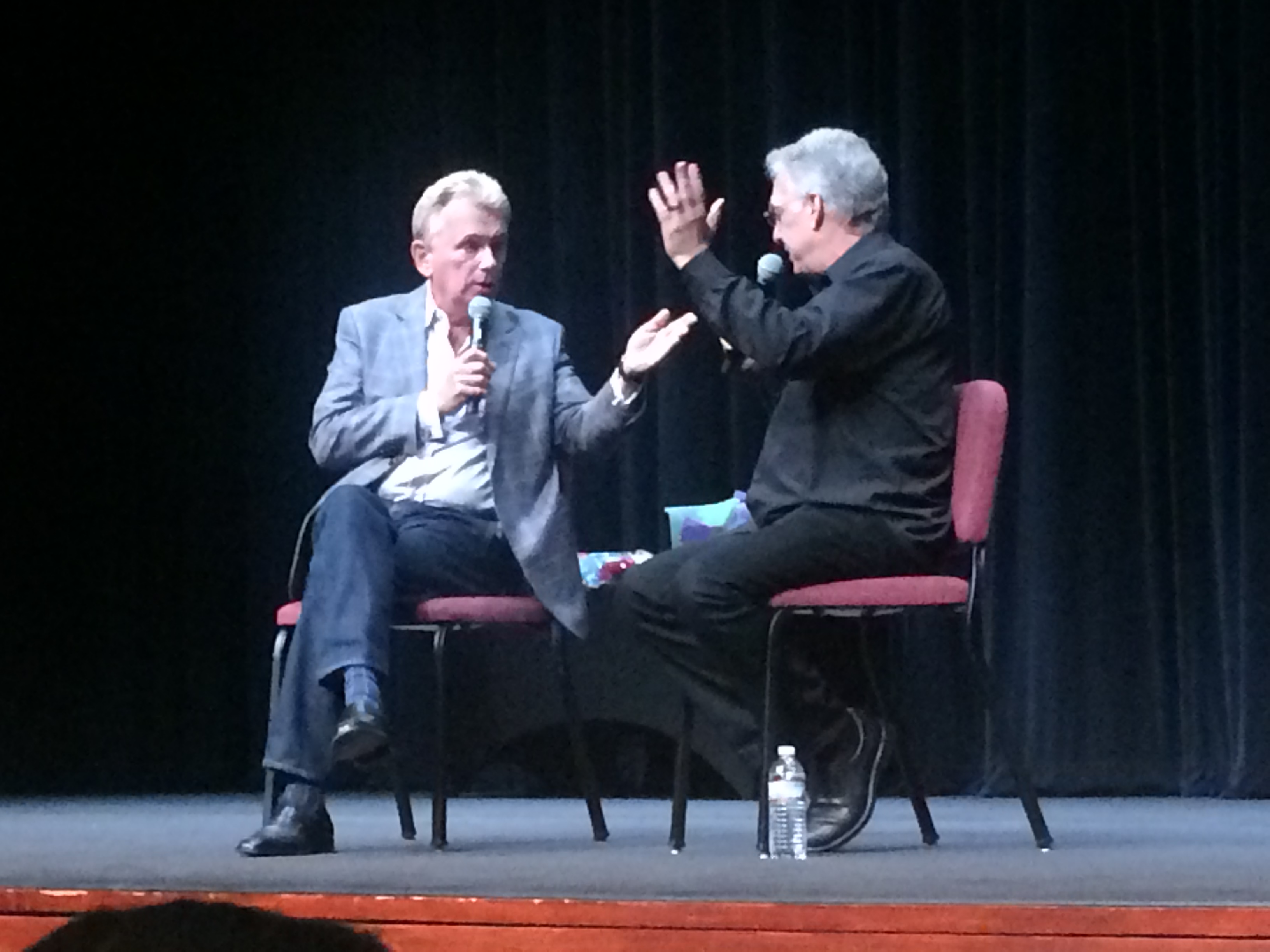 The post-film question-and-answer segment was moderated by Wheel Of Fortune host Pat Sajak, himself a Maryland resident and longtime friend of Summers. Topics covered were wide-ranging, from advice for budding game show hosts ("You really have to be famous already in order to make it these days," Summers said) to the reasons for the success of shows like Unwrapped ("It's the same thing every episode, but I could watch it forever," said Sajak).
Also mentioned was one of Summers' more obscure hosting gigs, when he covered for Chuck Woolery as the host of Scrabble for half an episode of Game Show Hosts Week in 1987.
"I was called and asked if I wanted to play Scrabble as part of America's Favorite Game Show Hosts Week or something like that," Marc, who at that point had been hosting Double Dare for about a year, said. "So I hung up the phone, ran to tell my wife, and the phone rang again. 'Unfortunately, they've changed their mind, they decided that you can't really be one of 'America's favorite game show hosts' since you haven't been on TV long enough."
"So I said, 'Well, I want Chuck to play and Marc to host.' And they said 'Oh, that's fine, you can host, they just don't want you on the game.'"
Before Marc selected several audience members to play some physical challenges on stage and stayed to take individual photos with the entire 200-plus crowd, an audience member asked Summers if he thought the producers were messing with him when the show was re-branded as  "Super Sloppy Double Dare" at one point in the series' run, seeing as how Marc was at the height of his battle with OCD at that point in his life. Marc explained that it was more of a marketing decision than anything, and that it didn't personally affect him.
"I should also mention," Sajak interjected. "Coming soon: Incredibly Slimy Wheel Of Fortune."
"On Your Marc" has been touring nationwide this year, with stops in Los Angeles, New York City, and Austin, Texas, among several other cities. For more information about the film, visit www.marcsummersmovie.com