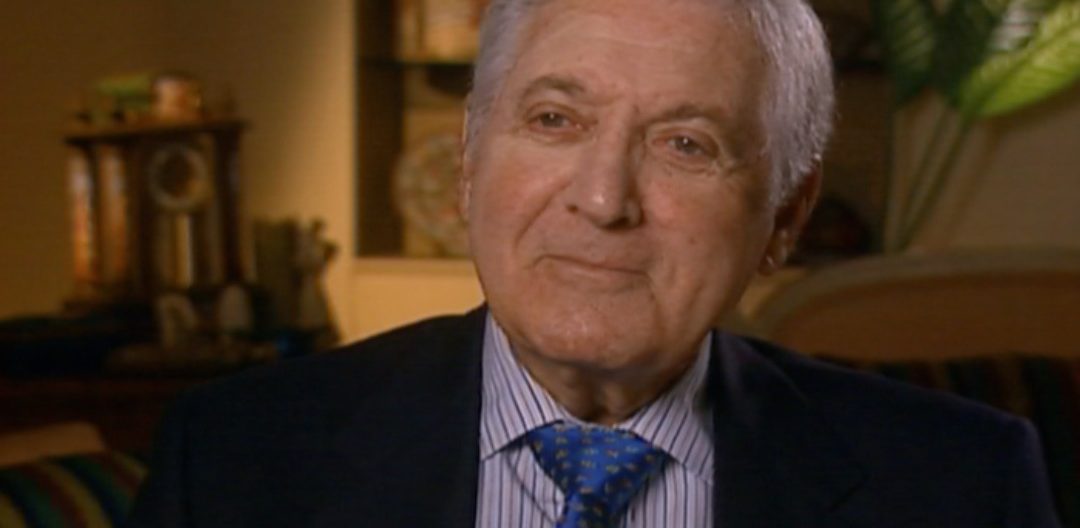 September 30, 2017
Monty Hall, 96
The beloved host and 60-year veteran of the game show industry passed away earlier today.
Monty Hall, the producer and host who re-energized the daytime game show when he introduced Let's Make A Deal to the airwaves and created several other fondly-remembered programs, died of heart failure at his California home on Saturday, as confirmed by his daughter, actress Joanna Gleason. He was 96.
Like many other television personalities of his generation, Hall–born Monte Halperin in Winnipeg in 1921–got his start on radio. A career behind the microphone in his native Canada eventually led him to pursue broadcasting work in New York City. One of Hall's first television ventures, a proto-interactive game show called Bingo At Home, aired on WABD-TV, the flagship station of the then-fledgling DuMont Television Network. When Monty wasn't playing bingo caller and awarding Chase and Sanborn coffee packages to local at-home contestants, he was acting as substitute host on some of the biggest shows on network television such as the charity drive-turned-giveaway Strike It Rich on CBS, as well as the rigged quiz Twenty One on NBC, in which Hall was not made aware of any of the massive impropriety going on behind the scenes.
http://gty.im/463704932
In the mid-1950s, Hall once ran into radio and television producer Bob Stewart on the street in Manhattan. Hall told Stewart he was acquainted with the lawyer who represented game show giants Mark Goodson and Bill Todman, and suggested Stewart prep some ideas to pitch to the team. This chance encounter directly led to a professional relationship between Stewart and Goodson-Todman that would spawn programs like To Tell The Truth, Password, and The Price Is Right.
In 1960, after serving for a year as a radio analyst for the New York Rangers NHL team, Hall became the second host of the life-sized CBS board game Video Village, succeeding previous host Jack Narz. A year later, Hall also began hosting Video Village Junior, a kids' version of the aforementioned series. In 1962, however, Hall moved to Southern California and got his first chance to produce a game show of his own. Your First Impression was a celebrity identification game on NBC hosted by Bill Leyden and featuring regular panelist Dennis James, whose personal and professional relationship with Hall went way back to the experimental DuMont days. The show, which saw teams of celebrities compete to identify famous people using clues provided by the host, taped in Burbank and was executive produced by Hall and his then-business partner Art Stark.
After the cancellation of Impression in June of 1963, Hall and his new partner Stefan Hatos began development work on what would soon become their magnum opus. Together, the pair traveled all over California with their new game and tested it at church functions, Weight Watchers meetings, and anywhere else they could find a willing assortment of participants. The premise was preposterously simple: what would you do if you were asked to choose between a known quantity of cash in hand or a mystery prize? The drama and suspense this decision created in players' minds led the team of Hatos-Hall to believe they were on to something. Let's Make A Deal premiered on NBC in December of 1963 and almost immediately became a nationwide phenomenon.
http://gty.im/454938688
The show attracted thousands of contestants from all across America, more often than not decked out in attention-grabbing costumes (a tactic that originated early in the show's run with one contestant bringing a hand-held sign to attract Monty; before then, the audience wore dresses and ties). At the height of Deal's popularity, the waiting time for tickets to see the show live was well over two years. Catchphrases like "The curtain or the box?" became ubiquitous. Carol Merrill and Jay Stewart, the show's prize model and announcer/on-stage assistant, became household names. The popularity of the show spawned a documentary film, as well as a best-selling autobiography by the show's charming host and producer. Perhaps the most enduring aspect of the Deal legacy was the Monty Hall Problem, a mathematical phenomenon first described in a letter to American Statistician magazine in 1975:
Suppose you're on a game show, and you're given the choice of three doors: Behind one door is a car; behind the others, goats. You pick a door, say No. 1, and the host, who knows what's behind the doors, opens another door, say No. 3, which has a goat. He then says to you, "Do you want to pick door No. 2?" Is it to your advantage to switch your choice?
The problem, which goes on to explain that contestants who switch their choice have a 2/3 chance of winning the car, has been explored in dozens of TV shows and movies, from Brooklyn Nine-Nine to MythBusters to the 2008 film 21.
https://www.youtube.com/watch?v=YReov4c3taI
Despite this popularity, however, Let's Make A Deal was a prime target for TV critics who often derided the show as the decay of Western civilization, a fluff piece that glorified B.S. capitalism and made its contestants look sophomoric and depraved. Most TV audiences, however, disagreed. In fact, NBC was the #1 network on television in 1968 when Let's Make A Deal moved to ABC. Almost immediately upon Deal's arrival, however, ABC took the #1 spot. The first run of Deal ended in 1977, after a season in Las Vegas. Revivals of the format, usually hosted by Hall himself, aired in 1980, 1984, 1991, 1994, 2003, and most recently in 2009 hosted by improv comedy master Wayne Brady.
Besides Let's Make A Deal, Hatos-Hall also produced several other fondly-remembered series. Split Second, which aired on ABC from 1972 to 1975 and again in syndication in the mid 80s hosted by Hall, was a lightning-fast quiz game that gave NBC's Jeopardy a run for its money in the ratings. 1974 saw a revival of Masquerade Party, a panel game wherein celebrities attempted to identify a heavily-disguised star using cryptic clues and yes-no questioning. 1977's It's Anybody's Guess was an audience-participation take on Family Feud in which contestants bet on whether an on-stage panel could predict a certain answer to a question. In addition, Hall served as host for a 1979 revival of Goodson-Todman's Beat The Clock, one of the few times he hosted a show he did not also produce.
In later years, apart from serving as executive producer or consultant for most of the Let's Make A Deal revivals, Hall was in-demand on the daytime talk show circuit–hosts like Maury Povich, Geraldo Rivera, Phil Donahue, and Sally-Jessy Raphael booked him and other well-known hosts for their various game show retrospectives. Most recently, Hall was credited as creative consultant and co-creator of the new Let's Make A Deal, currently airing on CBS.
Along with Howie Mandel and Alex Trebek, Hall is one of three game show hosts to have a star on both the Canadian Walk Of Fame and the Walk Of Fame in California. In 1998, the government of Canada bestowed Hall with the Order of Canada for his humanitarian work in Canada, the United States and around the world.
http://gty.im/170718576
Hall is survived by his three children; his wife of nearly 70 years, Marilyn Hall, passed away this past June. No memorial service arrangements have been announced as of yet.
http://gty.im/460686885