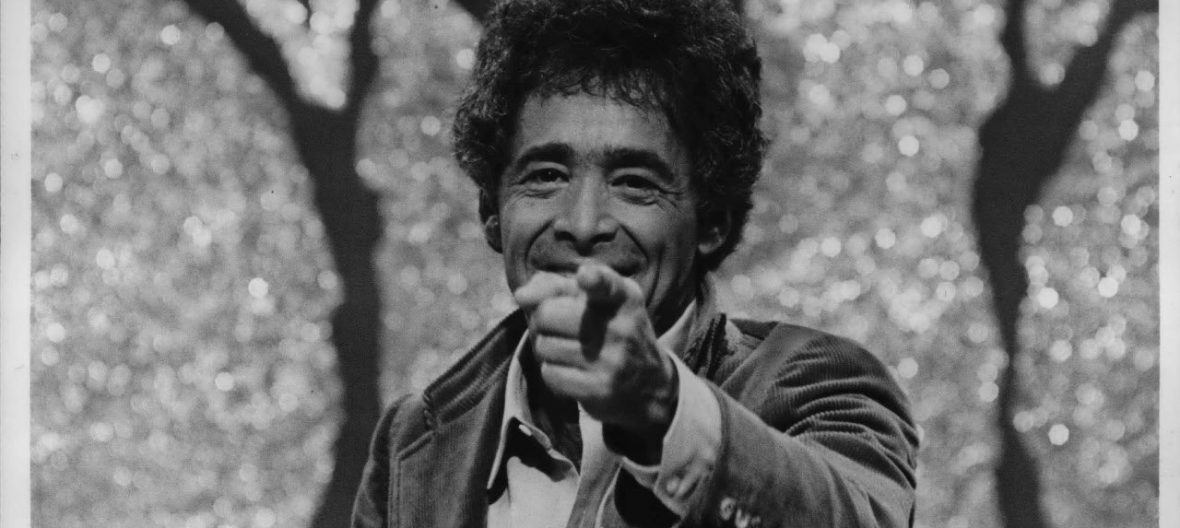 March 22, 2017
RIP Chuck Barris
BuzzerBlog takes a look at the career of the late author, composer, host, and game show producer.
Chuck Barris, arguably one of the most influential and controversial producers of game shows and proto-reality television, and whose Dating Game, Newlywed Game,  and classic tongue-in-cheek talent competition The Gong Show rocked the foundation of daytime programming in the 60s and 70s, has died.
Numerous news outlets have reported that Barris, the producer or creator of nearly two dozen television programs over a span of three decades and a survivor of lung cancer, passed away of natural causes at his home in Palisades, New York at the age of 87.
Born on June 3, 1929 in Philadelphia to a housewife and a dentist, Barris got his start in television after graduating from Drexel University in 1953. He worked as a page at NBC in New York City before accepting his first paid TV gig in the Standards and Practices Department at ABC. On the set of American Bandstand, the popular music show which was, at that time, filmed in Philadelphia, Barris' assignment essentially equated to following host Dick Clark around and ensuring that the influential disc jockey and emcee wasn't engaging in any payola-related activities.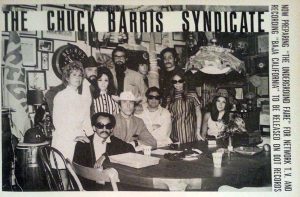 Eventually, Barris was promoted to the daytime programming department at ABC in Los Angeles. When he expressed the opinion that his ideas were so much better than the dreck he was being pitched day after day, an executive at the network suggested he quit his day job and continue as a producer. Barris took that advice and, on June 14, 1965, Chuck Barris Productions was born.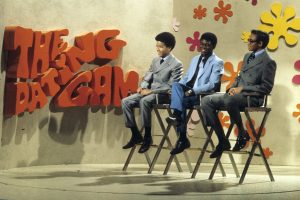 The fledgling production company — a ragtag hippie collective of free-spirited crew members and writers — burst right out of the gate that same year with The Dating Game. A product of the sexual revolution of the 1960s, the program streamlined the courtship process and enthralled viewers with innuendo-laced questions asked by a young bachelor or bachelorette of three suitors, concealed by a large flower power-type partition. The Dating Game was one of the biggest hits on ABC daytime for more than a decade, and has been revived several times throughout the 80s and late 90s.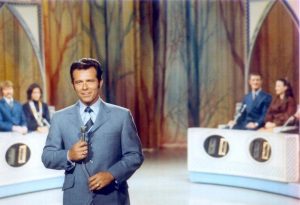 A year after its premiere, in 1966, Barris and company introduced the natural evolution of Dating: The Newlywed Game. A classic game that has aired in some form in every decade for the past 60 years, Newlywed benefited on premiere day from CBS' pre-emption of its mega-hit Password in favor of a news conference held by then-Secretary of Defense Robert McNamara. Viewers tuned to ABC in droves that morning, giving The Newlywed Game a lucky ratings headstart. It's a good thing the show was interesting in its own right — day after day, four newlywed couples would "bare all" in the effort to predict their spouses' responses to a wide variety of titillating personal questions asked by DJ and nightclub promoter Bob Eubanks and win a "special prize chosen just for you". Another massive hit for ABC, it ended its eight-year network run in 1974. Its most recent incarnation premiered in 2009 on GSN hosted by Carnie Wilson and Sherri Shepherd.
As the sixties came to a close, Chuck Barris Productions debuted several more game shows, none of which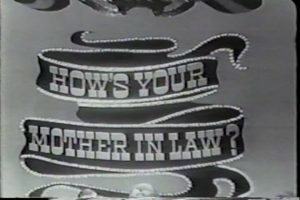 made an enormous dent in the televisual landscape. The Game Game invited a single contestant to match wits with three celebrities in a Buzzfeed-like personality test. The Family Game, hosted by Bob Barker (who reportedly dislikes kids), played like The Newlywed Game with a couple of extra rounds for the younger members of the family. How's Your Mother-In-Law? showcased three of its namesake relatives, each represented by a celebrity attorney who would each plead their respective cases as to which mother-in-law was the best. People Poker, which never aired, tasked players with making the best "hand" they could, the cards being people on stage who may have shared the same occupation, birthplace, or other personal trait.
In 1969, the production company's idea for a game in which husbands appear with their wives and their mistresses to decide which side knows the husband better came to fruition in the form of a pilot hosted by Wink Martindale called Three's A Crowd. While the show failed to sell to a network, the concept of Newlywed Game-meets-Springer (pre-Springer) would be infamously revisited a decade later.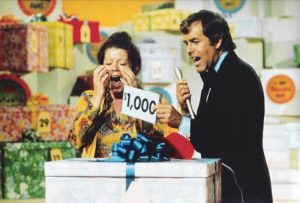 With the games Dating and Newlywed still going strong on ABC, the 70s would prove to be a massively successful decade for Chuck Barris Productions. In 1974, the same year Newlywed was cancelled by ABC, the company had another hit with The New Treasure Hunt. A revival of a 1950s-era light quiz created and hosted by Borscht Belt comedian Jan Murray, the updated 1970s version became, for better or worse, known for its ostentatious displays of wealth and luxury in its prizes concealed in any of 30 mystery boxes on stage, as well as the profound reactions of its contestants (always women, for fear that a bamboozled male contestant would punch host Geoff Edwards in the mouth) who win — or lose — those prizes. The New Treasure Hunt became the subject of an investigation on the news magazine show 20/20 after a contestant saw a new car on stage and promptly fainted, spurring a modest amount of controversy. Geoff Edwards himself quit the show after executive producer Barris explained to him a mean-spirited new gag he had been working on for the show: he had planned on driving a new Mercedes-Benz onto the stage to the assumed delight and rapture of the on-stage contestant, only to inform the contestant that she's only won the windshield.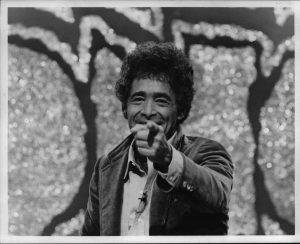 In 1976, plans began to emerge from Barris Productions' partner and former Laugh-IN writer Chris Bearde regarding a talent show in the old style, wherein a panel of celebrities judge a selection of talented individuals and award a prize to the highest-scoring act. Barris, however, as Barris had been known to do, had a subversive change of opinion about the stodgy format: what if all the acts were bad? What if the celebrities were judging people who had no talent at all? The entertainment value in this idea was quickly realized, and 1976 saw the debut of the "almost-live" Gong Show on NBC.
John Barbour, future host of Real People and award-winning filmmaker, was tapped to host The Gong Show. Five episodes were recorded with Barbour as host before it was determined that John just didn't get it. He was trying to host The Gong Show as if it were a legitimate star-making talent show. He expressed hurt and disdain when a celebrity would hit the gong on a performer, thus ending his/her performance. He attempted to afford the show a legitimacy that just didn't fit, and so John Barbour was out. Barris was stuck as to a solution for a new emcee when he was approached by an NBC executive who suggested that Barris, who was more shy than your average gonzo game show producer, host it himself. Other than a split-second cameo on Treasure Hunt in which he pied Geoff Edwards in the face, Barris had never appeared on camera before. Nevertheless, he agreed to take the role.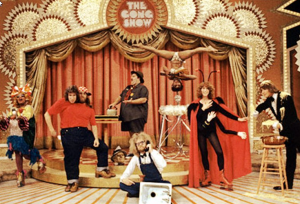 The first episodes of The Gong Show hosted by Chuckie Baby (as he would later come to be affectionately known) were awkward and cumbersome as Barris attempted to wrap his mind around the role of a game show host. As the years went on, however, and the ridiculous acts like the Popsicle Twins and the Mystical Nights Of The Oingo-Boingo came in and out day after day, the wheels began to come loose. Chuck Barris became the anti-host. He would appear on the show wearing a hat that covered his eyes (which he once admitted was meant to resolve his stage fright by avoiding the need to look straight into the camera). His nervous tic, clapping mid-sentence, soon became a favorite among live studio audience members, who would attempt to clap along with him as he stumbled and giggled his way through the introduction of each act. NBC stagehand Gene Patton became one of the show's breakout stars as Gene Gene The Dancing Machine, a character who would simply dance on stage to the tune of "Lovee's Come Back" while the celebrities and host threw things at him. Barris and his crew of celebrity judges (among them Arte Johnson, David Letterman, Pat Carroll, Allen Ludden, and Jaye P. Morgan before she got fired from NBC for showing her boobs on-air) would tell raunchy jokes, make rude comments to the performers, dance along with the musical acts, and generally have a good time. Although a prize was awarded every episode (a check for $516.32 and a custom gong-shaped trophy made by The Trophy Shoppe in Woodland Hills), the format of the show eventually got buried by all the nonsense…and viewers adored it. The network run enjoyed a brief but electrifying two-year network run, after which it ran in syndication until 1980.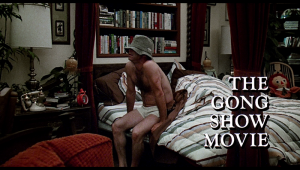 The show was even popular enough to warrant the release of a feature-length film; The Gong Show Movie was released in 1980 to scathing reviews. However, even today, it would be difficult to identify a television program that was so influential on American pop culture in such a relatively-short period of time. The Gong Show was revived several times: in 1988 hosted by Don Bleu, as Extreme Gong in 1998 hosted by current Price Is Right announcer George Gray, and in the fall of 2017 under executive producer Will Arnett.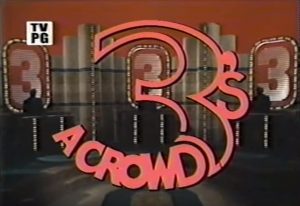 In 1979, CBP dusted off the pilot it had shot a decade earlier and re-tooled Three's A Crowd for entry into syndication. Original host Wink Martindale, who was at that point busy as the host of the new Tic Tac Dough, was replaced by a permed Jim Peck, a talented broadcaster who had several game shows under his belt (Second Chance, Hot Seat, The Big Showdown), as well as a substitute sting on ABC's Good Morning America. Three's A Crowd asked the infamous question, "Who knows a husband better: his wife or his secretary?" As was the case with several other Barris shows, the format was essentially The Newlywed Game, blue cards and all, with a different cast of characters. Although relatively tame by today's standards, the show incited boycotts and protests from several family-centric interest groups who took offense to the idea that Three's A Crowd was promoting or otherwise glorifying infidelity. Even host Jim Peck was disgusted by the concept of the show — several reports have suggested that Peck would refuse to engage in conversation with the show's contestants during commercial breaks or after taping had concluded, instead retreating to his dressing room until they had all went home.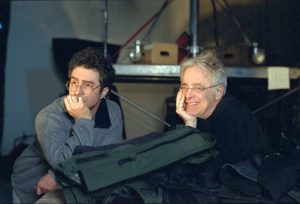 Three's a Crowd lasted for a year; its cancellation and the related negative press forced Chuck Barris into an angry semi-retirement. He holed himself up in a hotel room in New York City for two years. During that time, he wrote what he referred to as an "unauthorized autobiography". Confessions of a Dangerous Mind served as a sort of memoir up to that point in Chuck Barris' professional and personal life, intertwined with a dubious report of his time in the CIA as a hired assassin. While implausible, the engaging book received positive reviews and modest sales. In 2003, it was famously made into a movie, directed by George Clooney and starring Sam Rockwell as Barris.
Throughout the rest of his life, in most interviews in which he was asked about the veracity of the claims he made in the book, Barris would respond with ambiguity, never really saying yes or no to the question of whether he actually was a CIA operative. However, in a 1984 interview on NBC's Today show, he once put the rumors to rest:
"No, I was never a CIA hit man. I never did those things. I once applied for the CIA, and while I was going through the process I got a job and went on television. But I had always wondered what would have happened if I had done both."
Three's A Crowd would turn out to be the final original format from Chuck Barris Productions. The early 1980s saw several reboots of once-popular franchises, beginning with a revival of the hidden-picture game Camouflage in 1980, as well as Treasure Hunt again hosted by Geoff Edwards (who signed back onto the show once it was made clear that Barris would not be producing this time around). Successful revivals of The Dating Game and The Newlywed Game soon followed.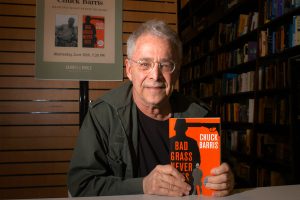 It is worth noting that as well as being a successful television producer, Chuck Barris was also an accomplished songwriter. In addition to writing "Palisades Park", the biggest hit of singer Freddy "Boom Boom" Cannon's career, he composed a vast majority of the music used on his various game shows. Barris was also an author — besides Confessions, he's written several memoirs and fiction novels, such as Me and You Babe, The Game Show King, Confessions sequel Bad Grass Never Dies, Who Killed Art Deco?, and Della: A Memoir Of My Daughter, which told the story of him and his daughter Della, who died of a drug overdose in 1998.
No memorial service has been announced yet. Chuck Barris is survived by his wife of 17 years, Mary Rudolph.