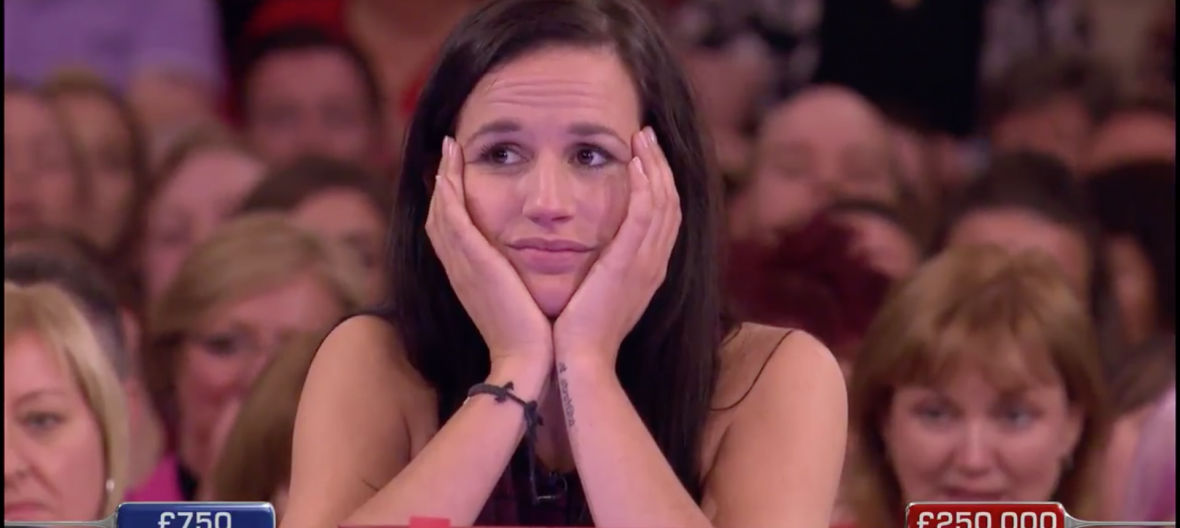 December 23, 2016
Deal Or No Deal Goes Out With A Bang
After almost 3,000 shows in 11 years, Deal crowns its ninth jackpot winner.
Deal or No Deal On Tour has been interesting television, by playing the iconic game across the U.K. in places such as a train, a cave, and a plane. Today, the show wrapped up the tour, and the series itself, at the Kelvingrove Museum in Glasgow. We see player Vikki Heena battling The Banker for the top prize of £250,000 in a very dramatic game. Throughout her time on the wings back in the Dream Factory, she was on for 17 games and the combined total of her box picks were £1.3 Million. She had the reputation of carrying the large amounts, and was known as the "Red Lady."
And she lived up to her name again today.
Vikki did it! £250,000! What an incredible game and an incredible way to end the #dealornodeal tour. Read more: https://t.co/KoKkkpN1eA pic.twitter.com/ARF6nrmieB

— Deal or No Deal (@dealornodeal) December 23, 2016
Her game opened with a couple of blues and the lower end of the reds gone, which was followed by a decent offer of £12,000 from The Banker, and then forcing the deal up to £20,000 later on. Then the £100,000 and the £75,000 left the game, but The Banker failed to predict where the top prize was hiding and added another two grand to his offer. At the climax of the game, It was all too much for The Banker who placed an evaluation of Box 1 at £66,666. Vikki declined the offer and took home the jackpot. 
Ahead of her rollercoaster game, Vikki – who also raises money for the guide dog charity she works for, said: "I felt The Banker might deem me an easy target but I was determined to prove him wrong. I hoped to win enough to redecorate my home, finish the garden and buy a wood-burning stove. Winning the jackpot is more than I could have ever imagined and I'm over the moon. I may even get a field and my own highland cow!"
Vikki joins a long list of jackpot winners including Deal's first quarter millionaire Laura in 2007, Alice in 2009, followed by Suzanne & Tegen in 2011, Nong in 2012, Paddy in 2013, Roop in 2014, and Ann in 2015.
How does The Banker feel about this?
I was faced with a braveheart! Merry Christmas all. Until we meet again… #dealornodeal

— The Banker (@OfficialBanker) December 23, 2016
Deal or No Deal ends its normal run on Channel 4 today, but we may get to see it on television again in the future.