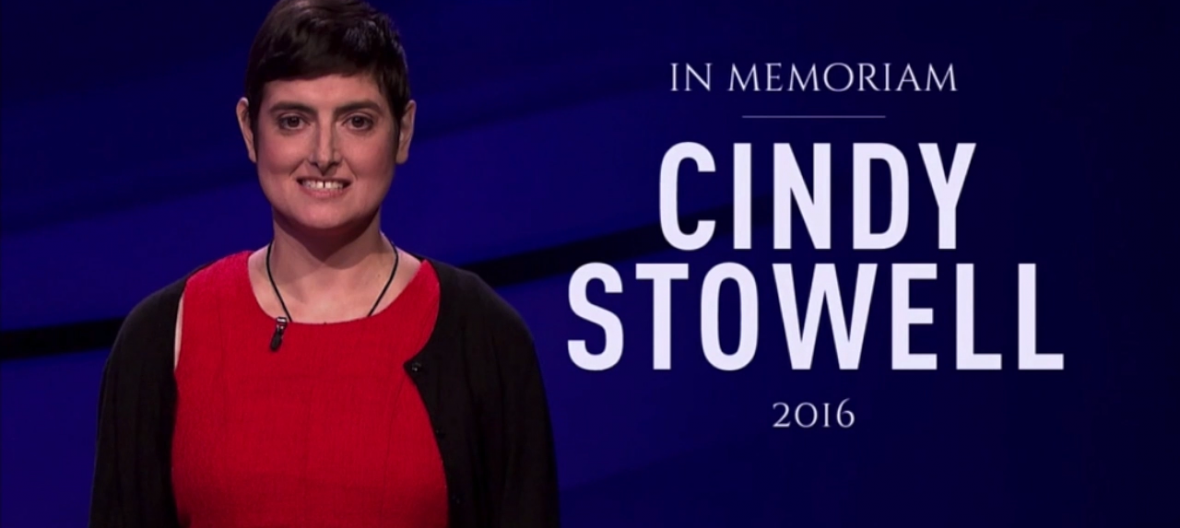 December 21, 2016
Cindy Stowell, 6-Day Jeopardy Champion
Suffering from Stage IV colon cancer, Cindy Stowell's final game aired December 21.
Cindy Stowell's historic, memorable run as Jeopardy! champion came to its conclusion on December 21st, having amassed winnings of over $103,000, despite suffering through a blood infection and pain-killers that dulled her reaction time.
"She really saw it as a personal challenge to test herself in this forum that she watched and loved," her longtime boyfriend, Jason Hess, said in a phone interview with the New York Times on Monday. "She said going in that her main objective was not to embarrass herself. Clearly, she achieved that."
According to the Times, Stowell was nauseated that morning, her fever broke in the middle of an episode, and she was in so much abdominal pain that she took painkillers. After the first four episodes taped, she was hospitalized, but returned in time to tape the next 3. Contestant Coordinator Maggie Speak was able to get Stowell a DVD of the first 3 episodes of her run to watch before she passed away, on December 5.
If Cindy Stowell were alive today, she would have qualified for this year's Jeopardy! Tournament of Champions. She pledged her winnings to the Cancer Research Institute. As her first episode aired, former Jeopardy! contestants and other game show champions and fans donated $1 for every answer they got right as they played along, also pledging to the CRI.
Her tenacity despite her grim circumstances, along with her impressive trivia breadth, is a reminder to all of us in this fandom that life is precious and strength comes from within.
Jeopardy! aired a short memorial video at the end of her final show. On their Facebook page, Jeopardy! has posted a video of Cindy's story, in her own words.