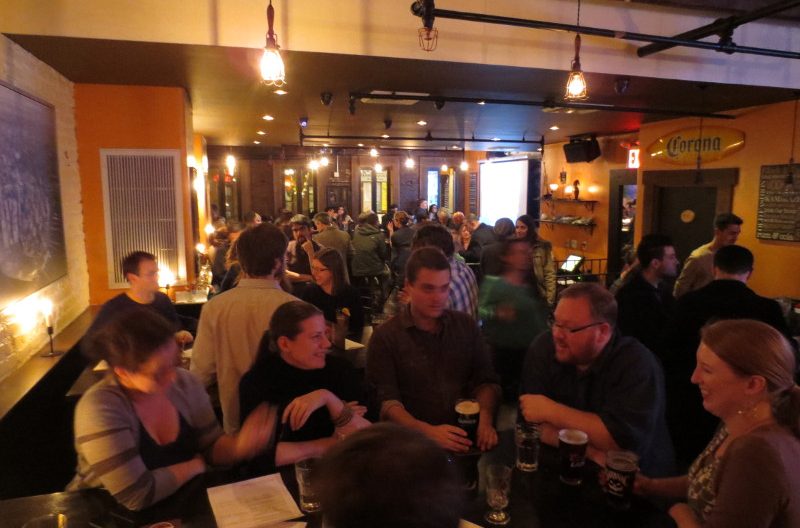 April 28, 2016
TriviaNYC's QCNY Grand Final This Weekend
TriviaNYC is New York's best and longest-running weekly trivia series.

We sat down with Jamie Rosler, Managing Director and Host for TriviaNYC. They are gearing up for the QCNY (Quiz Cup of New York) Grand Final this Saturday, and we wanted to learn more about the event and what goes into running a trivia business.
What will people expect attending the QCNY Grand Final?
A lot of kinds of fun on a Saturday evening in Brooklyn! Of course the main reason for the event is to crown the Greatest Trivia Team in New York City, after an exciting eight-week season across TriviaNYC's weekly venues, but it's more than just the top 16 teams vying for a title in a room. We're giving away thousands in cash and prizes to the top three teams, as well as tons of unique prizes to spectators, friends, cheering squads, and costumed representatives of team names with funny signs.
There will be live music from Sprocket, an award-winning rock quartet, from pretty much the minute the doors open, and will continue throughout the night in the form of both clues and entertainment. The first 50 non-finalist attendees receive limited edition TCONA5 tote swag bags filled with goodies like comedy passes and theatre discounts. There will be activity and excitement from minute alpha to minute omega. It's going to be a good time.
What separates QCNY from other quiz events?
Throughout the Quiz Cup season, players go to new bars, and often go to several bars in a given week. It brings together people who might never otherwise be in the same room, or might never otherwise spend their money in a particular establishment. The trivia community grows as more people's paths cross, and the venues hosting trivia see the benefits.
We also curate local sponsors to provide prizes, especially for the Grand Final, but in general for our weeklies as well. At The Bell House on the 30th, we'll have prizes from such a fantastic range of sponsors, including Blue Man Group, Brooklyn Brazilian Jiu Jitsu, American Geode, Lower East Side Film Festival, Fancy Nancy, Newsmeister, ComedySportz NYC, Ship to Shore Records, Astoria Bookshop, and the Trivia Championships of North America.
What makes a good team for trivia?
Ultimately, you're there to have a good time with friends, so your trivia team should be made up of people whose company and conversation you enjoy. We want to provide you with new topics of conversation and how-did-you-know-that moments over drinks and food with your team.
If you're in it to win it, though, you can absolutely strategize your team's roster. People have different areas of expertise, and our quizzes really do cover a lot of general knowledge ground. Every great team probably has one or two players that are usually good for a bunch of right answers; those friends who just know a lot of stuff and have decent recall. Then maybe your friend Meryl knows everything about '80s and '90s pop culture plus she's a history teacher. Meryl's boyfriend knows most sports history and is a big cinemaphile. And so on.
If you puzzle together your team based on players' frames of reference, you might score higher, but honestly, don't make the effort for people you don't like. If it's not fun it's no good.
What makes NYC a great place to hold a trivia competition?
It's hard to answer that without a seemingly trite response, but there is absolutely something special about the kinds of people that get together for an event in New York City. There may be a stereotype or two about habitual trivia players, but the population is so dense and so diverse in this city (and in a lot of urban centers in general), that the people you get into a bar for two hours competing against each other and having a great nerdy & boozy time, are never cookie-cutter. Notwithstanding the fact that it's a leisure activity for people with disposable income, there is such a wide range in the ages, genders, fashions, ethnicities, and habits of the people that sit at our tables. Knowledge brings people together, and in population-dense New York City, where togetherness can be at times unavoidable, it's cool to be able to get so many different people together for one specific, if trivial, purpose. We find meaning in the meaningless and make use of the useless.
What's the process like to get trivia nights into bars?
It's so easy; just email us (Tony & Jamie, both @trivianyc.net) and get the discussion started! We're always looking to bring trivia to new neighborhoods and players, and a lot of our people are already all over the place.
Only a few years ago, it was difficult to convince bar owners and managers, who of course had never heard of us (or necessarily bar trivia in general), to make the commitment and give it a shot. But now that we've had some success bringing the game into new venues, as well as expanding our private client base, the whole process is getting easier on both ends. Whether we contact venues or venues contact us, we're generally ready to get a new weekly night up and running in just a week or so. Any bars interested in a chat should reach out today!
And anything else you want the people to know?
Tickets are available to the Quiz Cup Grand Final and everyone in New York City should come out for the party! Also, if anyone out there reading this is interested in taking a shot at writing questions, we're always hiring skilled writers. Give us a shout.