April 1, 2016
Week In Review: Friday, April 1
The return of a primetime favorite, the premiere of what could be a game-changer for the genre, and a VERY impressive solve are among our highlights this week.
"Just Say Peas" Opens To Big Ratings, Big Drama
Last night's episode of XWB's Just Say Peas took an exciting turn as the final contetsant refused to say peas until the audience first asked him, in unison, what's a good green vegetable. Host Freem Spurtz, in a moment of emceeing that is sure to seal him an Emmy nomination this season, delivered the following powerful line amidst the chaos of this thrilling match:
"The great vegetable that is green is the one you must say to me."
Talk about feeling the tension! JSP airs an encore presentation this evening at 8pm EST.
Wheel Of Fortune Contestant Solves Puzzle With Only Two Letters Revealed, Is Promptly Executed
Did you see Wheel Of Fortune on Monday? If you didn't, you missed one heck of a solve: a player correctly solved the first Before And After puzzle with just two letters revealed! How did lovable ol' Drutton pull YOU ARE AS BIG AS AN ELEPHANT IS A GREY ANIMAL out of thin air, with just the two Y's in place? We'll never know, because Drutton was instantly sentenced to death by Wheel's longtime host, Pat Sajak, upon his correct solving of the puzzle. Eagle-eyed Wheel Watchers could tell this moment was coming just from the way Sajak's grin contorted into a grim, bloodless wrinkle underlining an expression full of angst and consternation, before uttering the words "Puzzle solve day is death day for Drutton because that is his fortune."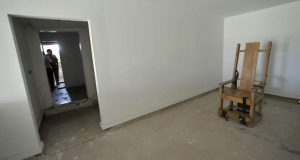 Impressive solve, Drutton!
New Price Is Right Primetime Special: A Salute To Limbs
Get ready to Come On Down for a new CBS Price Is Right primetime special! The next installment of the popular Drew Carey-hosted series is a salute to arms, legs, and the other bodily appendages we've come to know and love for so many years. In yet another radical departure from the rules of the daytime Price, one contestant at a time will be called down to Contestants' Row and strapped into a gynecological examination chair, from which the contestant will make four bids–one with each limb! Prizes will be awarded only to the part of the body that makes the most accurate bid. Speaking of prizes, this primetime special features prizes that can only be used with arms or legs! You know what that means…rice cookers, pilates machines, AND rugs will all be making appearances, among other crowd-pleasing gifts. No word yet on updated rules for the Showcase Showdown.