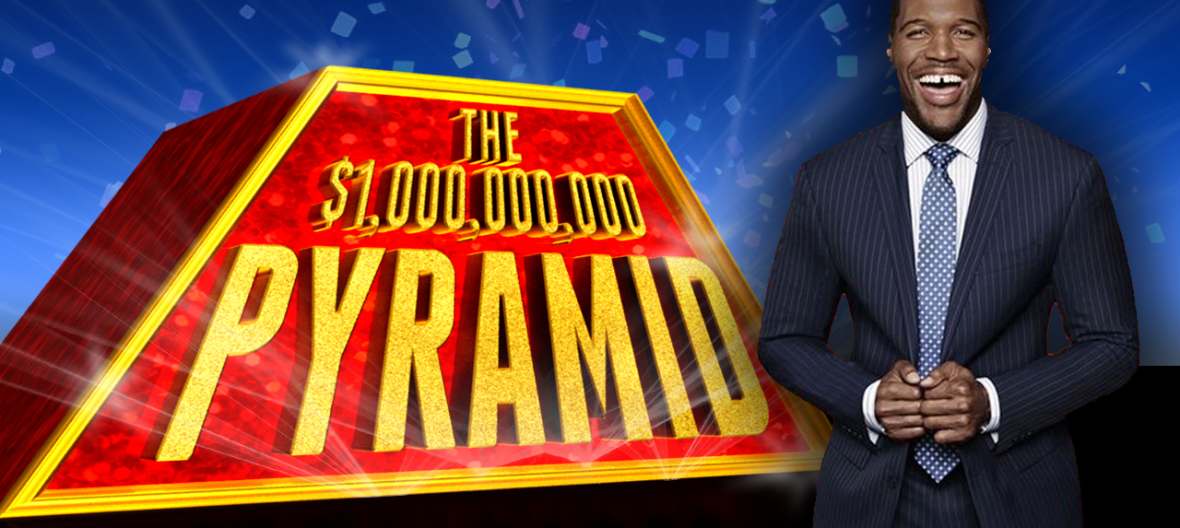 April 1, 2016
ABC Increases Top Prize of Pyramid Revival To One Billion Dollars
ABC folds to pressure from several online game show fans.
Amidst vocal support from at least 4 different online game show diehards, ABC has increased the budget of their summer revival of the $100,000 Pyramid, hosted by Michael Strahan.
Executive Producer Vin Rubino released a statement today, which read in part, "Due to the overwhelming amount of comments, tweets and Facebook posts generated from three or four different game show fans, passionate that a game show in 2016 should offer a prize of no less than one billion dollars, regardless of realistic budgets, costs of labor or insurance to secure such a prize or the financial well-being of the American Broadcasting Corporation, we have decided to increase the top prize of the show from $100,000 to $1,000,000,000. We hope that by doing this, die-hard fans of the show will stop complaining about every minute detail of production in spite of never having worked on a television production in their short, pathetic lives."
In order to win the top prize, a contestant in one hour will have to score a perfect 21 points in combined time of less than 45 seconds. If they do that, their first trip to the Winner's Circle will be for a prize of $1,000,000 and a half a car key. They will then have to repeat the feat in the second half of the show, and then win their second Winner's Circle trip in less than 30 seconds. If they do so, they will win $2,500,000 and the second half of the car key. They will then be presented with five cars, only one of which the key opens. If the player opens the car with their whole key, they will then win the car and drive it to the Ultimate Winner's Circle.
In the Ultimate Winner's Circle, the player will have 30 seconds to complete 10 different categories, but with 10 different celebrities, all of whom have sworn via affidavit that they have never seen (or in some cases) ever heard of the game show Pyramid. If the player can get through each celebrity's category in 30 seconds, they will earn a token and will return for the next show. If the player can do that for 5 straight episodes, they will win the show's top prize of one billion dollars.
When asked for further comment, Rubino stated, "There, are you fucking happy now, you goddamn nerds?"