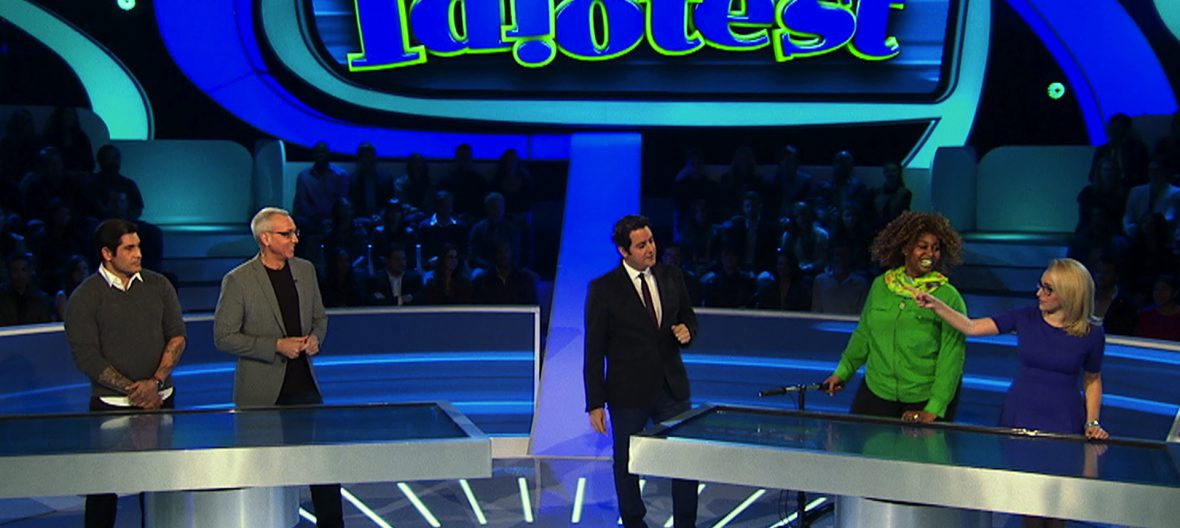 March 16, 2016
Idiotest Returns to GSN in April With Celeb Special
The premiere features Dr. Drew and Mike Catherwood of Loveline against GloZell Green and Gaby Dunn of YouTube.
GSN's popular brain-teaser game Idiotest returns on April 12 at 10 PM with a special celebrity edition of the show, with the hosts of radio's LoveLine compete against internet stars GloZell Green and Gaby Dunn on cable television. And they say mainstream media is dead.
The gimmicks continue for this season, with GSN planning special episodes involving the cast of NBC's Undateable (plz plz plz Ron Funches), a Chelsea Lately reunion (host Ben Gleib was a featured talking head on the show) and an "all-nude" episode which, I assume, will not have any visible boobies or peepees.
From the press release, it seems like GSN's super-happy with the demographics the show is pulling in. "Season two viewership also increased over last year in total viewers and W18-49, and in its regular Wednesday 10pm timeslot last summer, the show boosted the year ago timeslot by 28% in P18-49, 26% W18-49, 11% P25-54, and 7% W25-54,. Season two also saw the show garner its highest-rated episode ever in the key P18-49 and W18-49 demos."