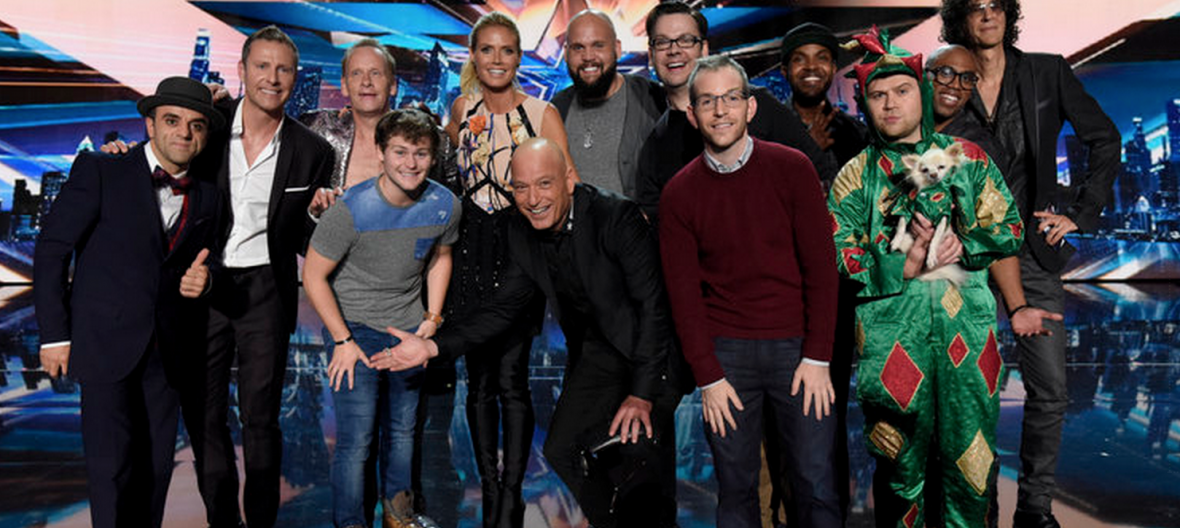 September 16, 2015
America's Got Talent: The Finals
Tonight, one act will win $1,000,000.
We made it to the Finals. Season 10 of AGT has been an amazing journey from start to finish with thousands of performers vying for a chance to perform live at Radio City Music Hall for America's votes. After watching last night's show, it felt like it wasn't the strongest Finals in recent years. It felt a bit lackluster with some acts not reaching the level that they should've in their ultimate performance. Still, it was an entertaining show and there were a few acts that stood out.
What we'll do is breakdown each of the following acts in no particular order, just to give you an idea of what they did. Then, further down the page, we'll make our prediction for the top three.
Derek Hughes
Derek is a talented magician, and he can also be funny. Last night, he made a big mistake. He took a very straightforward magic trick involving ropes that was drawn out for the entire act. His deejay and backup dancers did make it confusing to focus on him. This probably won't help him.
https://www.youtube.com/watch?v=fbuE0cHz9dI
The Professional Regurgitator
Stevie Starr continues to amaze us with each performance, bringing in more props to dazzle us with a hint of danger elevating each time. You can hear Howard Stern laughing during the first part of his act with the thumbtacks because he loves it. Stevie's second part involves fire, and fire is cool.
https://www.youtube.com/watch?v=Ej5OUGX_7rU
Drew Lynch
There's no doubt that America loves Drew. He charismatic and funny with his writing. He likes to laugh at his own jokes and in between them, which can sometimes slow down the pacing. It feels like he is resetting before each joke. Drew is a good comedian that won over America's hearts throughout the competition.
https://www.youtube.com/watch?v=WZQuHYz0I0E
Paul Zerdin
Paul killed it in his Semifinal performance when he used Howie Mandel as a human puppet, and the crowd went wild. Last night, Paul brought on stage three different puppets and began tossing voices around all of them. There is no doubt that Paul is a fantastic ventriloquist with a dash of comedy, but there were times where it felt he was trying to cram in a lot of different stories in a short time frame.
https://www.youtube.com/watch?v=or8qz7nhlrQ
The CraigLewis Band
The CraigLewis Band comes out every time and puts on a show for us. They are very energetic, upbeat, and great vocalists. You just want to get up out of your seat and dance along. The problem is that it seems that singers tend to fall just short of the finish line recently on AGT, so hopefully The CraigLewis Band was able to pick some extra votes.
https://www.youtube.com/watch?v=P4YTaps5PME
Piff the Magic Dragon
Piff is another example that his previous performance felt superior to his final act. Piff focused a lot on his comedy in his tricks last night, but something felt off. Piff was all over the place during the performance, possibly confusing some folks into what exactly he was doing.  His character is still a fan favorite, so he'll probably snatch up some votes for that. Piff is talented and his witty comedy and fun magic tricks can easily be enjoyed by any age group if he made it to Vegas.
https://www.youtube.com/watch?v=pfDxh5XzXsk
Gary Vider
Gary's dry humor is definitely his schtick. As some of the judges put, he has that Woody Allen persona. Gary's jokes are funny and his delivery has gotten better throughout the season. Some of his jokes last night received hearty laughs, while others just were okay. I do think his material is a notch higher than Drew Lynch's.
https://www.youtube.com/watch?v=4a0QOyjBa5Y
Benton Bolunt
Benton is an all-around good guy. Of all the solo singers in the competition this year, Benton definitely deserves this place. He has a soothing voice, but was a tad off in the beginning. He quickly picked up from that and had a strong finish.
https://www.youtube.com/watch?v=XPOF3SI7tU0
Oz Pearlman
Oz is a great performer and really gets us scratching our head with what he does. He's engaging and is good with pace throughout his performances. Last night, he tied together all of his predictions from the envelopes, the colored chairs, and to the names the Judges were thinking of, into an enjoyable act.
https://www.youtube.com/watch?v=qRf60BGJalA
Uzeyer Novruzov
After Uzeyer's fall last week, it seemed like his dream of reaching the Finals came to an end. But when he ended up in the Dunkin' Save category with two other performers, America voted him straight to the finale. He was very emotional. Due to his injury, Uzeyer couldn't perform some of the gripping ladder acts we're used to seeing him do. He was still able to put on a good show in the air using a dangling rope ladder, and jumping from rung to rung while it swayed back and forth.
https://www.youtube.com/watch?v=fGN40dzan-w
Our Final Predictions
Third Place: Piff The Magic Dragon. He has the fan base and he will get the votes. If he was a bit more consistent in his performances, building upon each of them, he could've secured that top spot. Piff was a front runner early on in the competition, even receiving Neil Patrick Harris' Golden Buzzer in the Judge Cuts and praise from the Judges throughout. It could be a toss-up between him and Oz for this spot, but because of the character, Piff will probably squeak by.
Second Place: Paul Zerdin. With Paul's act, I can see a lot of interactivity with the audience in a Vegas show, with the mix of his different characters. Paul is a professional at what he does, and shows he can do a lot more than just having one puppet on stage with him.
$1,000,000 Winner: The Professional Regurgitator. This is an act you can easily see in Vegas. It's so captivating and weird that it fits the mold. I'm sure he has a bag of tricks just waiting to show us if he gets his own show. He's been popular around the world, but this is his time to shine here in America.
Catch the two-hour finale of AGT tonight at 9pm ET on NBC.