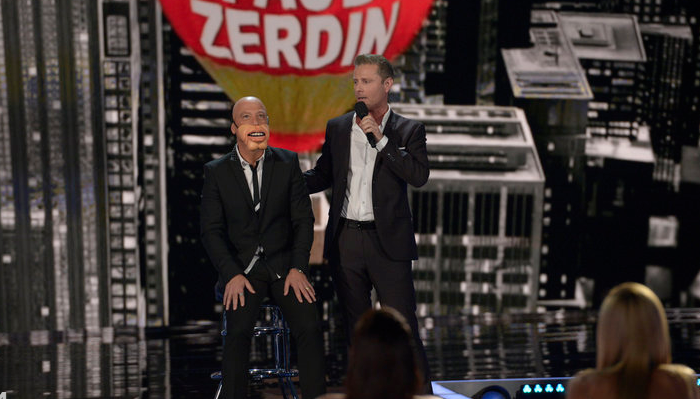 September 9, 2015
America's Got Talent: Semifinals 2
A guy falls off his ladder onto the stage, and a 3D robot attacks us.
As we enter the final results of the Semifinal rounds, the acts are becoming bigger and better. Season 10 is turning out to have one of the most diversified finals in the series. There's a little bit of everything, so there's something for everyone.l
Let's see who is joining us for The Finals next week:
So far, this is turning into a spectacular show. We have a mentalist, a comedian, a magician and two really good singing acts.
Last night's talent was off the charts, including a scary moment for Uzeyer Novruzov where his ladder act goes horribly wrong, and one of the coolest 3D effects we've seen on the show from Freelusion.
That said, only five acts can make it through to the Finals, and here are the acts we believe will make the cut:
Paul Zerdin
Just when you thought what else Zerdin can do with his ventriloquist voice, he creates a human dummy (in this case, being Howie Mandel.) With a clever act that turns the tables on performer and judge, Zerdin instantly has the people laughing in their seats, including the judges, as he makes Howie dance and twerk on stage. Easily one of the best of the night. Zerdin is insanely talented.
https://www.youtube.com/watch?v=9aP_kJMdDvQ
Piff the Magic Dragon
Piff's last performance wasn't his strongest in the competition, so he went back to what works. He brought out his trusty case, a deck of cards, a toaster, and Mr. Piffles on location. Piff has the perfect blend of comedy and magic. Everything just works together. The audience and judges are instantly captivated with Piff's performance.
https://www.youtube.com/watch?v=V1MOH_o7_fE
The Professional Regurgitator
Steve Starr is never afraid to put something random in his stomach. His opening package showed him binging on snack food and sticks of butter, so swallowing dish soap and smoke is a piece of cake. Starr creates a bubble filled with smoke in a very weird, mesmerizing way. The audience loved it.
https://www.youtube.com/watch?v=A1l6f0477nY
Gary Vider
Comedian Gary Vider's schtick is working for him. His melancholy-like sounding voice really gives his jokes that extra spice. This time around, Vider was a bit quicker on his delivery, and that resonated well with the judges and crowd. The fact that we had #Boobissippi trending on Twitter made me proud of America.
https://www.youtube.com/watch?v=dHmWt0BQtfQ
Sharon Irving
Irving is taking on the iconic song Imagine by John Lennon. It's a classic, and it needs to be handled like that. Has Irving had stronger performances leading up to this one? I would say so. Was this one bad? Not at all. There were some opportunities where she could've pushed a little harder in this performance, but I think enough people like her to push her through to the final round. Besides, I still think Tim Hockenberry's cover from Season 7 was better. Still get chills watching that one.
https://www.youtube.com/watch?v=3vBfte52HTI