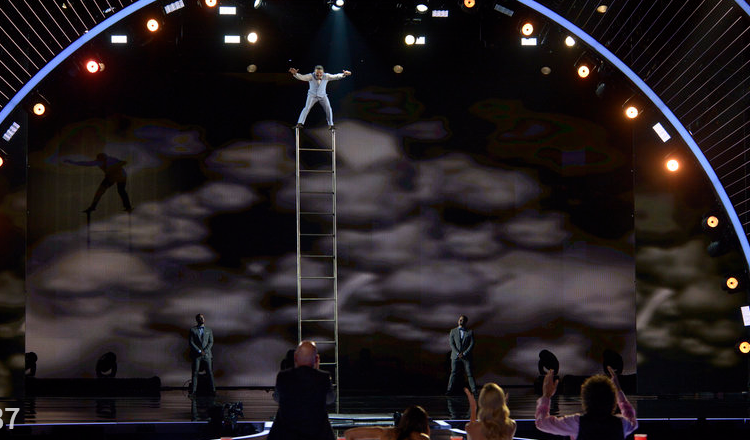 August 19, 2015
America's Got Talent: Quarterfinals 2
It's the second week of live shows, with fewer X's than last week.
Last night's second quarterfinal showing had a lot more variety to offer. Judge Howard Stern made a point last night that all judges were in agreement on their evaluation of the performances. It was definitely a night of great talent with everything from singing puppets, to water aerobatics, to some comedy that may have fell flat with some. So, let's talk about our Top 3 and predict who else will join them in one of those seven elusive slots.
1. Uzeyer Novruzov
The act of the night. If you want suspense, anticipation, danger and more, you get it here. What turns out to be a simple ladder-climbing act soon becomes an edge-of-your-seat performance. Novruzov did take his time going up the larger ladder, after making several small mistakes on the shorter ones earlier in the performance. You can see the determination in his face as he stared up at the behemoth. The crowd cheered him on, and the judges were awestruck. My heart was beating very fast and I felt my palms getting sweaty as he neared the top. It's a live show, and even with a short delay in taping, anything can happen.
https://www.youtube.com/watch?v=kGW3zrzW45w
2. Derek Hughes
Magic acts are hot this year. Will we see another Mat Franco take the crown? We saw Piff last week, and even though his performance wasn't the best in his run this season, he still made it through to the semifinals. What Hughes does is that he takes magic and blends it with comedy. His act started out a little slow, but once he built the momentum, he was on point. His slight of hand is great and his distractions toward the audience made it even more enjoyable.
https://www.youtube.com/watch?v=KKlOohhyn7c
3. Craig Lewis Band
This soulful duo takes on Otis Redding's Try a Little Tenderness, and they did a great job. I've said it before that their chemistry is always on point, allowing them to sync up perfectly. They put on a show for you that's full of fun and energy. It can really get you up out of your seat. The crowd definitely got into it.
https://www.youtube.com/watch?v=5a4kkTrrElc
And here's the rest of our list from last night:
Uzeyer Novruzo
Derek Hughes
Craig Lewis Band