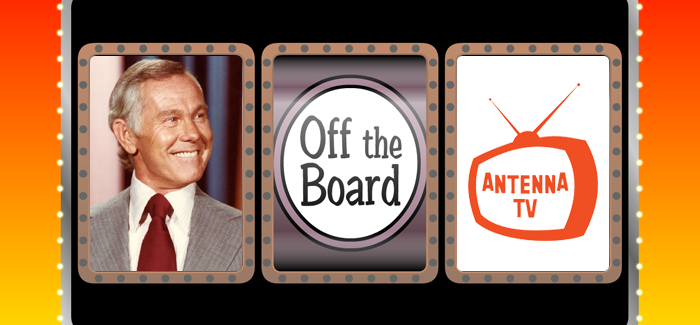 August 12, 2015
Antenna TV adds Tonight Show with Johnny Carson to Lineup
Classic, full episodes of the iconic show will air at 11 PM on Antenna.

Starting January 1st, 2016, Antenna TV (one of the more popular digital sub-channels, not unlike Buzzr) will start airing classic, intact episodes of The Tonight Show with Johnny Carson, going up against the late night offerings of NBC, CBS and ABC. Antenna will run episodes that aired from 1972 through the end of Carson's 30-year reign in in 1992. (Episodes from before Carson's move to California have been lost to time and cheap tape reuse.)
According to an article from Variety, Antenna will be showing hour-long episodes during weeknights at 11 PM, and 90-minute episodes from Carson's run between 1962 until 1980 on the weekends, at 10 PM. "Tribune execs are determined to keep each episode as intact as possible — which means negotiating new agreements for the show's many musical performances on an episode-by-episode basis, in most cases," the article continues. An expensive endeavor, but Carson Entertainment (the holding company in charge of the late comedian's estate) has repeatedly shown they're both savvy in this new media environment and careful in accurately preserving the legacy of Johnny Carson's work.
Hopefully, my favorite Tonight Show performance—They Might be Giants performing with Doc Severinson and the NBC Orchestra—will appear sometime. (Even though Jay Leno is hosting, this was during Johnny's tenure.)
Off the Board is a collection of news and features that aren't game show related but are relevant to the interests of our writers and our audience. Do you want more of this? Leave a comment.