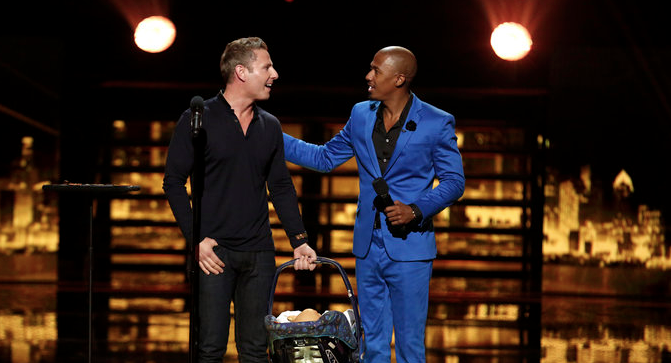 July 29, 2015
America's Got Talent: Judge Cuts 3
Comedian Marlon Wayans joins the judges for the third week of Judge Cuts
We're over half way done with the Judge Cuts for AGT's tenth season. So far, the live shows are shaping up to be quite entertaining. Last night seemed to be one of the more entertaining rounds so far. Some really good acts got cut, and some were quite a surprise. The one act that really gave us a shock was Paul Zerdin. He's a comedic ventriloquist, and I get vibes of Terry Fator here (and he's a very tough act to top.) His material really picked up as he began to interact with his baby counterpart, making it feel like there were two living, breathing beings on stage. This guy is the real deal. He's a great ventriloquist, and he's able to make us laugh. You can't help but smile during his performance. And because of that, Marlon Wayans gave him the Golden Buzzer.
https://www.youtube.com/watch?v=SdbvHYbUBAw
Check out the following acts below that made the cut. Next week, it's the last of the Judge Cuts. The last celebrity guest judge is someone who is already familiar with the show, and can be quite controversial: Piers Morgan. So, yeah. Good luck to those performing next week.
Triple Threat: Never judge a book by its cover, especially this band. If there's a musical group that can capture the votes of America and advance far in the show, it would be these guys.
Mountain Faith Band: A family-friendly bluegrass band that's sure to win a couple of votes. I'd like to see them take on more modern classics with their style of music.
https://www.youtube.com/watch?v=nYg4R1S1Wq4
Oz Pearlman: I love magic, and I was ecstatic when Mat Franco won last year. Mentalists always put on mesmerizing performances, and this guy delivered. What he did last night left everyone speechless. He needs to go bigger and bolder in the live shows if he wishes to survive in the competition.
https://www.youtube.com/watch?v=2huwKE7-de8
Benton Blount: Blount is the real deal here. He's genuine, a good singer, and you can feel his passion through his performance.
https://www.youtube.com/watch?v=CCUr8WygRMc
Animation Crew: This dance crew blew the judges away in their first audition with their stop motion performance. This time around, it felt like they sped up the performance and added some new moves.
https://www.youtube.com/watch?v=VouddxjEhRQ
Vita Radionova: Here is a contortionist act with an extra slice of sensuality added to it.
https://www.youtube.com/watch?v=hrC9yVYpmxI