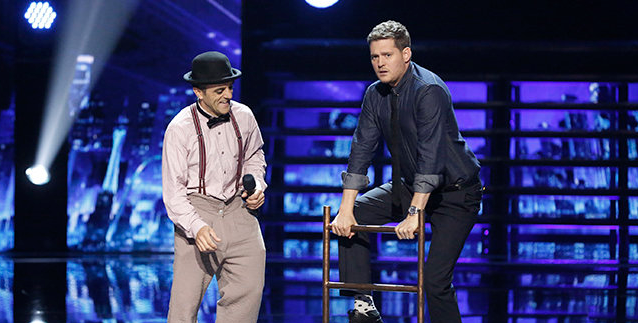 July 22, 2015
America's Got Talent: Judge Cuts 2
Singers, Dancers, and Puppets! Oh, my!
The second week of Judge Cuts on AGT was very eventful and emotional. The acts were hoping to snatch up one of the seven open slots that would transfer them to the New York City live shows. Guest judge, singer Michael Bublé, used his golden buzzer to immediately send through the Craig Lewis Band. The duo took on Mary J. Blige's I'm Going Down, and nailed it. Their harmony is on sync and it's a musical act I don't mind taking it all this year.
Check out the six remaining acts to make it through to the live shows. Which ones do you like?
Daniella Mass: That ending note was amazing. She can easily rank toward the top of the list of opera singers the show has had.
Ira: A cute puppet act with a decent voice, but seeing them go through instead of some other acts last night was quite surprising.
Benjamin Yonnaton: An amazing performance that made everyone stand and cheer, and didn't leave a dry eye in the house.
Uzeyer Novruzov: A dangerous balancing act that leaves you holding your breath. I'm sure we'll see him step up his game, and danger level, as we move on.
DM Nation: This all female dance troupe knows the moves and keeps it moving fast. Very fast.
Selected of God Choir: I was expecting another gospel song. Instead, we got Survivor by Destiny's Child. What a pleasant surprise.