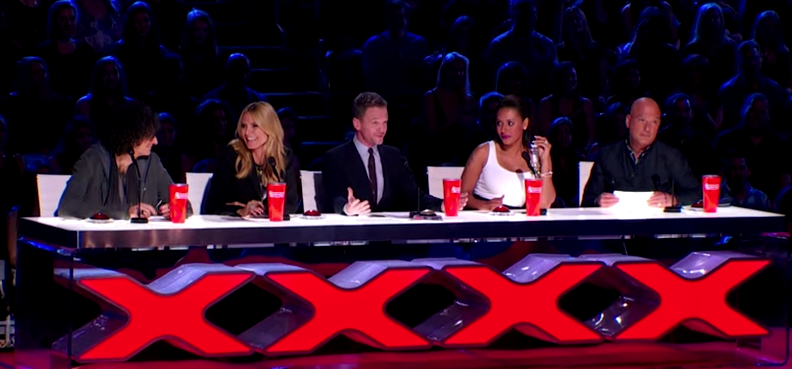 July 15, 2015
America's Got Talent: Judge Cuts 1
It's Season 10. It's the Judge Cuts. It's on.
Welcome back to our regular summer commentary of America's Got Talent, or as the hip kids call it, AGT. We're fans of the show around here. We like keeping up with each round as we root for our favorites, as you root for yours. 
The acts that passed their auditions now perform in the Judge Cuts. Each week, 20 acts will perform, but only seven will advance to the live shows at Radio City Music Hall. Also, each week will feature a celebrity guest judge. They will possess the golden buzzer, allowing them to immediately send an act through to the live shows. This week, Neil Patrick Harris joins the judge's table.
Some acts stepped up their game, others made little to no change, and some are just really whack (I mean, a professional cuddle got this far in the competition? Okay. But she got four X's, so life is good.) The stand out act of the night was Piff the Magic Dragon. You may recognize him from the first series of Penn and Teller: Fool Us. Piff's low key energy and comedic timing allowed this to happen:
A second favorite was comedian Myq Kaplan. It would be great to see a comedian win AGT. Check out his act below.
https://www.youtube.com/watch?v=ZgCPdnHXqCw
And here are the other five acts rounding out the first cut of seven. Who are you liking so far?
Chapkis Dance Family (Some great moves, but feels crowded)
https://www.youtube.com/watch?v=BG0zelqG29Y
Freelusion Dance Company (Now that was cool. )
https://www.youtube.com/watch?v=vRgz1WptCwY
3 Shades of Blue (A rock band that Howard Stern really wants to win)
https://www.youtube.com/watch?v=tOVapRjJbsc
Silvia Silvia (You could die from this)
Samantha Johnson (One of the best singers so far in the competition)
https://www.youtube.com/watch?v=M2J1HjwACW4