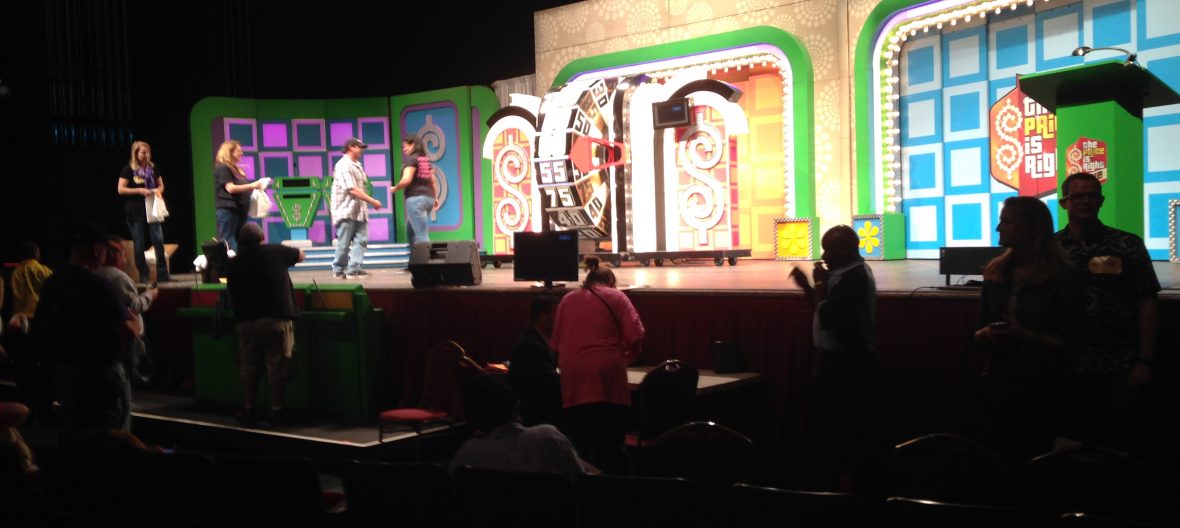 April 22, 2015
The Price is Right Live Brings The Dream To You
Everyone gets giddy when a piece of Hollywood comes to their hometown.
As my Lyft pulls up to the Lyric Opera House, on the edges of University of Baltimore's urban campus, I notice a gigantic line of people outside. The doors don't open for a few hours, but the line stretches around the giant city block, and continues to wrap around, ensnaring college students trying to get back to their apartments in confusion.
I mean, if you were just an innocent bystander walking through, you'd be confused too. Large groups of people wearing similar shirts. Some have alien antennae headbands with flamingoes on them. A few have super-fluffy ballerina tutus over their jeans. And everyone is shockingly happy for having been in line for hours, some even since noon. And they should be—they're all hoping for a chance to Come On Down tonight during Baltimore's first-ever stop in the Price is Right Live tour.
I feel bad about skipping the line, but Todd Newton's waiting for me. I've got a few minutes to talk to him before the crew starts their rehearsal. Even though they're doing 6 shows in the next 7 days, almost every day's at a new venue. Who knows what could go wrong?
"For our purposes, it's perfect."
As the on-site director leads me through the auditorium, I set my eyes on the Price is Right Live stage. It's a sight to behold— basically a pared-down version of the studio set up at CBS Television Studio. Sure, there are only two big doors instead of three, but they're carting all this stuff around the continent. For something that's supposed to be as portable and as adaptable as possible, the set designers have done a great job.
"Well, it's the same people that design the set for the TV show," host Todd Newton tells me. He's obviously very relaxed right now, wearing a plaid button down shirt and jeans. "Obviously, we're produced by Fremantle as well, so authenticity is important to us." Todd's a friend to game shows. One of his professional mentors was Bob Barker, so it's no wonder he's one of the most well-known game show hosts on the TPiR Live circuit.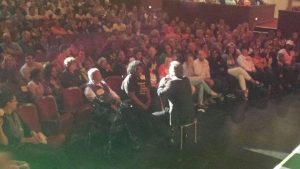 We start talking about the logistics of carting The Price is Right around the country. "There are over 90-something different pricing games on the TV show, but we rotate as many as the classics in as possible. We do bring out the favorites." So no Double Prices then. Damn, a dream deferred.
"The Big Wheel is 85% to scale as on television. It's bigger on TV, it's slightly larger, but for our purposes, it's perfect," Todd tells me. "The prizes we give away are similar, not identical, to the TV show, for budgetary reasons. We can't travel with 8 cars every night." It makes sense. While I was talking with Todd, a message buzzed in my inbox, alerting me to a thread on a message board complaining about Price is Right Live:
"3,500 people at $50 per ticket? That's $175,000, or $140,000 in U.S. dollars! You'd think even after the host, announcer, models and the venue itself are all paid, with $140,000, there would be enough left over to have a decent prize budget – maybe not as big as what we see on the TV version, but at least something better than what the live show is currently offering."
Todd gets paid. The night's announcer, comedian and Mystery Diners actor Andy Martello, gets paid. The single model, an attractive French woman with short hair and a million dollar smile named Natalie, gets paid. The Lyric gets paid. The anonymous poster is correct. But there's dozens of staff members around me, plugging in electronics, testing sound, moving props. There's event staff guarding exits. There are vendors selling plastic Plinko chip coasters and Price is Right Live hoodies. There's even more vendors selling beer, wine and liquor (thank God). There's the cost of gasoline to cart around the gigantic game show set. Obviously, this is a profitable endeavor for Fremantle, but by no means does that mean everyone wins a Ferrari. I don't know exactly what prizes they're currently offering, but this anonymous poster has me worried that we're getting some UK TPiR-level prizes, like a $45 coffeemaker up for bids.
"I don't think we have many delusional attendees."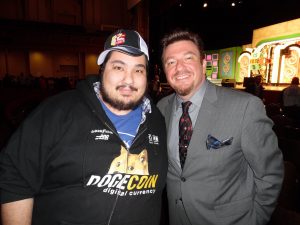 "A lot of people ask what the similarities between the TV show and ours. It's easier to point out the differences," Todd says. "The differences are, obviously, all of our contestants are chosen completely at random. We call new people down ever time, after every game." There's no Stan Blits outside casing the line for great contestants. Everyone in line is waiting to get their giant price tag name sticker, write their first and last name and birthdate in a card, and stick that card in a giant laundry hamper. All the cards are taken backstage and names are pulled out. Out of a sold-out crowd of 2,500, about 60 people were called to either play the game, or win $25 gift cards. Two lucky folks even won $100 Amazon gift cards. They weren't messing around with the amount of prizes.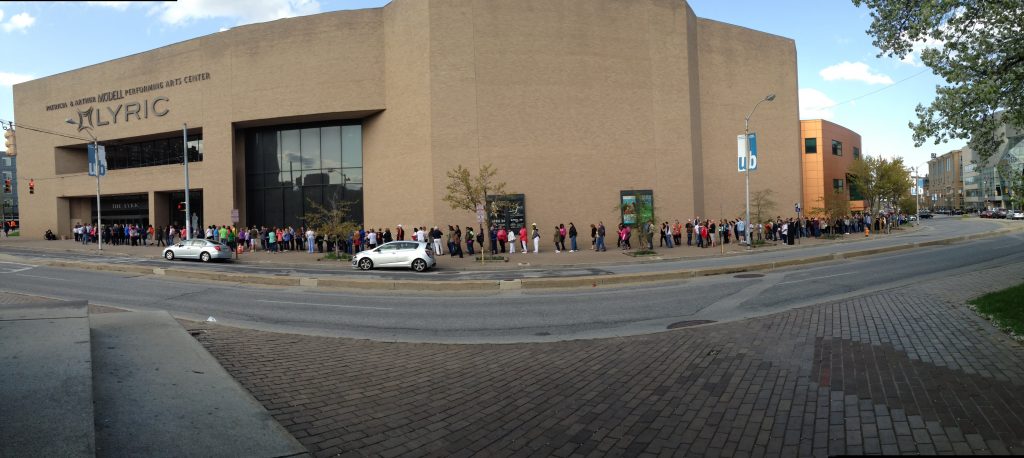 "Everyone here has paid for a ticket," I start to ask a question. "Not everyone's going to play. Do you think some people get disappointed because they think they're coming here to win, or is there an expectation that they're coming here to see The Price is Right?" In my head, I can't tell if everyone is treating this like a life-changing lottery ticket, or an experience that could get you a new toaster. Todd responds thoughtfully. "I don't think we have many delusional attendees. I think everyone realizes this is a game show, and part of the appeal of game shows is what you invest in the contestant on stage. People don't watch TV game shows thinking they're going to be on them." (Sir, have you any idea of who I am?) "They watch because they're playing along with that person. When you're able to actually hear your name called to come down, it's like the sprinkles on top of a sundae."
"It's here in Baltimore! It's in our hometown!"
Janice and Eric are from Westminster, MD, about an hour away from Baltimore, and they're basically the first people in line. They're an older couple, probably in their 50s, and they're wearing matching shirts they made just for tonight. Janice's shirt exclaims that being on the Price is Right is on her bucket list. Her dream is to be not just on a game show, but on the Price is Right. I ask her what's so special about the show. "I just love it. Ever since I knew it with Bob Barker, and Drew Carey." Mikael, a man standing right behind her, jumps in and claims that getting on the Price is Right is his dream too. "It's one of the most fun, accessible game shows. Except, it's on the West Coast. There's nothing on the East Coast. And this is a chance to live a portion of it." And what's her favorite pricing game? Plinko. What does she want to win? "I want to win a car!"
Everyone in line that I talked to basically said the same thing. I love the Price is Right. I hope I win something. My favorite game is Plinko. I just want to have fun. Everyone is excited. Everyone wants to partake in the giant party they see every morning at 11 AM.
One guy did say his favorite game was Lucky $even. I hope he gets called on stage.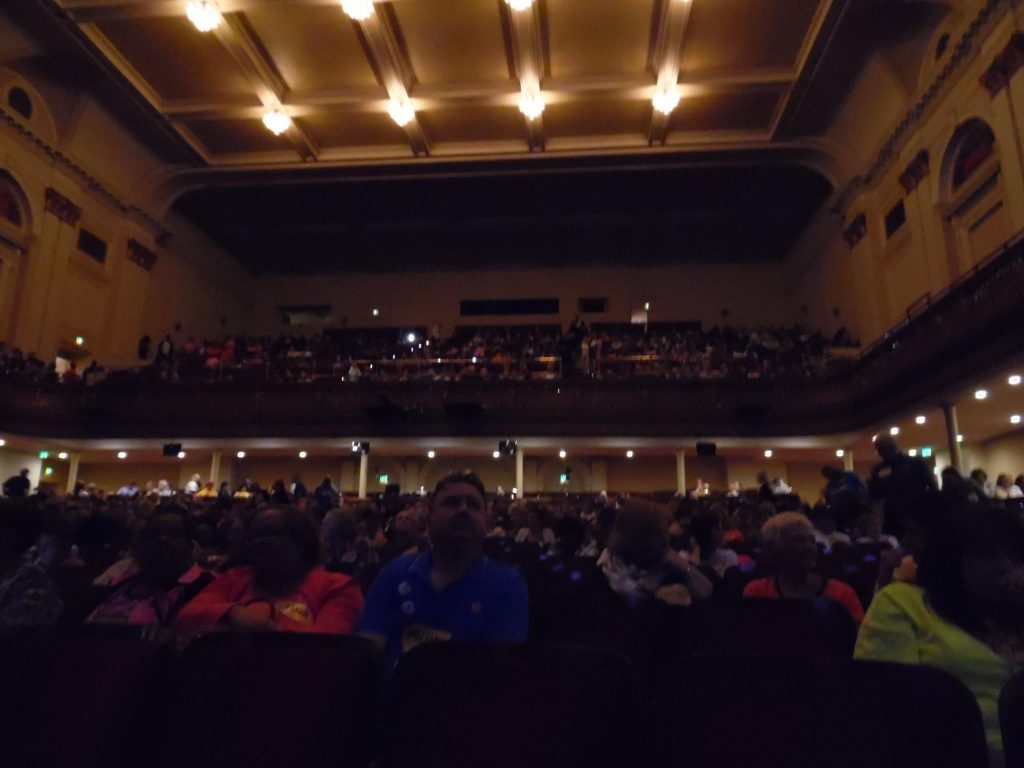 The last time I spoke with Todd, he told me that Bob Barker gave him this bit of advice: "Every contestant has a story. It's the host's job to bring that story to the forefront so that the viewer at home can relate to that contestant." How do you take that advice and run with it when there are no viewers at home, there's no casting directors or show producers telling you what strings to pull or what talking points to hit?
"It's easier," Todd says. "I love not knowing anything about that person. I don't prefer to have someone say, 'OK, this is Cory, he's a 29-year-old graphic designer from Cleveland.' Well, who cares?" (27, Graphic Designer, Philadelphia. This man's intuition is on point.) "The audience wants to hear that you drove an hour and a half to get here. The audience wants to hear that you almost ran out of gas. Those are the types of things that establish that immediate rapport that gets the audience behind you." There's no audience further than what Todd sees on stage. America isn't watching tonight. It's just the people in the room, and Todd loves playing to the crowd. "Sometimes, I try and try and try and there's nothing there, and so we go right to the game. I always have the game there. The night is always about the contestants."
"Is he putting eyedrops… in his mouth?"
As showtime drew near, I took to my seat. I was sat next to Dean Rogers, of The Rogers Revue, and a little old woman who looked to be about 90. I asked Dean if we could scoot over so I wouldn't elbow this poor old woman in the face. He obliged.
It was surprisingly easy to talk to everyone around us. A couple eager kids in front of me were excited to hear that both Dean and I were on Wheel of Fortune. (Dean, having won a trip to Hawaii and a Brand New Car™, is clearly better at spelling than I was.) The row of women behind us were sipping cocktails and gabbing away. One woman tried to get on Wheel of Fortune, but no one would come with her to the audition. All of them, however, were excited to watch and play. The same applied to the rest of the audience. Some people had homemade signs. Many people had shirts. A lot of those shirts referenced Drew. I counted at least 15 shirt designs that referenced playing Plinko.
The items up for bid were analogous to what you'd see on the show: Coach handbags, iPads and headphones, and electric guitars. Dean noted that these prizes were more expensive than the last time he saw TPiR Live, several years ago in DC. Later, I followed up and found out that the contestants actually don't win those prizes. But it's never actually said during the show that the contestants win the prize. To everyone in the theater, contestant or not, the prizes are just a construct to play a guessing game. Just like the show, the person who was closes to the actual retail price without going over gets to play a pricing game.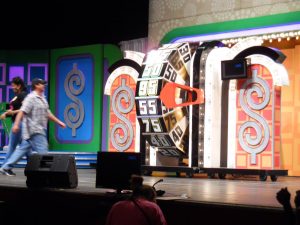 The games played were like a Price is Right Greatest Hits album: Punch a Bunch, Cliff Hangers, Any Number, Hole in One, and Plinko were played. One round of the Showcase Showdown was played with brand-new contestants for bonus cash. For a $50 ticket, the prizes available weren't too bad: Cliff Hangers was played for a large 3D TV and a Playstation 4. Any Number's main prize was a trip to Las Vegas (and don't get me started on the brain-dead contestant who had _348 in the price of the trip to Las Vegas, and with the only numbers remaining being 1, 9 and 0, said 9.) The Showcase had a travel theme, sending one of the two lovely old women who bid within $99 of the ARP without going over, to Hawaii and Hollywood and with a brand-new car. Sadly, they both overbid.
Todd handled the Baltimore nuts with good-natured ribbing that had the audience in stitches. The very first contestant to make it on stage claimed she was a stay-at-home-mom. How old were her children? "My oldest is 26 and I have the twins, they're 22." The room took a beat, then burst out laughing. Todd couldn't believe what he heard and asked the woman if she still performs her motherly duties, like leaving out cereal while the kids watch cartoons. The second contestant, an older man with a gray fu-manchu, would air-guitar when excited and inexplicably took out a bottle of eye drops and sprayed some on his tongue. (That may have been the softest substance he would abuse that night.) After thinking a coffeemaker would cost $55, he did not win Cliffhangers.
Worth the price of admission.
There's something to be said for this hyper-local game show experience. Sure, the prizes aren't as big, the set's not as grandiose, and the host isn't Drew Carey. But what the show lacks in its immediate familiarity, it makes up for it in just how enjoyable the entire experience is. For one thing, even in this major metropolitan city, I still managed to stumble upon one family member and one co-worker sitting within two rows of me. Everyone in the audience knew what to expect when a good ol' Bawlmer Hon waltzed up on stage and chatted with the Hollywood game show host—and we know he'd be flabbergasted.
If you ever get a chance to experience The Price is Right Live for yourself, do take the opportunity. The relationship this tour has to its parent television show is like your favorite singer touring. Everything sounds so familiar, and you know ever beat, but the instruments are slightly different and everything's not so polished and produced. But that's part of the fun. What makes The Price is Right so popular is its familiarity, accessibility and unpredictability. At no point does the producer have to pick Double Prices after playing Plinko due to time constraints. Todd never has to rush to get a fun, wacky contestant to play a game. What you get from this show is what you, the loyal friend and true, want out of the Price is Right, without having to wake up at the crack of dawn in Los Angeles.
The Price is Right Live is ending its current East Coast tour later this week. For details on upcoming dates, visit their website at http://priceisrightlive.com.