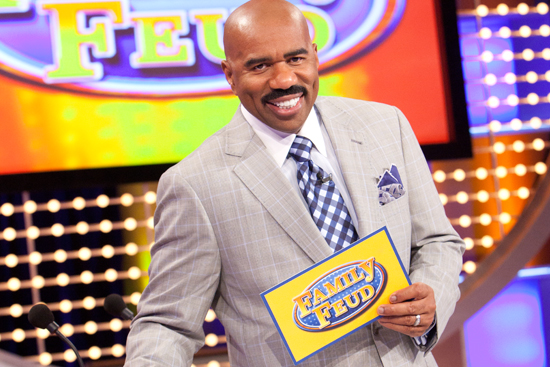 April 17, 2015
Leaked Emails Show How Hot Harvey Feud Is
Bidding battles and worried executives—Steve Harvey's Family Feud is a force to be reckoned with.
Leaked e-mails from the massive hacking attack in late 2014 shows the extent of disruption that Fremantle and Steve Harvey's Family Feud has had in the world of syndicated game shows.
Once news of Family Feud's syndicated ratings came to the forefront, GSN revealed how much pull their reruns have in key household demographics:
GSN's runs add quite a bit to their national [cumulative audience, a measure of the total number of unique consumers over a specified period]…of course this is partially due the fact we run their barter in 20 eps per week, but even when Baggage was in syndication, our two runs per night at midnight added .6 to the national HH number (which is how we got to a 1.1)…is there any opportunity to do something similar with Wheel and/or Jeopardy?
So although GSN's frequent showings of Family Feud certainly add to the large quantity of individual people watching the show, the Nielsen ratings don't rise based on the amount of episodes they show alone.
Feud is so hot, that channels are scrambling to gain the exclusivity (and the viewers) that it and host Steve Harvey bring to the table. From another leaked e-mail:
Our deal for the Harvey Feud is up in April [2016]. We are negotiating with Freemantle [sic] now and there does seem to be another bidder.
A follow-up e-mail mentioned that bidder might be TV Land.
And Fremantle definitely knows what a hit they have on their hands, and they're not letting any business opportunity get by. From a GSN staffer who was working on the negotiations:
We sent Fremantle a proposal to extend our current library license deal and license three more seasons of Harvey's Feud (as well as extending the license on the two seasons we already have)…they came back with an enormous counter (4x the cash fee plus an extra barter spot in each episode, plus weekend barter…along with a long list of other aggressive asks)…
With April approaching, and the leaked e-mails only giving so much information, it'll be interesting to see where Family Feud goes next—and how much it'll cost networks.
EDIT: So, GSN's doing wonders with Family Feud, and contributing to the show's overall success. Sony Pictures Television, however, is trying to minimize the Feud's success with its own offerings. Therefore, Sony's actually working both for the Feud and against the Feud. Companies are getting way too big.