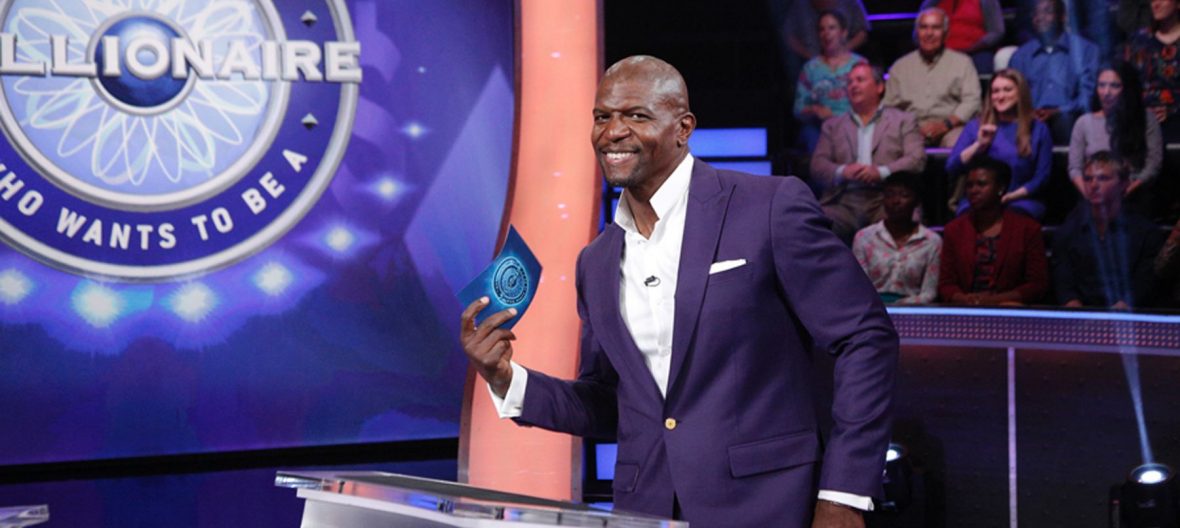 August 19, 2014
Who Wants to be a Millionaire With Terry Crews Premieres Sept. 8
With a new move to Connecticut, a new host in actor and former NFL player Terry Crews, and a few new features, Millionaire is primed and ready for an energy-filled and hopefully money-filled 13th syndicated season, starting on Monday, September 8.
This season will see the debut of a new lifeline called "Plus One," in which the contestant's companion seated in the audience can be asked by the contestant to come down to the stage and help answer the question at hand. This lifeline marks the first time that companions have the opportunity to join in the game and help out his or her contestant by talking through and hopefully answering the answer correctly together. It reminds us a lot of Phone a Friend, but without the long distance or the Skype calls.
The "Thousandaire" audience game returns this season, and it's now joined by two new audience games — "Fastest Feet" and "Team Millionaire." "Fastest Feet" reminds us a lot of both ye olde Millionaire's Fastest Finger game and TPiR's Race Game: it's a challenge in which four audience members are given themed cards and are tasked with physically putting them into the right order to split a $1,000 prize. And "Team Millionaire" partners two audience members with each other to win up to $1,000. The mini-games are great ways that the production staff have devised in order to get even more winners in between contestants.
Millionaire airs across the country weekdays in national syndication. I'll be sitting down with new Executive Producer James Rowley this week to talk about the new changes to the season.
https://www.youtube.com/watch?v=-XXme1JfHJk
(Photo credit: Heidi Gutman/Disney-ABC Domestic TV)