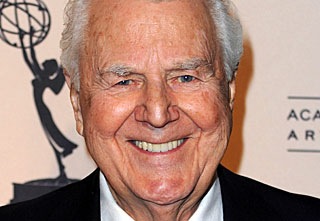 August 19, 2014
Don Pardo Passes Away at 96
Don Pardo, the legendary booming voice of Saturday Night Live since its inception in 1975, as well as dozens of game shows, passed away Monday, his daughter told CBS News.

Born Domenick George Pardo in Westfield, Massachusetts in 1918, he was known for his career-long association with NBC, where he started as a staff announcer and remained for over 60 years. In addition to serving as a war reporter for NBC Radio during World War II and as an announcer for RCA's first closed-circuit television demonstrations, he made a name for himself as the network's premier voice for many of its programs. Pardo could be heard as the announcer of the original The Price is Right, Jeopardy!, Jackpot, Three On A Match, and Winning Streak, among others.
He also served as the voice of WNBC-TV's Live at Five, NBC Nightly News, and, until 1999, the Macy's Thanksgiving Day Parade. On November 22, 1963, Pardo was the first to announce to American viewers that President John F. Kennedy had been shot in Dallas, Texas.
[videojs mp4="https://www.buzzerblog.com/wp-content/uploads/2014/08/SNL Intro.mp4″ width="625″ height="352″ preload="true"]
In 1975, he was tapped as announcer for a new NBC late-night variety program called Saturday Night Live. The job eventually became Pardo's most famous announcing gig—when he officially retired from NBC in 2004, he stayed as SNL's announcer, eventually recording his bits from his home studio in Arizona. On rare occasions when his voice wasn't up to the task, cast member Bill Hader impersonated Pardo during the show's iconic opening sequence.
Don Pardo was 96.
https://www.youtube.com/watch?v=BvUZijEuNDQ