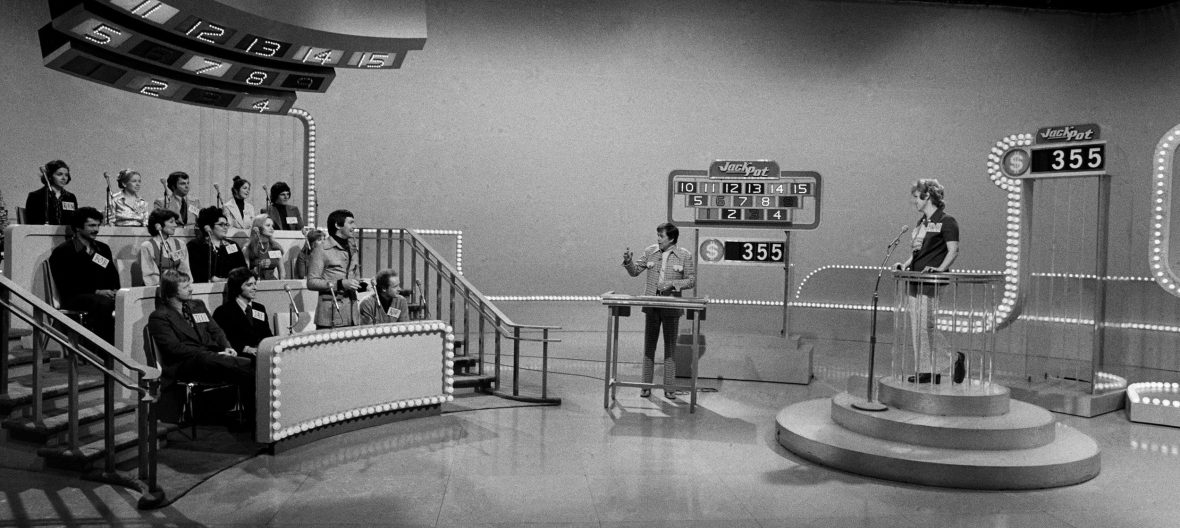 July 10, 2014
#tbt: Jackpot
In this edition of Throwback Thursday, Christian Carrion takes a look back at the classic game of riddles and rhymes.
When executed successfully, game shows have a medicinal quality unlike that of any other TV genre. Once they prove their staying power and become staples of the television landscape, shows like The Price Is Right, Jeopardy!, and Wheel Of Fortune offer more than simple entertainment or mental exercise to the cold-ridden elementary schooler or bored stay-at-home parent—they offer a genuine, trusting face that a viewer, if only for an hour, can confide in and trust that their friend on the screen will never go crazy and change too much.
Like classic family board games, the right game show can provide years of entertaining results using pretty much the same equipment. Sure, you may have to replace a piece or put some Scotch tape on a torn box corner once in a while, but these are only minor cosmetic changes to a game that's proven the test of time. After years and years on the shelf, however, board games collect dust. In the same way one would take an old box off the shelf and give it a quick wipe-down, game shows must brush their own dust off, lest they become stale and stodgy—refreshes of set, personnel and format have often been used to rescue game shows that were on the brink of extinction. When Lin Bolen became the first female head of daytime programming at NBC in 1972, the Monday-to-Friday schedule was a big, dusty shelf—and she was ready to clean house.

Bolen, whose career as a TV executive would later provide inspiration for Faye Dunaway's character in the 1976 film Network, faced pressure from advertisers who wanted programming that attracted younger women, particularly those in the 18-34 demographic. Game shows still ruled the NBC daytime schedule back then, but the regime hadn't changed for what seemed like an eternity—Jeopardy! was nearing a decade on the air, and Concentration had become NBC's longest-running game show ever. These shows, in addition to The Hollywood Squares and The Who, What or Where Game, hardly changed during their runs on NBC. As a matter of fact, save for the gradual age (and weight gain) of Jeopardy!'s Art Fleming and the new era of celebrity panelists on Squares, a casual viewer would be hard-pressed to tell the difference between episodes from 1965 and those from 1972. When compared to the veritable neon and shag-rug kaleidoscope that was CBS's New Price Is Right, NBC's shows looked downright old. The time had come to wipe the dust off the shelf and play some new games.
Bolen's plan to attract the eyes of young women was rather simple. Aside from expanding soap operas like Another World and Days Of Our Lives to a full hour each, she would inject a dose of youth into what was left of the daytime game show schedule. Her plan wasn't met with universal acceptance, as one might imagine—in fact, Bolen was once kicked out of the control room during a taping of Concentration by producer Norm Blumenthal after she had made one suggestion too many. Some of the results bordered on comical—as host of Winning Streak, for example, Bill Cullen was gradually shifted from fresh Botany "500" suits and ties to more "fashionable" open butterfly collars and long hair. TV pioneer Dennis James got the same treatment during his brief stint as host of Name That Tune. What was supposed to make the hosts look trendy and young ended up making them look like sad prom chaperones.

Bolen had more success commissioning new game shows crafted to her specifications. An NBC game show in the mid-70s needed hip contestants, flashy sets, and handsome hosts in order to get the girls. As a result, NBC was now the home of new shows like Heatter-Quigley's Baffle with Dick Enberg and High Rollers with Alex Trebek, as well as the psuedo-interactive Ralph Andrews production Celebrity Sweepstakes hosted by Jim MacKrell. The true innovation, however, came from veteran producer and $10,000 Pyramid mastermind Bob Stewart. The name of the game was Jackpot, and it premiered on January 7, 1974.
Jackpot would prove to be different from just about any other game show on the air at that time, NBC or otherwise. Sixteen contestants, often aged 30 or under and decked out in some of the most fashionable clothes of the era, played on each episode taped at Studio 6A at Rockefeller Center for a week straight. Their common goal was a potential top prize of $50,000 (randomly-selected numbers and a multiplier determined the actual prize at the start of each game). The contestants vied for the prize by solving riddles, corny little bits of wordplay that were fun to solve, if not sometimes cringeworthy. One contestant stood alone facing the group of 15, and his/her job was to solve the riddles held by the other contestants, one at a time. Correct answers fed money into a smaller pot, which could be won and split by the asker and the solver if the special Jackpot riddle was found. A Super Jackpot riddle entitled them to go for the huge prize by answering a much more difficult riddle. Other wrinkles, like winning a vacation or the opportunity to come back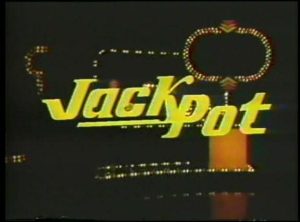 next week for solving a specially-marked riddle, were sprinkled liberally. Winning contestants often ran to each other, arms spread, and would hug it out center stage like they were siblings who had just gotten Pong for Christmas. All of these elements combined to form a frenetic show with seemingly limitless energy. Adding to that energy was the presence of live New York audiences, known in the 70s for being unusually raucous, rowdy, and excitable—in one episode, a failed $50,000 Super Jackpot attempt almost sent the crowd at 30 Rock into a riot, briefly disrupting taping.
Jackpot was hosted by the late Geoff Edwards. Born in Westfield, New Jersey before relocating to San Diego after college to work in radio, Geoff spent the early 60s as a news reporter, and was present at the scene of the assassination of JFK killer Lee Harvey Oswald by Jack Ruby. By 1968, Edwards had become a popular disc jockey at KMPC in Los Angeles. His show on that station, which ran from 9am to noon, was one of the most popular in the area. Geoff was also an occasional actor, having appeared on I Dream of Jeannie, Petticoat Junction and That Girl. Edwards' first game show assignment came in 1973, when he was hired by producer Jack Barry to host the short-lived celebrity word association game Hollywood's Talking, which was cancelled by CBS to make room for the revamped version of Match Game. A year later, Geoff was hired for Jackpot, thereby earning a spot in Lin Bolen's harem of handsome hosts. Edwards, then 43, was a perfect fit for the same stylish wardrobe NBC had previously tried to squeeze 54-year-old Bill Cullen into. As a result, Geoff was often dressed in the same hip style as the contestants, a first for daytime game shows. Also pioneering was the lack of necktie on the part of Mr. Edwards, who became the first game show host to not wear one.
Jackpot was a hit with audiences thanks to its attractive contestants, thrilling wins, big money, charming host, and its unique gameplay (it was the only show on the air that made use of riddles until 1975's Rhyme and Reason, which was honestly more of a Match Game ripoff). The show was popular enough to spawn a home version—two editions of the Jackpot board game were produced by Milton Bradley in 1974 and 1975, respectively. A year into Jackpot's run on NBC, however, the CBS soap The Young And The Restless started beating them in the ratings. In an effort to figure out what was "wrong" with the show, Geoff and crew were paid a visit by your friend and mine, the TV focus groups. They decided the show was great…except for the riddles. The focus groups thought the riddles were silly and took away from the game. As a result of this research, Lin Bolen approached Bob Stewart with an ultimatum: switch to regular ol' multiple-choice trivia questions or go off the air. Stewart, who was notoriously irritable when it came to criticism regarding his written material, grudgingly acquiesced. Jackpot was no longer the game of big-money riddles—it was just another quiz game.
Host Geoff Edwards, in an interview with Game Show Utopia's Adam Nedeff, talked about Lin's effect on Jackpot and what it was like to work those first few shows after they got rid of the riddles:
She did a lot of damage! She killed it! Just killed it! She killed Jackpot!…We worked the first couple of shows (under the new format) and then we went outside and sat on a fire escape. I remember talking to (producer Bob Stewart) about it up there and saying, "We're finished." The whole fun of the show disappeared.
Audiences must have felt the same way—the ratings gradually dropped off, and Jackpot's final episode on NBC aired September 26, 1975. The finale was a treat for viewers; Geoff tore off one of the set's many "Jackpot" signs and gave it away as a souvenir to raucous applause before closing up shop for the last time.
Lin Bolen continued to put new game shows on the air, but not many of them were hits—The Magnificent Marble Machine was an epic flop, as was Stumpers, a Password spinoff hosted by Allen Ludden which Bolen produced herself. Another show she gave the greenlight to, Wheel of Fortune, was a bit more successful. In 1978, Bolen was replaced by former CBS executive Fred Silverman.
Viewers had not seen the last of Jackpot, however—after a failed attempt at a revival on CBS in 1984 hosted by game show panelist and poet Nipsey Russell, the show enjoyed several runs in syndication and on the USA Network throughout the mid-to-late 80s. Production briefly moved to Canada during this time, where it was hosted by Canadian-American host Mike Darrow, formerly of Dream House on ABC and The $128,000 Question in syndication. Geoff Edwards returned as host in 1989 when production moved again to the Glendale Studios in California. More recently, a Welsh localized version called Jacpot began production in 2012, hosted by sports journalist Rhodri Ogwen Williams.
The original NBC version of Jackpot was a truly unique game show, capable of entertaining and challenging kids and adults alike during its two years on the air. By tinkering with its winning formula, however, the powers that be at NBC solved a riddle no one asked.