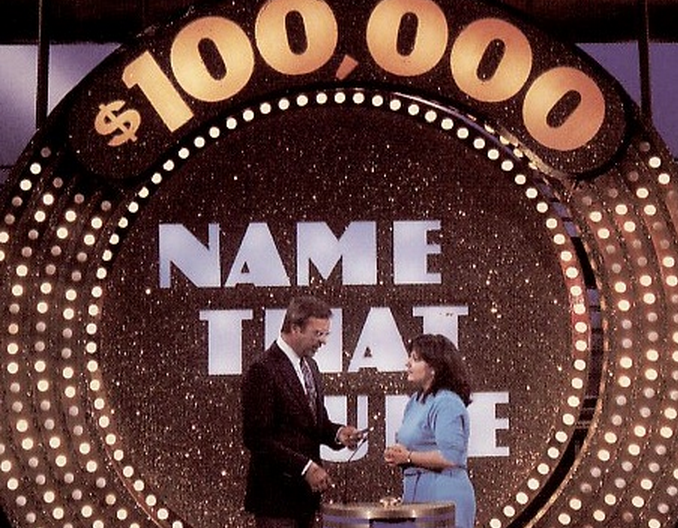 June 21, 2014
ITV Orders Pilot For "Name That Tune" Revival
UK viewers could soon be treated to the return of the ultimate music identification game.
ITV is getting ready to strike up the band.
The broadcaster announced yesterday that, as part of a deal with the independent production company headed by Natalka Znak (Hell's Kitchen, Hardcore Pawn), they have commissioned a pilot for a revival of the classic game show Name That Tune.
The new hour-long pilot is expected to follow the classic Name That Tune format—meaning that elements like the Melody Roulette wheel, the Golden Medley, and Bid-A-Note can all be expected to make their way into the show once again.
Originally created in the United States by Harry Salter, Name That Tune debuted on NBC Radio in 1952 with original host Red Benson. The popular format appeared on and off television throughout the next three decades, most notably in primetime from 1974 to 1981 with host Tom Kennedy. The late Jim Lange hosted The New $100,000 Name That Tune in syndication in the mid-80s. In 2006, CBS prepared a pilot for a daytime version of Tune hosted by Donny Osmond, and featuring a $1 million top prize, before ultimately choosing the new Let's Make A Deal for their schedule.
In the UK, the format premiered as Spot The Tune in 1956. The show took the name of its American counterpart in 1976, when it appeared as a 15-minute segment on the series Wednesday at Eight before being spun off into its own series from 1983 to 1988. Late night host Jools Holland emceed a revival of the game on Channel 5 from 1997-1998. Vernon Kay was host for a one-off special in 2007, as part of Vernon Kay's Gameshow Marathon.
If it becomes a series, Name That Tune would be the latest in a series of revivals for ITV—in recent years, they've also mounted successful new versions of classic programs like Surprise Surprise and Catchphrase.
The pilot will be produced by Glenn Coomber, producer of BBC's Strictly Come Dancing. No tape date or cast information has been announced.