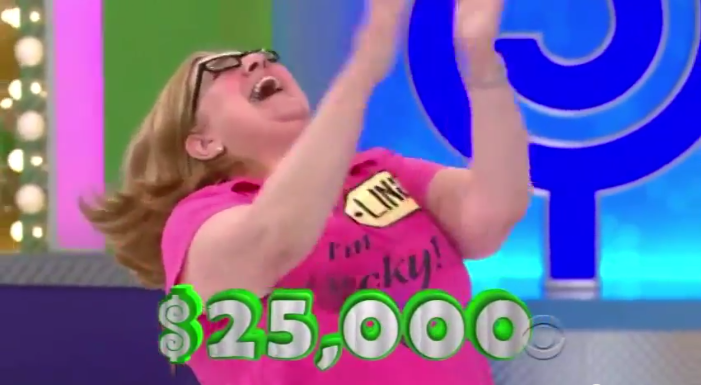 June 19, 2014
WATCH: Daytime Price Is Right's First-Ever $25,000 Punch-A-Bunch Win
A lucky contestant takes home the largest cash prize ever offered in the pricing game's 36-year history.
This contestant had "Lucky" written all over her.
On today's episode of The Price Is Right, contestant Linda became the first-ever daytime contestant to take home the $25,000 grand prize in the pricing game Punch-A-Bunch.
Debuting on the CBS game show in September of 1978, Punch-A-Bunch (also known as "the Punchboard," referring to the game's main prop) was the first all-cash game to be played on The Price Is Right. After five seasons of Bob Barker-hosted primetime specials in which the game's top prize was increased from $10,000 to $25,000, the inflated jackpot became permanent in July of 2008 under new host Drew Carey.
Price executive producer Mike Richards, in his live-tweet of today's show, noted that Linda had punched both the $25,000 space and one $10,000 space; luckily for Linda, the grand prize was revealed first.
The Price Is Right airs weekdays at 11am EST on CBS.
That is the first time anyone has ever one $25,000 on punch a bunch! I knew she won as soon as I saw Drew's face when he saw the card!

— Mike Richards (@MRichTV) June 19, 2014
Linda had punched the $25k and the $10k cars on punch a bunch. Glad she didn't punch the $10k first, she might have stopped! #tpir

— Mike Richards (@MRichTV) June 19, 2014