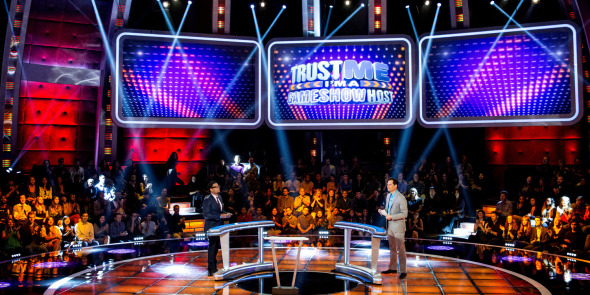 June 14, 2014
"Trust Me, I'm A Gameshow Host" Picked Up By ITV
Frank Skinner and Sue Perkins join the liars' club as the American game of deception detection ships off to the UK.
ITV viewers had better get those lie detectors ready.
The network announced Friday that it has commissioned a series based on the American format Trust Me, I'm A Gameshow Host. The program involves two emcees presenting bizarre and unusual stories to a contestant, who must then determine which host is telling the truth in order to have a chance at a cash prize. Comedians Sue Perkins (The Great British Bake-Off co-host, QI panelist) and Frank Skinner (Room 101 host) will serve as co-hosts.
D.L. Hughley and Michael Ian Black hosted the American series, which premiered in October of 2013 on TBS to lukewarm reviews from audiences and critics (the show currently maintains a 4.7/10 rating on iMDB). 1.17 million viewers tuned in to the series premiere on October 13 last year, compared with 560,000 viewers for the season finale in December.
Production is expected to begin this year.