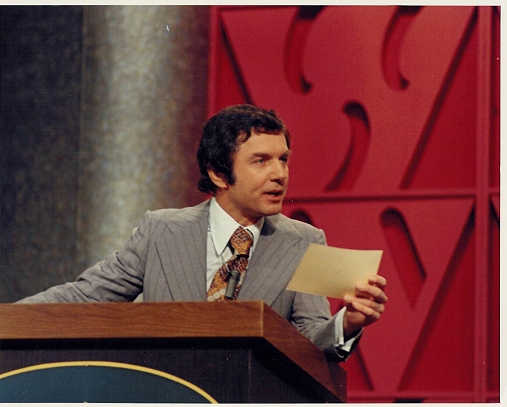 June 12, 2014
#tbt: Art James
Every week, BuzzerBlog salutes Throwback Thursday by revisiting game shows of the past. Today, we look back at the career of host and announcer Art James.
In an era where some cable networks, message boards and YouTube channels exist for the sole purpose of introducing new generations of viewers to programs originally aired before they were born, it's hard to believe that there was a time when the major networks saw no replay value in many of the game shows of yesteryear. Long before the advent of GSN, or even the ribbon-cutting of the "information superhighway," television network executives felt it more economically sound to erase or otherwise destroy those big bulky film reels or tape cartridges, many times with the blessing of the producers who saw little value in them. As a result of this misguided philosophy, decades of early programming from the three major networks (including Super Bowl I, the comedy work of Ernie Kovacs, and Johnny Carson's first Tonight Show) live only in the memories of those who were fortunate enough to see them on their screens.
Game show history in particular was dealt a crushing blow due to this practice—after all, once viewers saw who won the game and took home the Amana icebox and Pontiac Bonneville, who would want to watch that dumb show again? As it turns out, lots of people do. In fact, several YouTube channels have recently sprouted up from the fertile digital earth with bountiful harvests of rarities, game show episodes that were, for one reason or another, spared from the slaughter. Look among those glib, slick-haired, trivia-wielding, Botany 500-sporting lost emcees, and chances are you'll come across one Artur Simeonvich Elimchik (Артур Симеонвич Элимчик), better known to decades of game show viewers as Art James.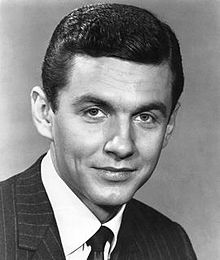 Born to Russian parents on October 15, 1929 in Dearborn, Michigan, James grew up to become fluent in Russian; his knowledge of the language would serve him well as a future teacher of English to Russian immigrants. As an engineering student at Wayne State University, James got involved with the school's theater department, having fallen in love with the "lively, expressive people" who resided there. After graduating, and with a few stage performances under his belt, James enlisted in the U.S. Army and worked as an announcer for the Armed Forces Radio Network while stationed in post-WWII Germany. There, he made a friend who, in 1958, would offer him an opportunity—and introduce him to his new calling. James' friend was an executive with the NBC television network.
At this point, James' military days were behind him. His NBC executive friend asked him to join the front lines of a new platoon—that of the new game show Concentration. Producer Norman Blumenthal had found a commanding officer in Hugh Downs, who had recently made his name as Jack Paar's announcer on Paar's Tonight Show, and was four years away from his hosting gig on the Today show—truly a man for all hours. The thing was, Concentration needed an announcer. James, with his characteristic booming Pardo-esque voice, was asked to audition—and wouldn't you know it, he was the perfect match. Soon enough, when host Hugh needed a day off, the boy from Michigan was serving as his substitute host.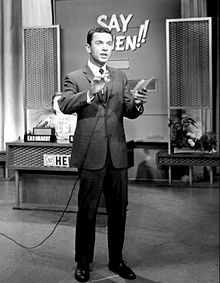 Thus began Art James' long career in the thriving New York game show circuit. One of his first permanent hosting jobs, 1961's Say When!!, was a Goodson-Todman variation of their own Price Is Right in which two contestants competed to build up their proverbial shopping carts to a pre-determined amount without going over (in other words, contestants had to know when to Say When!!). Art shined in his role as host—he carried the proceedings along with a reverence not seen in many other hosts of this era. Art would often open the show with a couple of jokes for the audience, engage in some prop comedy at the playful expense of the models, and chat with the contestants as if they were guests in his living room. The result was a relaxed, playful atmosphere that was unique of Say When!!. Viewers responded well; for four years, they tuned in to see Art James' prize giveaway. They even forgave the little charmer when he occasionally made a mess of things.
https://www.youtube.com/watch?v=p0820lWgtjw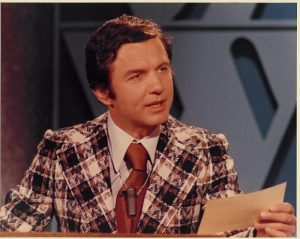 In the 60s alone, eagle-eyed viewers could catch Art James as host of shows like Fractured Phrases, the high school quiz game It's Academic, Pay Cards!, and Temptation. However, James' most successful venture came in 1969, when producer Ronnie Greenberg tapped him to host The Who What Or Where Game for NBC. Affectionately called the 3 W's, the show was partnered with another challenging quiz game, Jeopardy!. On the 3 W's, three contestants wagered bits of their bankroll on Who, What or Where questions with varying odds—the higher the odds, the more difficult the question. At the time, the show was innovative in that it was one of the first competitive quiz shows with no lockout system. Instead, the drama was created by the increasing wagers throughout the game and the consequential rise and fall of the players' scores. The 3 W's was a hit for Greenberg, James and company, and lasted until 1974.
Unfortunately for Art and his fans, none of the shows he hosted after The Who What Or Where Game left the air would come close to matching that success. The mid-seventies saw him at the helm of two NBC projects: a yawn-inducing number-guessing exercise called Blank Check, and the highly-touted yet critically-panned Magnificent Marble Machine. Each show lasted about a season before being pulled from the air—in these cases, viewers may be thankful NBC was erasing this stuff. Around this time, James had also tried his hand at producing game shows of his own. One unaired pilot, Money Words, was shot in New York City and hosted by Mike Darrow, a Canadian native who formerly hosted Dream House for ABC.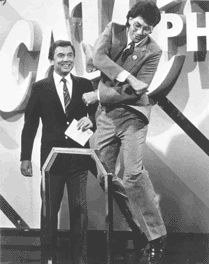 After taking a few years off from hosting on-camera, James returned with Super Pay Cards!, an updated version of the non-Super 1968 show. Produced by Nick Nicholson and E. Roger Muir (The Howdy Doody Show, The Newlywed Game), Super Pay Cards! was one of many American game shows to tape in Canada, a country known for being more economically friendly to television and film producers. From 1981 to 1982, he and hostess Mary-Lou Basaraba dealt winning hands to contestants in a game that combined poker with James' old buddy Concentration. In 1985, James began hosting Catchphrase, a revolutionary computer-animated picture game that enjoyed a brief run in syndication on American screens, but is regarded in the United Kingdom (where it was hosted by Irishman Roy Walker for nearly two decades) as an essential classic game show.
Catchphrase would be Art James' last hosting gig—for the last few years of his television career (and indeed during many of his previous hosting jobs), he lent his voice talents to shows like Tic-Tac-Dough, Family Feud, and, finally coming full-circle, Classic Concentration. In 1995, Art appeared as a game show host in the Kevin Smith film Mallrats (WARNING: NSFW).
https://www.youtube.com/watch?v=C6k9TFjWiGs
Off camera, in addition to writing several columns for TV Guide, he was the founder and president of Art James Productions. AJP was notable for being one of the first companies to see the value and feasibility of live game show productions in corporate settings. Armed with elaborate collapsible sets, Art would play host to "contestants" who would be quizzed about the companies they worked for. The programs were praised in many circles for injecting a great deal of fun into learning about rather dry topics like corporate policies and company protocol.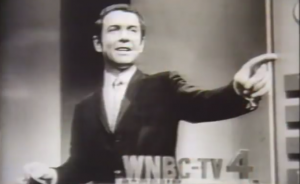 On March 27, 2004, during a visit to his brother in Palm Springs, California, Art passed away of natural causes at the age of 74. A decade after his untimely death, TV fans and industry professionals the world over remember Art James as a forgotten star of a bygone era of game shows—and those memories, unlike the tapes they once resided on, can never be erased.