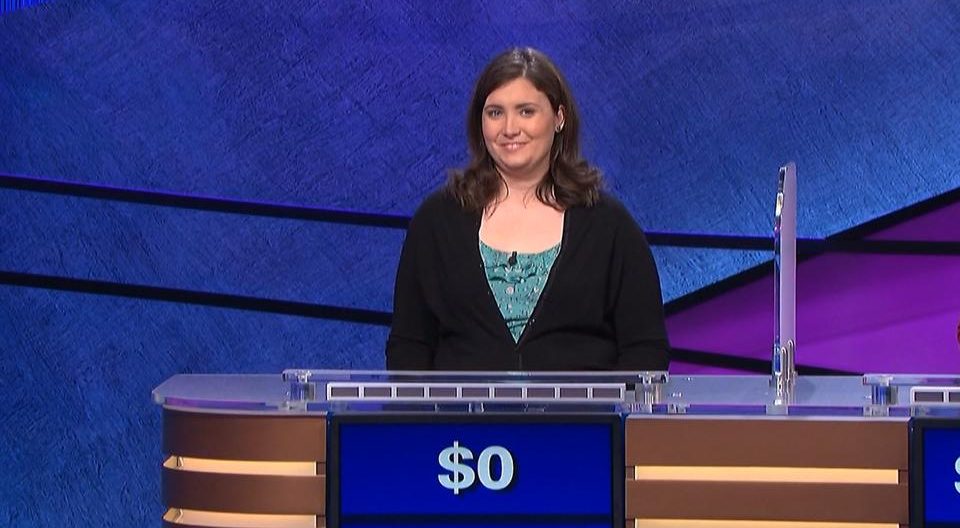 June 3, 2014
Julia Collins Defeated In 21st Jeopardy! Match
20 victories and over $428,000 later, the quiz show says goodbye to its second-winningest champion of all time.
The winning streak of the most prolific female champion in Jeopardy! history came to an end Monday night.
Julia Collins, a 31-year-old management consultant from Wilmette, Illinois, was defeated after having appeared on the answer-and-question game for 20 consecutive episodes, not to mention having racked up $428,100 in winnings.
She was bested in Final Jeopardy by Brian Loughnane, an Irish-born investment operations manager from Scituate, Massachusetts. Unable to name the New England writer who in 1999 became the last person to win an Oscar for adapting his own novel as a screenplay, Collins finished her 21st game with $0 after wagering all she had on the category Oscar-Winning Writers (the correct response was 'Who is John Irving?' of Cider House Rules fame).
"Well done, young lady," host Alex Trebek said to Collins as she congratulated Loughnane, who became the new Jeopardy! champion with $22,600.
Julia Collins currently holds the record for most consecutive wins, behind 74-game and $2.5 million winner Ken Jennings, and is the third-highest money winner in non-tournament play after Jennings and Dave Madden, who won $432,400 over the course of 19 games in 2005.
In a phone interview with the Huffington Post, Collins said she's glad her performance may help dispel the notion that females aren't as good at Jeopardy! as males are.
"It's good to see women being applauded for being smart," Collins said.
A dream trip to Paris, where Collins used some of her winnings to rent an apartment for a month, is in the champ's future, as well as an eagerly-anticipated return to work after taping her Jeopardy! appearances.
"I couldn't have loved being on the show more," Collins said.
Her record-breaking performance guarantees her a spot in this year's Jeopardy! Tournament of Champions, to be taped later this year.